Fruit Roll-Ups With Ice Cream Sounds Absurdly Delicious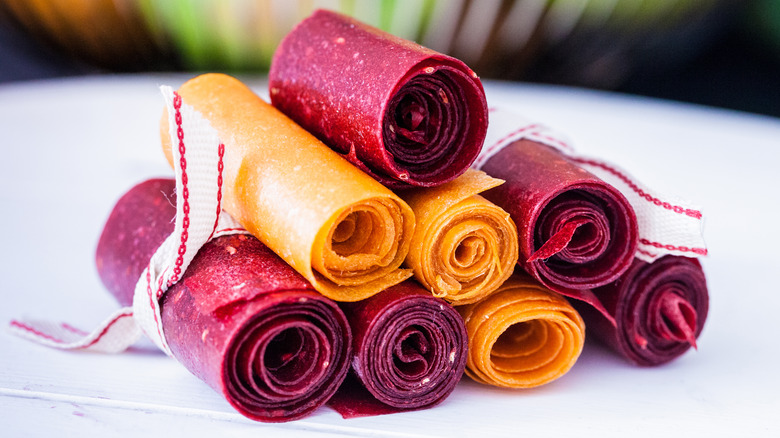 4_mai/Shutterstock
If you've spent even a few minutes scrolling through food trends on TikTok, you've probably seen people munching on a peculiar mashup: a scoop of ice cream wrapped inside a Fruit Roll-Up. This seemingly bizarre combination of a beloved frozen treat and an iconic '90s lunchbox staple has taken social media by storm — and for a good reason.
The recipe for this newfound dessert is as simple and bizarre as it sounds. Unwrap a Fruit Roll-Up (any flavor your heart desires will do), place a dollop of ice cream or sherbet in the center, and gather the corners together so they adhere to envelop the ice cream. The result is an unbelievably delicious, oh-so-satisfying, frosty medley of a velvety, sweet interior within a chewy, fruity outer shell. And the best part? Once you sink your teeth into this creation, an audible crunch is produced. 
This food craze started when TikToker @golisdream shared a video of what they call "my sweet guilty pleasure." In the video, they take a strawberry-flavored Fruit Roll-Up — which @golisdream admits to buying in bulk from Amazon — and place a generous dollop of Breyers mango ice cream right in the middle. "I just love the crunch," they said. But how does the unexpected fusion's texture elicit such crispiness? Thanks to a bit of chemistry, the coldness of the ice cream has the power to quickly transform the room temperature, pliable outer layer into a brittle husk that shatters when punctured.
Fruit Roll-Ups and ice cream are a dynamic duo
Since the inaugural indulgence was posted, countless other curious folks have stocked up on packs of the sticky, boldly-colored, pectin-based squares and cartons of ice cream to try for themselves. Even Giada De Laurentiis hopped on the trend — and her reaction was absolutely priceless. The domestic goddess, who had never eaten a Fruit Roll-Up before, made hers with the Tropical Tie-Dye variety and vanilla ice cream. "Oh, wow... it's remarkably delicious!" she exclaimed upon taking the first bite. 
The brand's social media team also caught wind of the Fruit Roll-Up à la mode recipe and began posting hilarious videos in response. One video played with the dessert's capacity to create a loud crunching sound to capitalize on the ASMR trend on TikTok. ASMR stands for the autonomous sensory meridian response, which promotes relaxation. This reaction, which causes a gratifying tingling or prickling sensation, is often triggered by different sounds, such as crackling, static, and other white noises. 
Not only does the combination of ice cream and Fruit Roll-Ups taste delicious together, but it also sounds delicious, too. Literally! If you're craving some intense nostalgia, go ahead and put this one to the test.