Asparagus Soup Recipe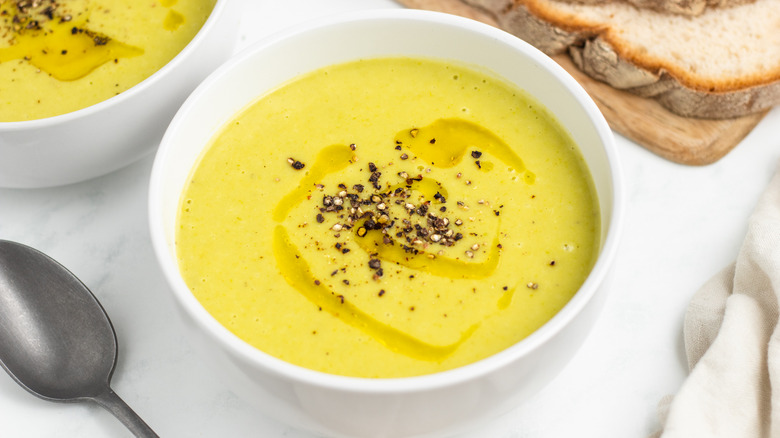 Catherine Brookes/Mashed
When you think of crafty ways to use asparagus, soup may not be the first thing to come to mind. After trying out this asparagus soup recipe, courtesy of developer Catherine Brookes, however, we think that you'll be circling back to the comforting dish time and time again, as the flavors simply can't be beaten. As Brookes describes, "The flavor is savory, with the slightly nutty and earthy taste of the asparagus and a bit of zing from the lemon." 
Now, asparagus isn't standing alone in this soup, so you can count on a handful of other additions to add both flavor and heartiness, including garlic, onion, and potato. All told, however, you need fewer than 10 ingredients to make this soup, which will result in a soup that tastes as bright as it looks. Brookes loves the "vibrant color and zingy, earthy flavors in this healthy soup," and she notes that it "makes a great appetizer or light lunch." If you're tired of making the same old roasted asparagus side dish over and over again, switch things up with this very welcome asparagus soup. 
Gather the ingredients for asparagus soup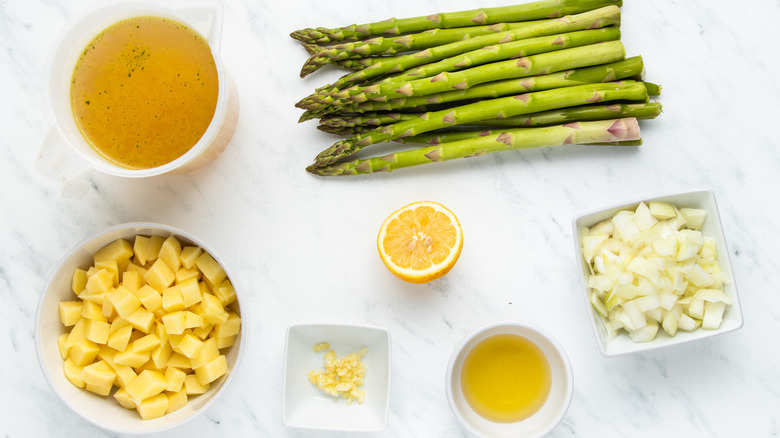 Catherine Brookes/Mashed
The star of the show here is asparagus, there's no denying that, but there are a handful of other ingredients needed to round out the recipe. You'll need olive oil, a diced onion, crushed garlic, a large potato (both peeled and cut into ½-inch chunks), vegetable broth, juice from ½ a lemon, and just a bit of salt and pepper to taste. 
"Adding potato helps to thicken the soup slightly, giving it a natural creaminess," Brookes says of the standout ingredient, but that's not the only special component here. She also notes, "adding lemon helps to balance the savory flavors with some fresh citrus."
Prep the asparagus and begin building the soup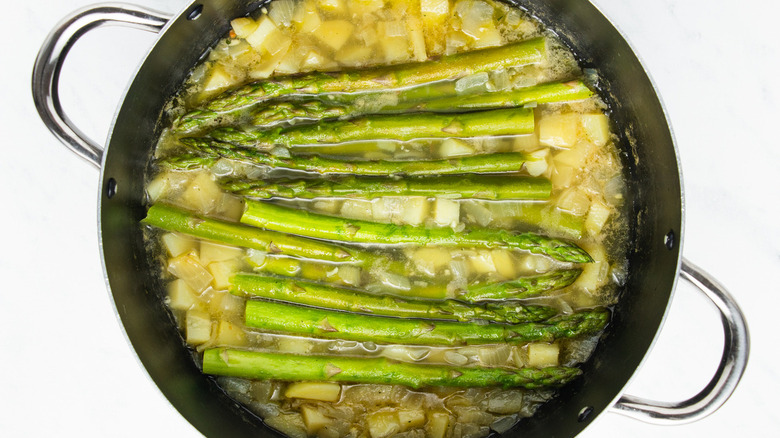 Catherine Brookes/Mashed
First, you'll want to make sure the asparagus is good to go for the recipe, and that means getting rid of those rough, woody stems. To do so, simply bend the asparagus so that the stems naturally snap right off; discard the stems and set the asparagus aside for a bit.
Meanwhile, you can begin building the soup itself. Place a large pot on the stovetop over medium heat and add in the olive oil, followed by the diced onion. Sauté the onion for 5 minutes, or until it's softened and turning translucent. Next up, add in the garlic and sauté for another minute, making sure to stir constantly. Add in both the vegetable broth and diced potato and let the soup come to a boil, before reducing it to a simmer for 5 minutes. Finally, add the asparagus to the pot, allowing it 5 minutes to simmer and get nice and tender. 
Blend the soup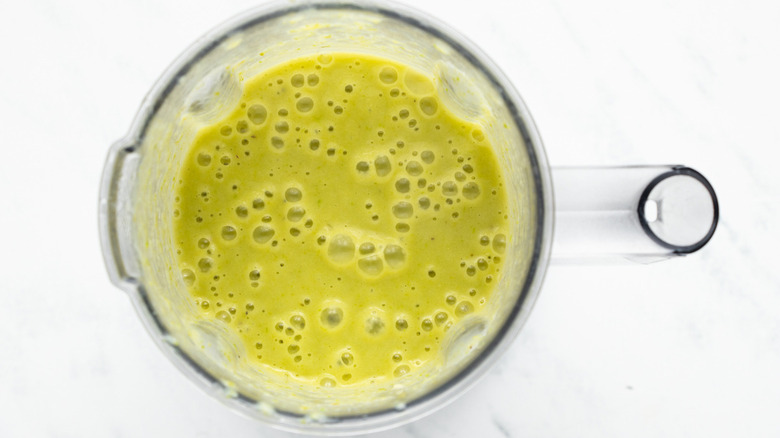 Catherine Brookes/Mashed
Once the asparagus is tender, go ahead and transfer the soup — whole vegetables, broth, and all — to a large blender. Squeeze in the lemon juice and add a bit of salt and pepper to taste, then put the lid on the blender and blitz the soup. This shouldn't take long, but you do want to make sure that the soup is ultra-smooth by the time you're done blending. 
Serve the asparagus soup with a drizzle of olive oil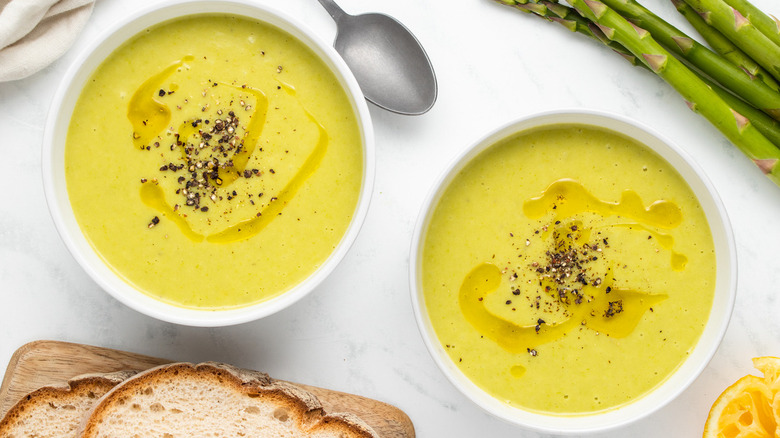 Catherine Brookes/Mashed
Once the soup is blended, you can transfer it back to the soup pot, or simply pour it into bowls straight from the blender. Brookes opts to garnish her soup with a drizzle of olive oil and some extra grated black pepper, and she provides some extra serving suggestions, seeing as this is a pretty light dish. "This soup is great served with some fresh crusty bread, or alongside a main dish such as salmon or chicken," she suggests. 
Leftovers are desirable with a recipe like this one, as they will keep well and reheat easily. Per Brookes, "Leftovers should keep well in the fridge up to three days and can be reheated in the microwave or on the stove." 
Asparagus Soup Recipe
This hearty, healthy asparagus soup has slightly nutty, earthy flavor with a bit of zing from the lemon. It makes a great appetizer or light lunch.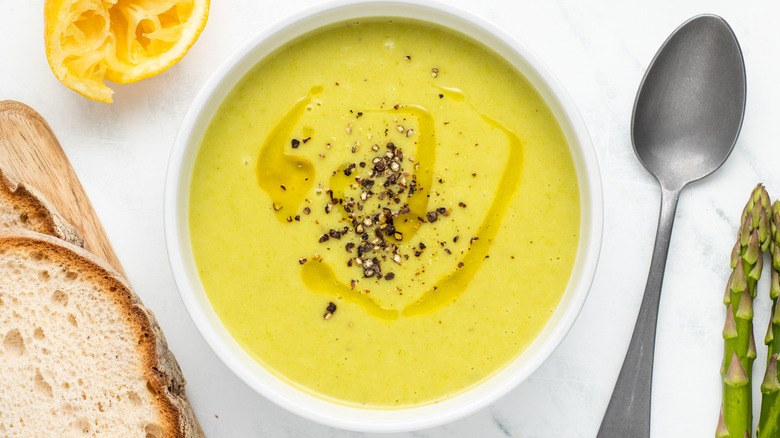 Ingredients
12 ounces asparagus
2 tablespoons olive oil
1 onion, diced
2 cloves garlic, crushed
1 large potato, peeled and diced into ½-inch chunks
3 cups vegetable broth
juice of ½ lemon
salt, to taste
pepper, to taste
Optional Ingredients
additional olive oil, for serving
additional fresh-cracked pepper, for serving
Directions
Remove the woody stems from the asparagus by bending the ends until they break naturally.
Heat the oil in a large soup pot over medium heat. Add the onion and fry for about 5 minutes until softened. Then add the garlic and fry for another minute, stirring constantly.
Add the potato and vegetable broth. Bring to a boil, then simmer for 5 minutes.
Add the asparagus to the pot and simmer for another 5 minutes, until tender.
Transfer the mixture to a large jug blender. Add the lemon juice and some salt and pepper to taste. Blitz until completely smooth.
Serve with a little extra virgin olive oil and some cracked black pepper on top, if desired.
Nutrition
| | |
| --- | --- |
| Calories per Serving | 338 |
| Total Fat | 14.2 g |
| Saturated Fat | 2.1 g |
| Trans Fat | 0.0 g |
| Cholesterol | 0.0 mg |
| | |
| --- | --- |
| Total Carbohydrates | 49.0 g |
| Dietary Fiber | 9.9 g |
| Total Sugars | 7.9 g |
| Sodium | 1,839.4 mg |
| Protein | 8.9 g |