The 2023 Masters Has Some Of The Most Affordable Sandwiches In America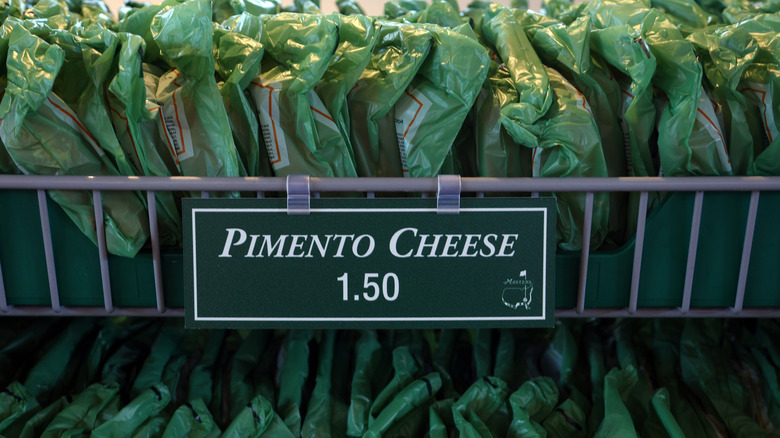 Andrew Redington/Getty Images
The 2023 PGA Masters kicked off this week in Augusta, Georgia. While many golf-lovers are buzzing about Rory McIlroy's odds and wondering how Tiger Woods will fare in his 25th appearance, the rest of us are fixating on something even more captivating: the surprisingly affordable concession menu.
When it comes to most spectator sporting events in general, we think of something more along the lines of the $12 hot dogs and $17 beers of last year's Super Bowl, and that's forgetting the ticket price of over $5,000. The 2023 Masters' reasonable menu includes tempting breakfast offerings like chicken biscuit and blueberry muffin, both for under $2 (via Twitter). Their breakfast sandwich goes for an eye-popping $3, which is less than most McDonald's Breakfast menu offerings. Even the liquor prices seem quite fair, with a glass of wine only ringing you up $6 and a beer only costing you $5. But the real shocker comes in the form of their pimento cheese and egg salad sandwiches, both of which are a mere $1.50.
The pimento cheese sandwich is the tournament's most iconic food, an homage to the classic southern spread of cream cheese, shredded Jack and cheddar, mayo, and spices. It's more deli food than Michelin-star special, but it has become a beloved staple of tournament goers and jealous couch-bound viewers alike. Nevertheless, the price tag is still a surprise, somehow making it one of America's most affordable sandwiches.
Wait, what's the catch?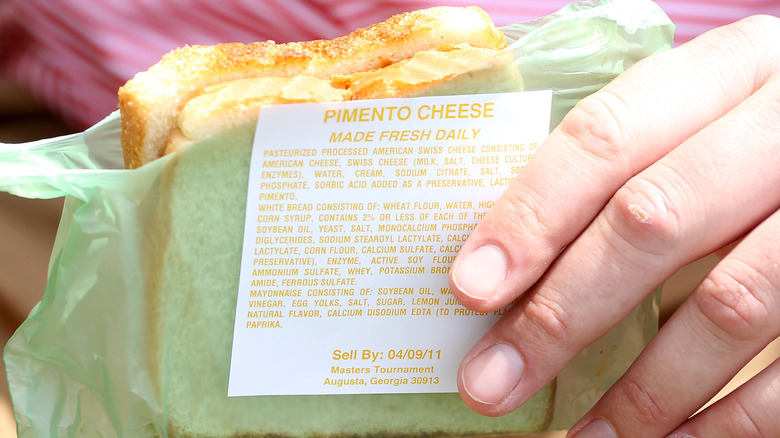 Jamie Squire/Getty Images
Well, to enjoy this tasty menu you'd still have to get tickets to the actual Masters Tournament, which is no easy feat. Tickets are reasonably priced on the official website, starting at $140, but you have to apply to enter a lottery the year before the tournament starts. To enter in the lottery for the 2024 tournament, you have to send in an application by June 20, 2023. Entering isn't hard, but your chances are next to nothing of winning. That leaves the option of buying tickets on the secondhand market — a pretty expensive option if you're just in it for a sandwich.
This still leaves us wondering why the food is so cheap at the Masters in the first place. After all, this isn't the first time the tournament has gone viral for its affordable menu pricing. Given it's considered to be one of, if not the most, prestigious golf tournaments on the calendar, why aren't they charging more for egg salad or pimento cheese? Economics professor Victor Matheson theorizes that the cheap prices perhaps add to the mystique of the tournament and its most famous sandwich, earning it loyalty and buzz every year, according to MarketWatch. Maybe the Masters is projecting an image of prestige by showing us that they don't need to milk spectators for every dollar they're worth to stay solvent.