Arrachera (Marinated Skirt Steak) Tacos Recipe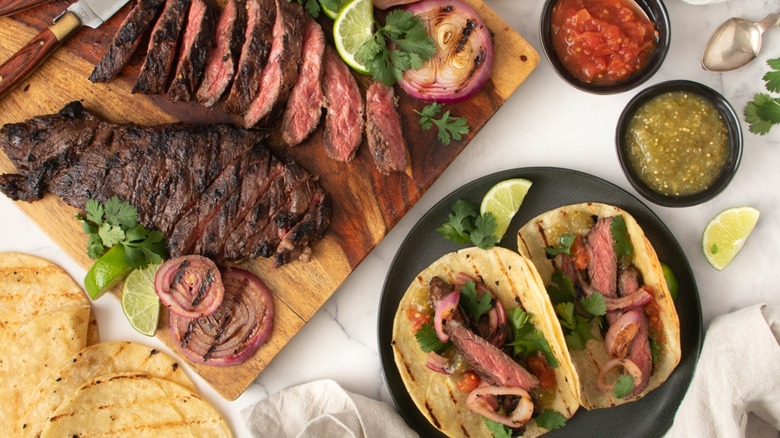 Patterson Watkins/Mashed
Everyone loves tacos. Even if you prefer flour tortillas instead of corn or are one of those people who hates cilantro, there are still probably plenty of types of tacos out there for you. If you're a fan of beef, look no further than recipe developer Patterson Watkins' arrachera tacos, which wraps pieces of savory marinated skirt steak and smoky grilled onions in a corn tortilla with all the classic accompaniments.
"The name 'arrachera' refers specifically to skirt steak as the choice cut of beef for this style of taco," Watkins says. "Skirt steak is a well-marbled piece of beef with a fair amount of muscle and connective tissue, making it ideal for marinating (tenderizing those tougher bits) and grilling (caramelizing those succulent fatty bits)."
"This taco can be served solo, as a casual meal, or part of a larger feast," she adds. "Feel free to serve these arrachera tacos with any and all of your favorite Mexican grill-friendly sides: elote, guacamole, beans, rice, or nopales." Fire up your grill, and let's get cooking.
Prepare your taco ingredients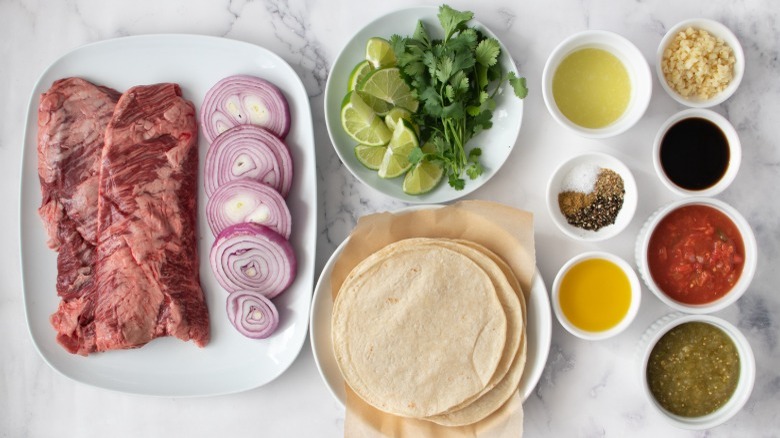 Patterson Watkins/Mashed
This ingredient list may look long, but all those components will ensure your final dish is super flavorful. For the meat marinade, you'll need cumin, oregano, minced garlic, Worcestershire sauce, lime juice, and salt and pepper. For the tacos, you'll need skirt steak (of course), thick-sliced red onions, corn tortillas, and a little oil for the grill. Finally, the accompaniments: Watkins suggests both red and green salsa, lime wedges, and fresh cilantro.
Marinate the skirt steak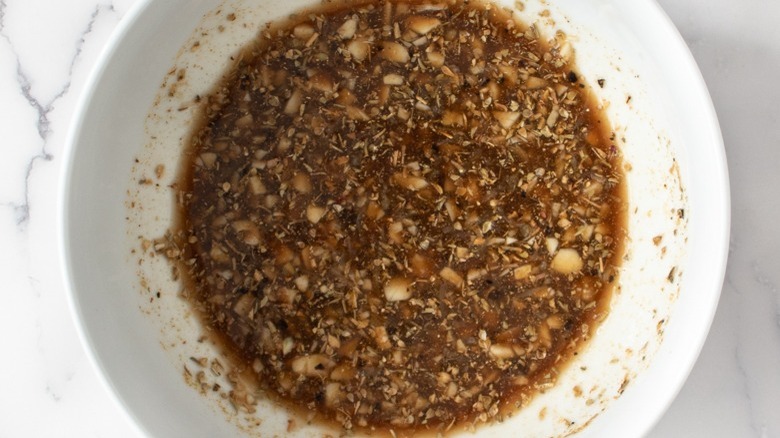 Patterson Watkins/Mashed
Your first step should be marinating. However, don't do this step too far ahead of time: "You want the marinade to be full-strength (often some of the acidity can fade from pre-made marinades), with fresh squeezed lime juice and just minced garlic, to really infuse and tenderize," Watkins notes. "You also want to avoid marinating for longer than 1 hour, as the acid in the marinade will begin to leach the color from the meat."
When you are ready to marinate, simply combine the lime juice, Worcestershire sauce, cumin, oregano, garlic, and salt and pepper and pour it in a large ziplock bag along with the meat and onion slices. Shake the bag to make sure it's coated, then let it sit for about an hour. While you're at it, prep the tortillas for grilling by brushing them lightly with oil.
Grill the marinated steak and onions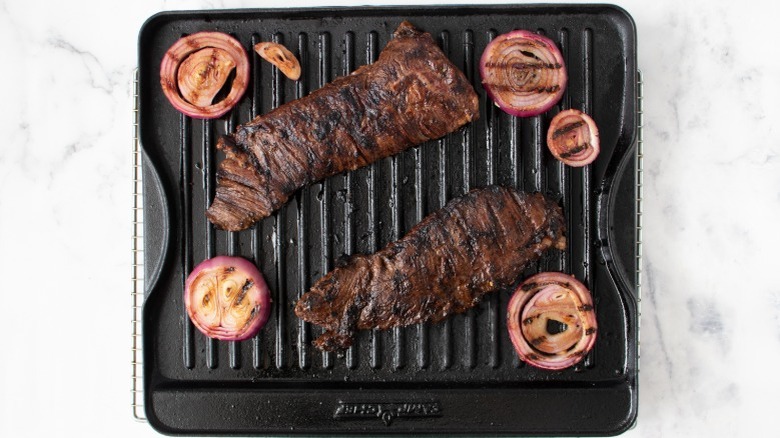 Patterson Watkins/Mashed
Once your meat has marinated, take it out of the bag, brush off any chunks from the marinade (they'll easily burn) and place the pieces on an oiled grill or grill pan that's been heated over medium-high. Let each side cook for a few minutes, or until it's reached your desired level of doneness. While that's happening, grill the onion slices as well so they get a nice char on them.
Grill the tortillas and slice the meat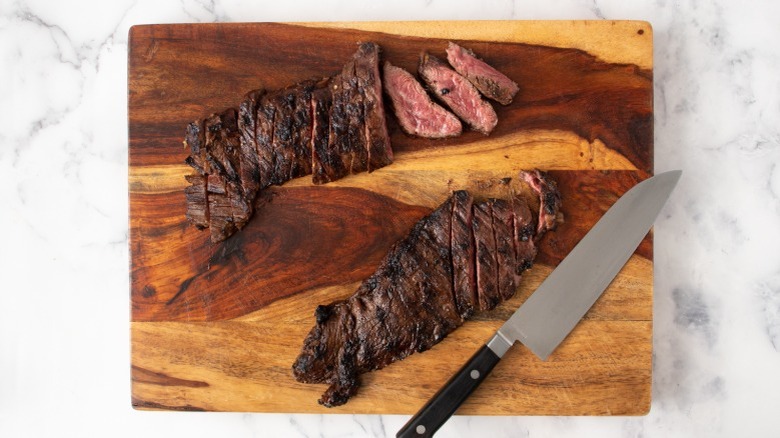 Patterson Watkins/Mashed
Once your skirt steak is done, take it off the grill along with the onions and let the meat rest for a bit. While that's happening, place your oiled tortillas on the still-hot grill for just a minute or so on each side — you want them charred but not burnt. Then, cut the steak into pieces, making sure to slice against the grain.
Serve up some arrachera tacos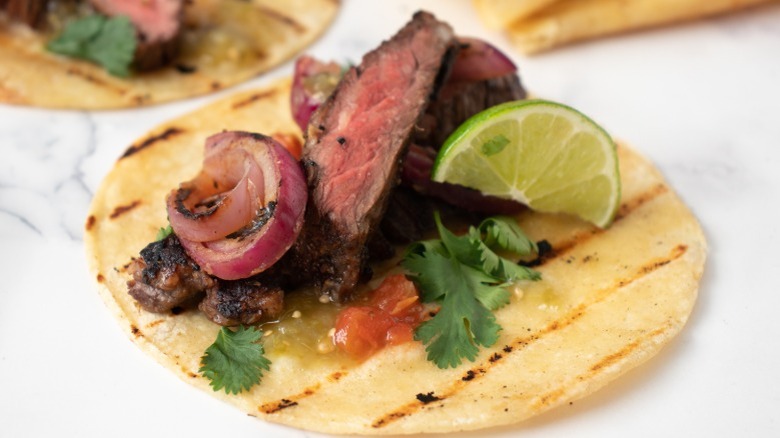 Patterson Watkins/Mashed
You have your meat and onions, you have some freshly-grilled tortillas, and you have your accompaniments. Congrats: You have everything you need to put together some delicious arrachera tacos. This kind of meal is great for serving guests, as everyone can assemble their tacos exactly how they want.
If you're not serving guests, no sweat. "If you happen to have leftovers, no need to do a deep-reheat," Watkins says. "Just a quick toss in a hot skillet to awaken those flavors and take the chill off (a minute or 2, tops). I love love love eating leftover arrachera for breakfast, all I do is add some scrambled eggs to my tacos and, violá, a great way to start the day!"
Arrachera (Marinated Skirt Steak) Tacos Recipe
Learn how to make these arrachera tacos featuring perfectly marinated and grilled skirt steak, charred red onions, and cilantro on corn tortillas.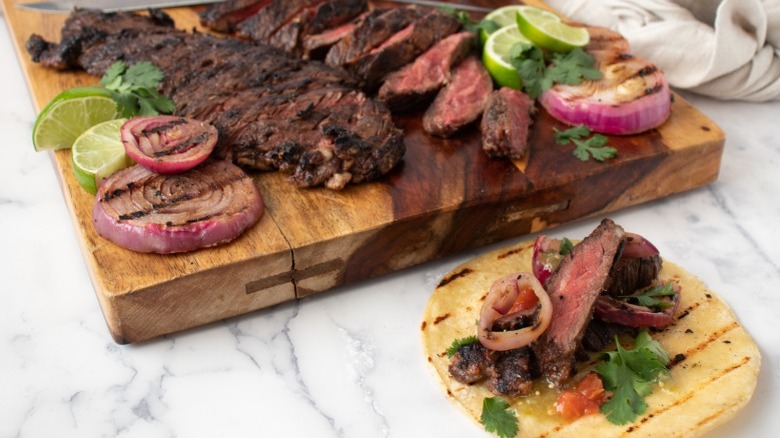 Total time: 1 hour, 30 minutes
Ingredients
3 tablespoons lime juice
2 tablespoons Worcestershire sauce
3 garlic cloves, peeled and minced
½ teaspoon ground cumin
½ teaspoon dried oregano
½ teaspoon salt
½ teaspoon black pepper
1 ½ pounds skirt steak
1 large red onion, peeled and thick sliced
8 corn tortillas
1 tablespoon olive oil, plus extra for brushing the grill
½ cup salsa rojo
½ cup salsa verde
1 lime, cut into wedges
½ cup fresh cilantro leaves
Directions
Place lime juice, Worcestershire sauce, garlic, cumin, oregano, salt, and pepper in a medium bowl and stir to combine the marinade.
Place the skirt steak in a zipper baggie, add the marinade, and gently agitate to coat the steak. Place the sliced red onions in the bag, seal, and place in the refrigerator. Chill for 1 hour, flipping the bag over halfway through the marinating time.
While the steak is marinating, lightly brush the corn tortillas with olive oil and set aside, covered with plastic wrap or a clean kitchen towel to keep the tortillas from drying out.
Preheat a gas grill to medium-high heat or prep charcoal briquettes for a charcoal grill. (Alternatively, you can use a stove-top grill pan.) Lightly brush the grill grates with a little olive oil.
Remove as much of the marinade from the steak as possible (the garlic pieces tend to burn and turn bitter) and place on the preheated grill. Grill for 3 to 4 minutes per side or until nicely charred and medium to medium-rare in doneness (130-145 F). Feel free to cook longer depending on your preference.
While the steak is grilling, position the sliced onions around the steak, and grill for 2 minutes per side or until tender and lightly charred.
Remove the steak and onions from the grill and set aside to rest for 5 minutes.
While the steak is resting, place the prepped tortillas on the grill, and toast for 30 to 60 seconds per side or until soft and lightly charred. Remove from the grill and set aside.
Slice the steak into ½-inch thick strips, working with the steaks positioned at an angle to cut against the grain.
Serve sliced steak with grilled onions, tortillas, salsa, lime wedges, and cilantro for taco assembling.
Nutrition
| | |
| --- | --- |
| Calories per Serving | 523 |
| Total Fat | 27.0 g |
| Saturated Fat | 9.3 g |
| Trans Fat | 1.2 g |
| Cholesterol | 110.6 mg |
| | |
| --- | --- |
| Total Carbohydrates | 34.7 g |
| Dietary Fiber | 5.6 g |
| Total Sugars | 5.7 g |
| Sodium | 844.8 mg |
| Protein | 38.6 g |