Costco Is Now Selling The Cutest Serving Sets For Parties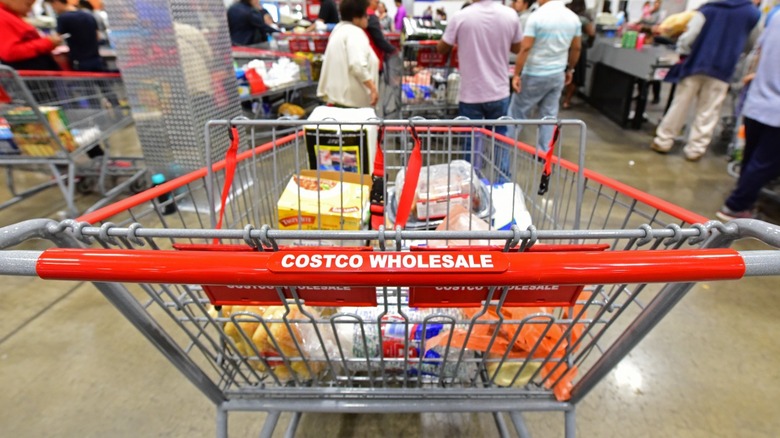 a katz/Shutterstock
Costco is more than just rotisserie chicken and bulk toilet paper. While fans can surely pay a trip to the store to stock up on staples, they can also find and buy, well, just about anything, ranging from furniture to jewelry to household goods. That means shoppers can also hit up Costco if they're planning a party, whether it's an indoor soiree or an outdoor get-together.
Of course, parties need serving utensils and platters to arrange and organize the party food, whether it be crudité with tapenade for an appetizer or toppings for burgers. Costco's got options in that department, including the cutest new serving sets from ceramic artist Rae Dunn now on the product line.
Costco has debuted a five-piece stoneware serving set from ceramic artist Rae Dunn. The set features five white stoneware pieces including a serving tray with lettering appropriately reading "SERVE" and three dipping bowls reading "SPREAD," "DIP," and "DUNK." The set is rounded out by a nesting tray that holds the other four pieces. The sets are currently selling for $27.99 online.
Grab an 'imperfectly perfect' Rae Dunn serving set
Rae Dunn is famous for her style of ceramics, which usually features pottery in white with elongated black lettering similar to the set sold at Costco. Some other works include mugs featuring words like "MAMA BEAR," "COFFEE," and "DAD'S FAVORITE." Previously, you'd usually have to pay a visit to Home Goods, TJ Maxx, or Marshall's to snag some of Dunn's pottery, which has become a collector's item for some who often wait in line until the stores open to get the newest pieces (via ABC 30).
Country Living calls Dunn's creations "imperfectly perfect" because she doesn't try to make her pottery perfectly shaped or smoothed. This is an important part of her art and what it signifies. As Dunn states on her website, "I don't strive for perfection in line and form in my work, because for me the balance I'm trying to achieve can't be represented that way. The incompleteness and imperfection of my work is part of the story." So if those Costco serving sets don't look flawlessly formed, that's probably by design.