Shrimp Tempura Recipe
Kate Shungu/Mashed
When you're looking for an appetizer or a simple protein to add to a bowl of noodles or rice, it's hard to go wrong with shrimp tempura. This classic, no-frills dish is about as simple as recipes come — minimal ingredients and minimal seasonings designed to keep the focus on the extra-crisp fried exterior and the flavor of the shrimp itself. Of course, that's not to say you can't get a little bit creative with how you serve it. 
"I like to keep the shrimp traditional, but experiment with the dipping sauce to change the flavor," says recipe developer Kate Shungu. "It can be as simple as soy sauce or with a few extra ingredients you can make ten-tsuyu." This more traditional shrimp tempura dipping sauce only requires soy sauce, mirin, rice wine vinegar, dashi powder, and water, so it's an easy sauce to make at home. Or, of course, you can elect to use your other favorite shrimp dipping sauces even if they're not typically aligned with Japanese or Asian cuisine.
Gather the ingredients for shrimp tempura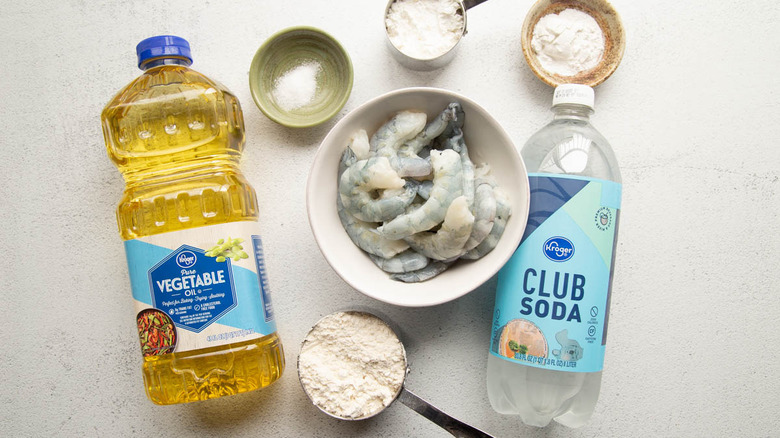 Kate Shungu/Mashed
Not much is required for this simple shrimp tempura recipe. All you need to purchase (or gather from your own pantry) is uncooked shrimp, peeled and deveined, flour, cornstarch, baking powder, salt, and club soda. Of course, you'll also need vegetable oil for frying. 
Of all the expected ingredients, you may be left wondering, "Why club soda?" Well, according to Shungu, that's the secret to the recipe, along with cornstarch. "Club soda makes the breading light and airy, and the cornstarch gives the exterior a nice crunch." So if you're looking for that restaurant-quality crispy fry on your shrimp, don't skip these two ingredients!
Heat the oil and prep the shrimp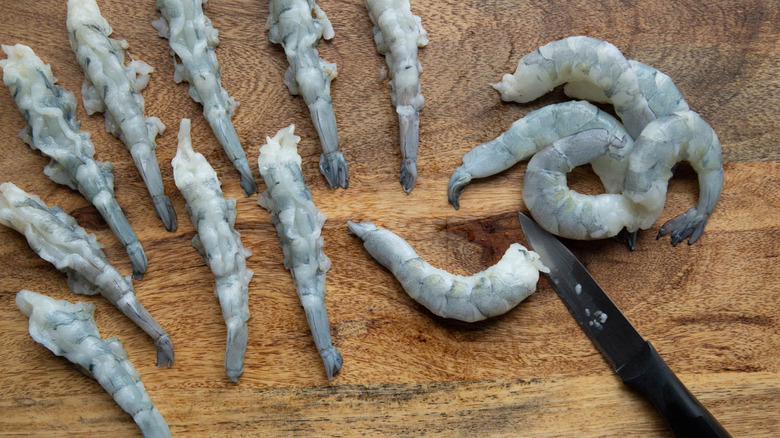 Kate Shungu/Mashed
To get started, add two inches of oil to a deep, heavy pot or frying pan, and heat it until it reaches 350 F. 
While it's not a required step, if you want your shrimp to lie flat instead of curled up (like you see in Japanese restaurants), now's the time to do the extra prep work. All you have to do is slice vertically down the back of each shrimp along the vein, being careful not to slice all the way through. Then, flip the shrimp over and make several horizontal incisions, cutting about halfway through the shrimp, but again being careful not to slice all the way through. Place the shrimp belly down on a cutting board or plate and push down over the incision sites to separate the muscles so they lie flat. 
When your shrimp are ready (whether you've decided to have them lie flat or remain curled), dust them lightly with cornstarch.
Mix the batter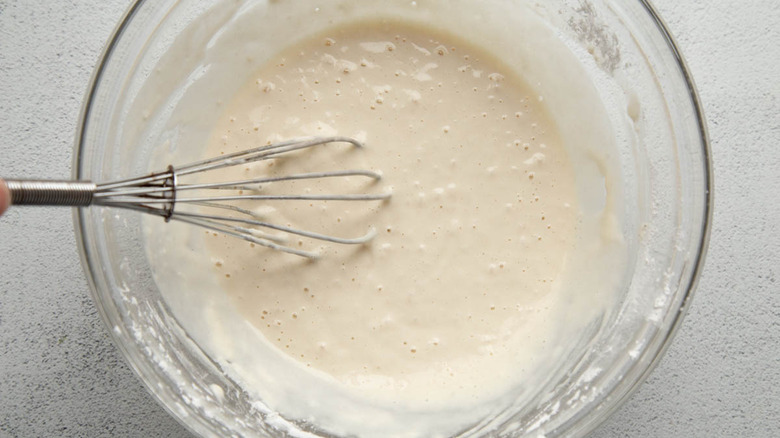 Kate Shungu/Mashed
Grab a large bowl to start mixing up your batter. Add the flour, the rest of the corn starch, baking powder, and salt to the bowl. Pour in the club soda (remember, it should be cold), and stir lightly. The result should be a batter with a consistency similar to pancake batter.
Batter the shrimp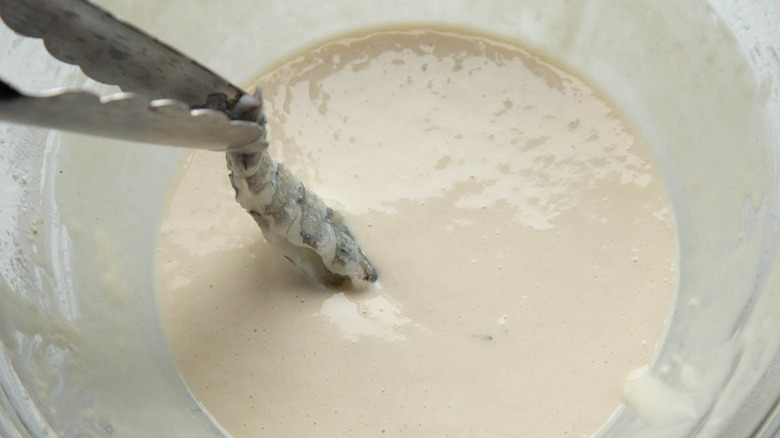 Kate Shungu/Mashed
Grab a shrimp by the tail with a pair of tongs or your fingers, then dip it completely in the batter. Pull it out of the batter and let any excess drip off. 
Fry the shrimp and serve hot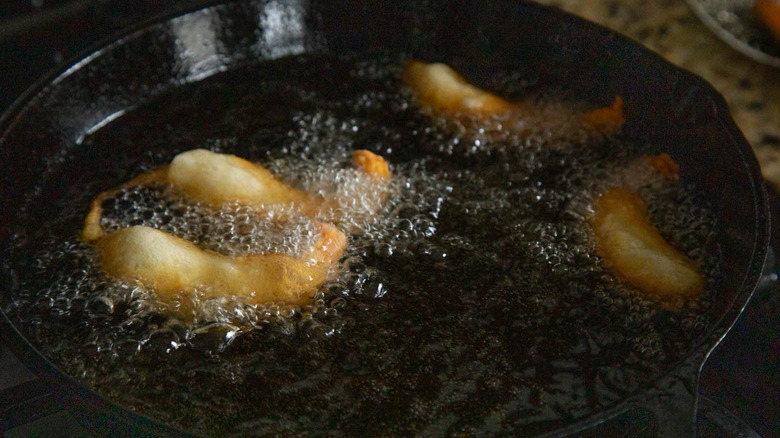 Kate Shungu/Mashed
Immediately after dipping the first shrimp in the batter, transfer it to the oil. Repeat with as many shrimp as will fit in the pot without crowding — first battering them, then adding them to the oil. After about 60 to 90 seconds, flip the shrimp over to fry them equally on each side. They should be golden brown and crispy after a total of 2 to 3 minutes of cooking. 
Serve immediately, while they're still warm for the best experience. "Shrimp tempura are best eaten the same day they are made. They are best while fresh out of the oil, but can be eaten within an hour or two at room temperature," Shungu says. And while you can add them to noodles or soup for a full meal, Shungu herself prefers enjoying them as an appetizer alongside a nice, cold beer.
Shrimp Tempura Recipe
Prepare this classic Asian dish in your home kitchen with only a few ingredients and enjoy the crunchy and airy batter with every single bite.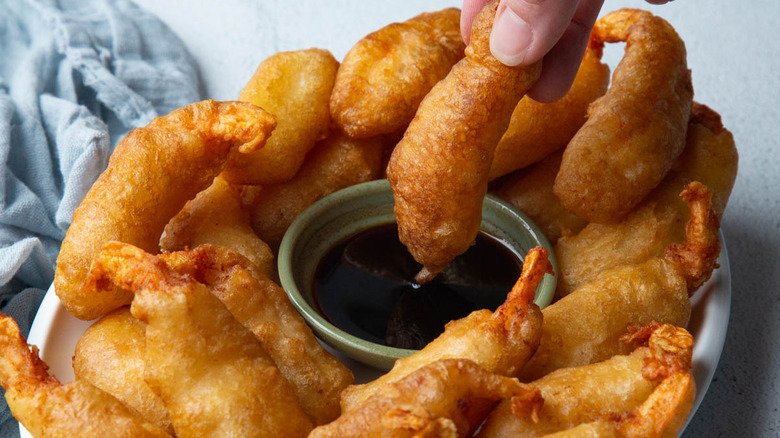 Ingredients
1 pound jumbo uncooked shrimp, peeled and deveined
1 cup flour
⅓ cup cornstarch, divided
1 tablespoon baking powder
½ teaspoon salt
1 cup club soda, chilled
Vegetable oil for frying
Directions
Heat 2 inches of oil to 350 F in a deep, heavy pot.
Optional: Make a thin incision on the back of each shrimp, vertically along the vein. Turn the shrimp over and make 3 or 4 horizontal incisions about ½ way through the shrimp. Flip the shrimp onto a work surface, belly side down. Push down over each incision with your fingers to separate the muscle. This will create the long, straight shrimp traditionally served in Japanese restaurants.
Dust the shrimp with 2 tablespoons of cornstarch.
In a large bowl, combine the flour, remaining cornstarch, baking powder, and salt. Whisk in the club soda. The batter should be relatively thin, like pancake batter.
Holding a shrimp by the tail, dip it into the batter, allowing excess to drip off. Carefully place the shrimp into the hot oil. Repeat with 3 or 4 other shrimp (or however many will fit in the pot without crowding).
Cook for 2 to 3 minutes, flipping halfway through, or until golden brown.
Serve warm.
Nutrition
| | |
| --- | --- |
| Calories per Serving | 543 |
| Total Fat | 33.7 g |
| Saturated Fat | 2.3 g |
| Trans Fat | 0.3 g |
| Cholesterol | 182.6 mg |
| | |
| --- | --- |
| Total Carbohydrates | 34.4 g |
| Dietary Fiber | 0.9 g |
| Total Sugars | 0.1 g |
| Sodium | 583.2 mg |
| Protein | 26.1 g |