Fanta Just Released An Orange Soda-Scented Perfume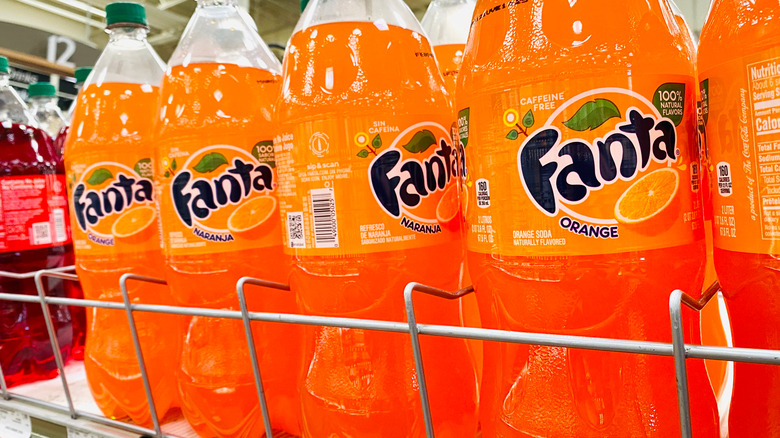 ZikG/Shutterstock
If you just can't live your day-to-day life without the citrusy blast from a Fanta, then you are in luck, because the soda brand has a special promotion that can have you smelling just like the popular beverage. Originally created in Germany as a Coca-Cola alternative when the Trading With the Enemy Act of 1917 halted Coca-Cola sales in Deutschland during WWII, Fanta has since expanded its offerings with a variety of flavors including Berry, Grape, Strawberry, Pina Colada, and the classic Orange. These citrusy drinks have seen their days in the sun as it remains one of the most recognizable sodas on the worldwide market to date.
However, after being in the public eye for 80 years, Fanta — which falls under the Coca-Cola umbrella of brands — is set for a major revamp. Not only will the appearance of the classic labels see a change as the soda company looks to set itself apart from the competition in a modern market, but the actual taste of the original Orange soda is set for a flavor upgrade. To celebrate and promote the new look and taste, The Coca-Cola Brand has announced a major marketing campaign launching April 13 that includes a mobile game called the Fanta Digital Ride n Sip, cinematic commercials, as well as a limited-release aromatic fragrance called "Scent of Fanta." Let's find out how you can get your hands on this new orangey scent.
How to get a bottle of limited-edition Scent of Fanta fragrance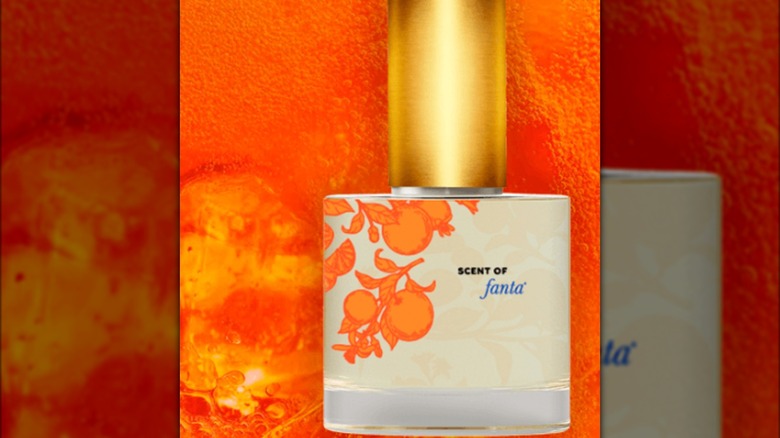 The Coca-Cola Company
With an upgraded Orange Fanta set to roll out across the United States and Canada, die-hard soda fanatics can expect a change for the better. As Chris Hunsaker, Senior Brand Manager for Sparkling Flavors at Coca-Cola North America, said in a Coca-Cola Company press release, "Fans are craving more of what they love about Fanta Orange, so we've enhanced the recipe by amplifying its bold, fruity attributes." That's not all: Fanta followers can also treat their olfactory senses to a limited-edition "Scent of Fanta" fragrance which will be available to a select few hopefuls on April 13.
To get ahold of this promotional citrusy scent, you can visit the Coca-Cola promotion page on the day of April 13 at 12 p.m. Eastern Standard Time and enter for a chance to win 1 of only 250 bottles made. This special contest is open to residents of the United States only, who are 18 years old or older. This type of fragrance marketing is not new to popular culture — in 2008, Burger King released "Flame by BK," which was followed by "Flame-grilled Fragrance" in 2015. Even Pizza Hut had a line of perfume in 2012: the doughy scent of "Eau de Pizza Hut." When you consider the alternatives, a Fanta-filled aroma actually sounds like a breath of fresh air.