Post Malone Loves Raising Cane's So Much, He Designed His Own Store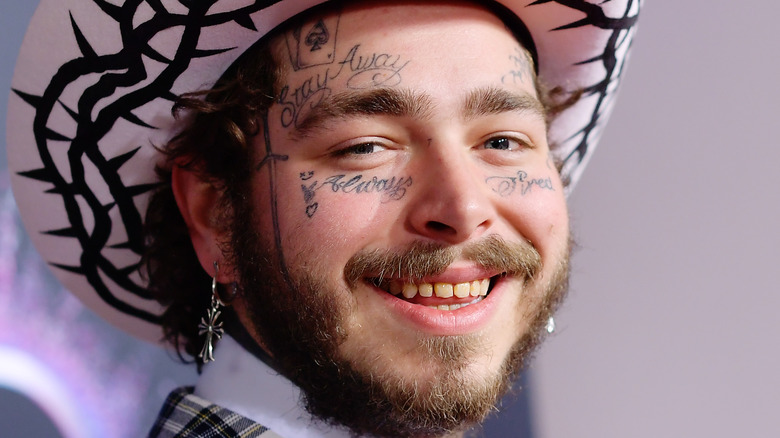 Matt Winkelmeyer/Getty Images
Thanks to a close friendship with founder Todd Graves and a lifelong love of Raising Cane's, Post Malone was granted the chance to design his own rendition of the chicken eatery in Utah. Today, April 13, Post Malone's vision came to life as the location's doors opened for the first time. Unlike anything the brand has done before, the store's interior and exterior are a bright pink color, and its furniture varies in design from stainless steel to silver.
As a constant reminder of the rapper's influence, the dining room is decked out with memorabilia from the star himself. The bathrooms are designed with a medieval theme, and a vending machine allows fans to win merchandise. Outside, a silver Classic 1974 Ford F250 sits in the parking lot.
When it comes to food, Post Malone's Raising Cane's restaurant includes an exclusive store-only offering. Inspired by the songwriter's favorite meal, the "Posty Way" Caniac Box comes with four chicken tenders, crinkle-cut fries, 2 pieces of Texas Toast, 2 Cane's sauces, pepper and salt packets, and a half-unsweet-tea, half-lemonade beverage.
Interestingly, Raising Cane's doesn't appear to be his favorite for chicken. As it turns out, Posty is a huge fan of food delivery, having placed more than 600 Postmate orders as of 2018. Among his most ordered is food from Chick-fil-A, Popeye's, and KFC, with Raising Cane's notably absent. Therefore, his friendship with the company's founder might have been the driving force behind this collab.
Post Malone is friends with the founder of Raising Cane's
Post Malone and Raising Cane's founder Todd Graves have long been acquainted; Graves even starred in Post's 2021 music video for "Motley Crue." Filmed at the Auto Club Speedway, the star-studded video was crawling with celebrity appearances, from Tyga to Big Sean, to Nascar's Denny Hamlin and Bubba Wallace. After the video's release, Graves shared a picture to Instagram alongside Post Malone. Followers of Graves felt strange about the pairing, likening it to a father/son relationship. No matter what the nature of the friendship is, it led to a Raising Cane's location close to the rapper's house.
When a reporter from a local news station, Fox 13, shared an article about the new location on Twitter, they were greeted with equal parts praises and complaints. "This is legitimately hideous," wrote one user, revealing they thought the "pink was temporary." Others loved the change in scenery. "I'm happy to see some unique architecture and a brightly colored building," one user wrote. It's unknown if Post Malone will continue to design stores, but with the partnership at large, anything is possible.