The Least Popular Menu Item At KFC Is A Controversial Fave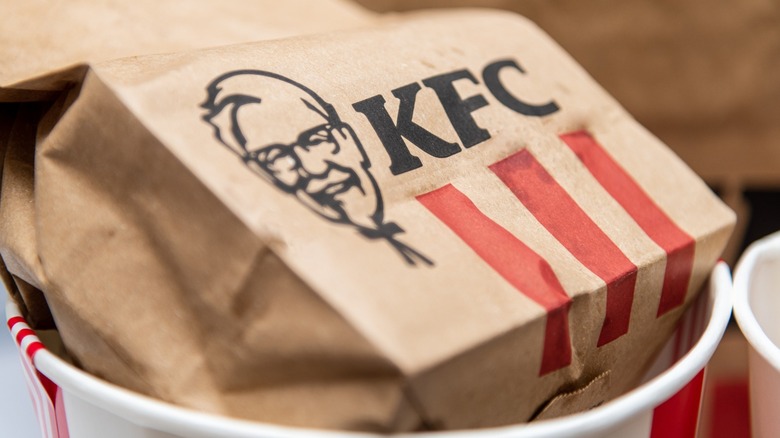 Yalcin Sonat/Shutterstock
For decades, KFC has been one of America's favorite fast casual chains to grab a bucket of "finger-lickin' good" chicken and the Colonel's secret recipe in all its glory. While most of its menu items are fried or breaded in some way, there are just a few vegetable sides to choose from to lighten up a heavy meal — corn and coleslaw. It's no secret that Americans don't eat enough veggies in their diet, so it makes sense that coleslaw isn't a go-to order, at least at this specific KFC location.
On TikTok, San Jose foodie, Alexis Frost, hit up her local KFC drive-thru and decided to taste test whatever menu item customers ordered the least. When asked, the employee guessed that the least requested option would have to be coleslaw. We see Frost buy a serving and open it up at home to see for herself why it isn't a very popular menu choice.
According to her, the coleslaw gets a big fat zero. However, the comment section was lit up with fans of the franchise rallying together to defend this creamy-yet-tangy side dish. "KFC coleslaw is elite," one commenter wrote, and many others stated that it's their absolute favorite thing to order off the menu. It seems to be quite a divisive dish. People either wholeheartedly love KFC's coleslaw, or they'd much rather see it swiftly tossed in the trash. There are a few reasons we can think of regarding why it's considered such an underdog.
Fans of KFC coleslaw are probably also fans of sugar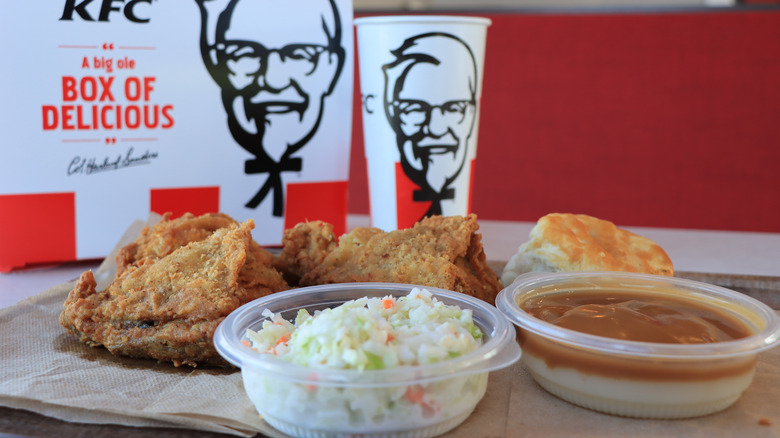 Deutschlandreform/Shutterstock
Perhaps it's a texture issue for those who dislike KFC's coleslaw. It can be hard for some to detect the flavors of vegetables since the star of this controversial side dish is definitely the dressing. While it can be done really well, all the shredded bits of cabbage, onions, and carrots can get pretty soggy if not eaten quickly. This can be easily avoided with a copycat recipe if you'd prefer a fresher, homemade recipe that isn't so heavy on the sauce. What is it about the coleslaw's signature dressing that makes this a favorite for some KFC fans, anyway?
Many claim that the secret to the coleslaw's tangy, rich flavor is buttermilk, and include it in their recipes to achieve a similar effect. It turns out that this is not the case, as it doesn't appear on the ingredients list. The tartness found in KFC coleslaw comes from a mixture of lemon juice, vinegar, paprika, and a little extra zing from the chopped onions.
It's obvious that some of the sweetness comes from mayonnaise, which is traditionally one of the coleslaw's main ingredients. Besides that, people probably love it because of its sugar content, which is 10 grams per serving, or just over two teaspoons of sugar. If you consider yourself part of the apparently thriving KFC coleslaw fanbase, you may want to keep an eye on that or try making your own, healthier version!