A KFC Fan Spent 18 Years Trying To Find The Best Chicken In The World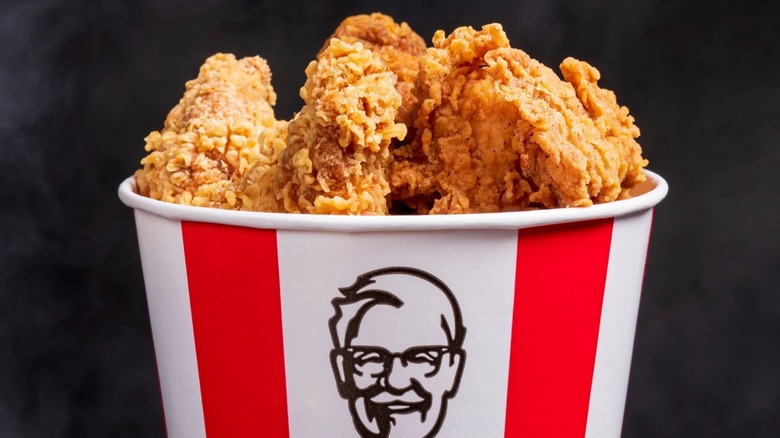 Siarhei Kuranets/Shutterstock
Most people travel the world seeking adventure, thrills, or eye-opening new experiences; but one ambitious traveler embarked on an 18-year quest in search of something much more specific — the world's best fried chicken. It all started when marketing consultant and KFC devotee Jacky Tan discovered that Colonel Sanders' famous "finger lickin' good" recipe did, in fact, taste different all over the globe. Familiar fast food chains like McDonald's and Taco Bell feature unique meal options on their international menus, many of which are staple dishes from whatever country they're located in, so it comes as no surprise that different flavors and cooking methods are used when preparing KFC's fried chicken in different parts of the world.
Tan began his search in 2005, popping into a KFC whenever he had to take a work trip abroad or while vacationing with his wife, Michelle. The Singapore native chowed down on so much fried chicken that he created a system to rate his meals based on taste, freshness, crispiness, and aroma. He called it TaF-CA, and it's how we know he meant business. After nearly two decades of taste testing, Tan had made it to 24 countries and eaten at over 1,000 KFC locations. With his expertly honed taste buds and ranking system, he was able to determine which country's KFC has the best fried chicken, the worst, and which ones came close.
Mongolia is home of the world's best KFC fried chicken
Upon careful consideration, Tan found his winner. "I visited the KFC in Ulaanbaatar, Mongolia, in 2013 during a business trip with my colleagues," he recalled before mentioning that he had to wait in line for an hour to experience the best of the best (via Yahoo! News). The reason for the long queue was likely due to the fact that this location was the country's first KFC and its first Western restaurant in general, opening its doors to the public that very same year. Everyone wanted in on the Colonel's secret blend of 11 herbs and spices. Not only is Mongolia's version apparently out of this world, but the building's interior is also more upscale and inviting than most others around the world.
Describing Mongolia's KFC chicken as "unique" and saying he was "impressed," the 41-year-old ranked Cape Town, Sri Lanka, Indonesia, and Malaysia behind it in his top 10 list of best-tasting favorites. His own home country of Singapore placed sixth, and Barcelona's KFC came in dead last with chicken that was rubbery and devoid of flavor. To ensure all countries were given a fair shot on Tan's trusty TaF-CA scale during his whirlwind adventure, he ordered the same Original Recipe meal with each visit.
KFC was once considered a luxury treat that Tan had to save up for when he was young, so seeing him live out his fried chicken dreams so passionately as an adult is as wholesome as it gets.