Padma Lakshmi Thinks One In-N-Out Location Stands Out Over The Others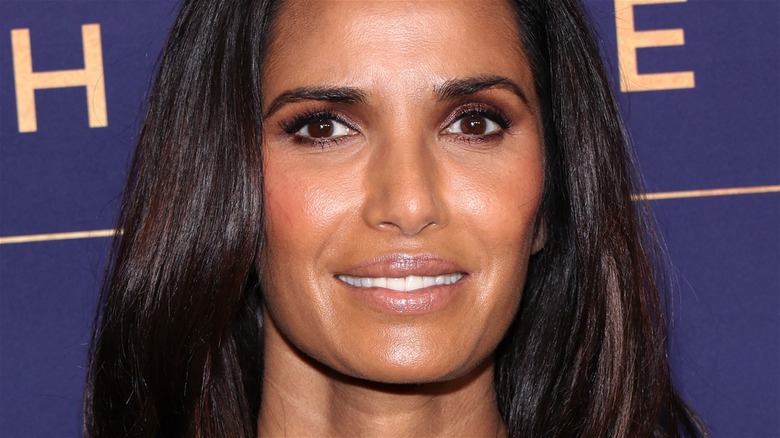 David Livingston/Getty
When it comes to franchised fast food restaurants, there is something to be said for consistency. One of the main reasons why franchises are successful — such as McDonald's, Subway, and KFC — is that you can visit a location in Massachusetts that would have a similar look and food selection as that of a store in Mumbai. Aside from specialty items that may cater to the local clientele — for example, you may see a McBaguette à la "Emily in Paris" on the menu in a McDonald's in France and be able to enjoy a McBeer in Germany — the power of the food franchise comes in its consistent business model, structure, and signature menu staples.
This is where popular burger joint In-N-Out differs. In-N-Out was America's first drive-thru burger location, which opened its takeout window back in 1948. However, unlike other burger giants in the industry, In-N-Out is not a franchise and is still owned by the original Snyder family who founded it. So, one could ask the question: Are all burgers at In-N-Out the same? According to "Top Chef" and "Taste the Nation" executive producer Padma Lakshmi, one In-N-Out location is number one to her taste buds. While road-tripping in California, she tested out the various In-N-Out locations in the Golden State and declared to E! News that the best is in the desert city of Palm Springs (via Insider).
Lakshmi's love affair with In-N-Out goes way back
As host of the immensely popular "Top Chef" series, Lakshmi has been fortunate enough to taste some of the best dishes from rising stars in the culinary world. However, she's not shy when it comes to expressing her love of fast food — in particular, for the tasty burgers from In-N-Out. After attending the Emmy Awards back in 2015, she shared a post of herself on Instagram, still clad in her glamorous evening attire while chowing down on an In-N-Out burger, with the caption, "Reunited and it feels so good." But the flame-grilled love affair didn't stop there: Since then, she has peppered in other posts showing herself enjoying a meal at the cult-favorite burger joint. In 2018, she posted an Instagram video while delicately adding ketchup to the middle of a single-patty burger, all to the smooth sounds of Barry White's romantic banger, "Can't Get Enough of Your Love Baby."
Then, in 2019, Lakshmi shared another video while sitting on an In-N-Out patio on a sunny day. Staying with the Barry White theme, her slow-motion burger bite — which heroically sacrificed her red lipstick — was soundtracked by the adoring tune, "I'm Gonna Love You Just A Little More Baby." In 2022, she posted an Instagram pic — post-elated-In-N-Out burger bite — where the caption was actually pitching possible ASMR segments via her Substack channel. She ended the caption with, "Hope you enjoy it as much as I enjoyed this burger!"