Miller High Life's New Truffles Have Wild Flavors
There's a new candy-alcohol collaboration hitting online shelves May 2 for National Truffle Day, and it's sure to be popular with partiers who enjoy liquor-infused gummies. Spearheaded by Miller High Life and acclaimed chocolatier Phillip Ashley, the Miller High Life Bar Snack Truffles will come in a six-pack of unique beer-infused flavors, per a press release sent to Mashed. Each pack includes a grilled cheese chocolate (a blond chocolate shell stuffed with cream cheese and white chocolate ganache) and a lemon-pepper fried-chicken-flavored chocolate. There's also a pretzel praline truffle, which combines pretzel, pecan, caramel, and chocolate, as well as a Beernut truffle — a milk chocolate shell stuffed with beer-infused peanut butter. The final truffles are a white-chocolate buttery popcorn flavor and a sweet potato fry option made possible thanks to potato mash.
A box of these chocolates will be available for $35 on National Truffle Day. Not to be confused with the mushroom variety, chocolate truffles were invented in Northern France in 1895 and have since been reimagined in countless ways. These flavors were formulated for Miller High Life by Philip Ashley Rix to pair well with a six-pack of beer.
Chef Phillip Ashley Rix worked on the flavor pairings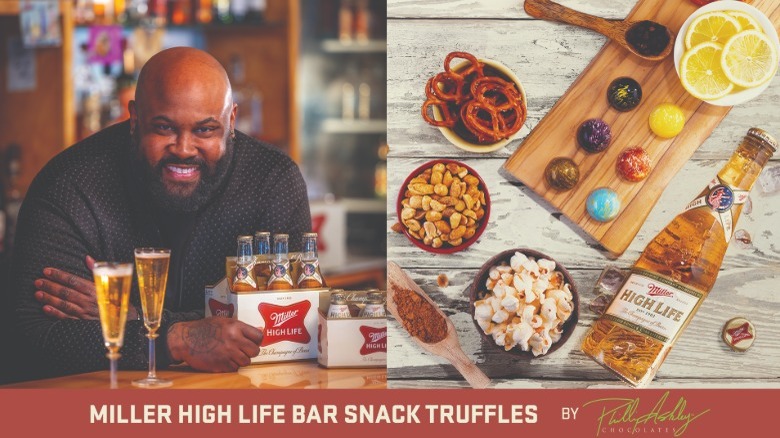 Miller High Life
Beer-infused chocolate truffles are the newest product from Miller High Life, and chocolatier Phillip Ashley Rix pulled the flavors together so that the candies complement the Champagne of Beers. Based out of Memphis, Rix's chocolate shop has gained him a footing in the land of fine chocolate. The chef is no stranger to preparing his sweet treats for Hollywood's elite, to the extent that Forbes named him the "Real Life Willy Wonka" in 2014. "I didn't want to do something traditional, and I didn't want to have a restaurant or do catering. I wanted to set up my own business and one day chocolate just hit me," Rix told the publication.
It can be a daunting task to correctly pair chocolate and beer. According to Gearharts Fine Chocolates, the experience of drinking light ales and lagers can change when paired with milk or dark chocolate — sometimes the individual flavors become more intense, while other times the tastes combine more fully. If you opt for a wheaty beer, white chocolate is a good choice, and if you like dark and chocolatey stouts, pair them with the drink's edible equivalent. Or, you can just trust Phillip Ashley Rix and Miller Life's new chocolates when they hit shelves next week.