A Popular TikTok Hack For Peeling Potatoes Could Actually Be Kind Of Dangerous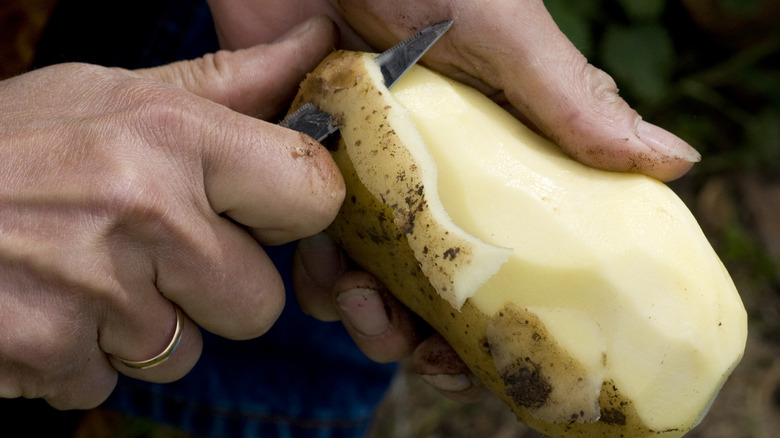 Kondor83/Getty Images
Boiled, mashed, stuck in a stew, or even air-fried — everyone loves potatoes. But there's nothing worse than being assigned the long and laborious role of potato peeler when preparing a meal for Thanksgiving, Christmas, or another special occasion. While many home cooks have suggested hacks to improve this process, like using a knife to make lines around the potato — most involve making the potato's tough texture easier to work with, rather than saving time. 
Now, though, TikTok has found a hack that seems so simple, it's almost suspicious that we haven't heard of it before. The hack is demonstrated here in this video, which has over 562,000 likes. In the video, user @jenniabs3 aka Jennifer explains that "the reason why potato peelers swivel back and forth is so that you can not only go down but forward when you're peeling" — showing viewers how to glide the peeler across the surface of the potato, without lifting it up. The result is much speedier and more efficient than the traditional method, which only cuts in one direction, and often misses parts of the potato. 
Is it dangerous?
Some commenters were impressed with the hack. "This is why we need cooking classes back in high school!" one person said. "Seriously questioning everything I do in life right now," added another. However, many people were quick to point out the potential for injury. "No hate but it's not safe to peel towards you. That's a quick way to slice part of your hand," someone else commented, with another user revealing, "I cut off half my nail with that last month." Speaking to Insider, Jennifer defended her peeling technique, believing that many people don't cut towards themselves as they "were taught that as kids and it just stuck with them into adulthood." In a later video, she also suggested that the hack was not dangerous as it avoids lifting the peeler from the potato — eliminating the opportunity for accidental cuts.
Despite this, most advice cautions against cutting toward your body. You could try holding the potato in your non-dominant hand and using the blade in your other hand to cut away from yourself. Similarly, you could hold Y-shaped peelers like a pencil and when peeling, do so away from your body with a flick of the wrist.