The Oldest Steakhouse In America Has Been Open Since The 1800s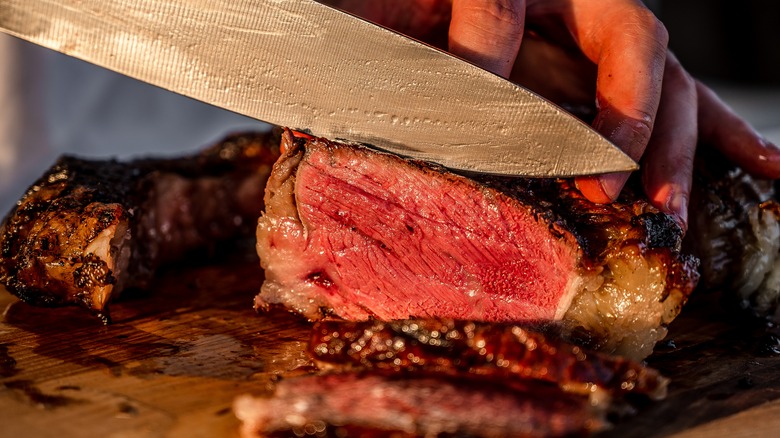 Norbertas/Shutterstock
If you're a meat lover, you're not alone. Carnivorous connoisseurs have been enjoying porterhouses, filet mignons, and sirloin steaks for hundreds of years, and, according to the United State Department for Agriculture (USDA), Americans are eating more and more meat every year (via BBC). It's no surprise then that Americans have an affinity for the steakhouse, and have for some time.
The oldest continuously operating steakhouse in the United States is on New York City's 9th Avenue: The Old Homestead Steakhouse. When it opened in 1868, the menu included steaks for just 10 cents. The original restaurant had just five tables, but now has grown to be able to serve up to 800 people per dinner service.
Brothers Marc and Greg Sherry are the current owners of The Old Homestead Steakhouse, which has been in the family since their grandfather Harry Sherry bought it after working his way up from a dishwasher over 70 years ago. "Patrons come here for one reason – mammoth cuts of the highest quality USDA prime dry-aged beef. They know they're getting quantity and quality," Greg said (via The Old Homestead Steakhouse website). "The world has changed, but our steaks haven't," added Marc in an interview for the book "New York's Historic Restaurants, Inns, and Taverns."
The Old Homestead Steakhouse is still going strong
Today, when approaching The Old Homestead Steakhouse, you'll find Annabell, a cow statue, situated above the entrance, welcoming you into the restaurant known for the quality and size of its steaks. The eatery is filled with red booths where patrons dine while listening to jazz music.
One such patron, renowned food writer Ruth Reichl, chronicled her experience at The Old Homestead Steakhouse for The New York Times, and the review is certainly a testament to the restaurant's commitment to sizable steaks. "For sheer quantity, nothing can beat the Homestead. When you order a porterhouse for two, a prodigious steak arrives, thicker than the Manhattan phone book and twice as heavy," Reichl wrote. The restaurant's steaks are so large, in fact, co-owner Marc Sherry claims the eatery invented the doggie bag so customers could take home leftovers (via WLIW).
The Old Homestead Steakhouse has been so successful over the years that it has spread to two other locations, both in casinos: one in Atlantic City and another in Las Vegas. The Sherrys don't plan on slowing down anytime soon. "We treat this as not just a business, but our home. We have a lot of pride in the restaurant, and a lot of great memories and stories," Marc told WLIW.