Pastrami Reuben Pizza Recipe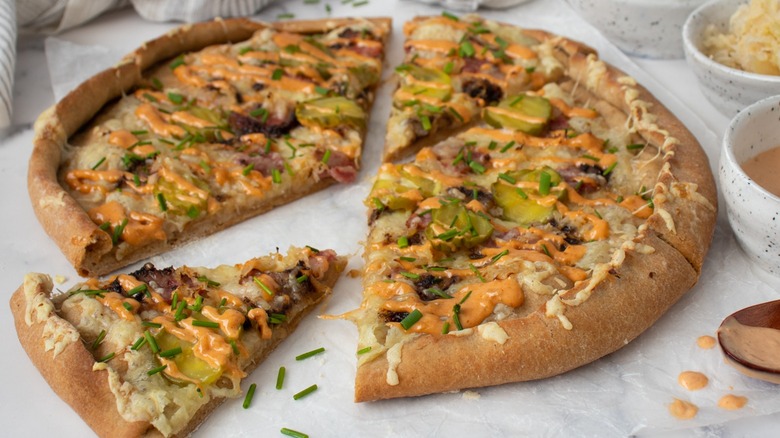 Patterson Watkins/Mashed
If you are a pastrami Reuben lover, we've got a fun twist on the popular sandwich that you'll be head over heels for. Recipe developer, Patterson Watkins, brings us this recipe for pastrami Reuben pizza. "Two of my all-time favorite things are pastrami Reubens and pizza," Watkins explains. "I...wanted to see if those OG sandwich ingredients would work as pizza toppings (spoiler alert, they deliciously do)."
Savory pastrami, tangy sauerkraut, flavorful Russian dressing, and melty Swiss cheese on a pizza? We are totally on board with this idea. If you're not sure when to serve this unique pizza, our developer has some suggestions. "This pastrami Reuben pizza is an ideal casual weekend meal or a fun twist on party grub (especially if you are hosting foodie friends)," Watkins says. "Or, this pizza is a great way to show appreciation to those buddies you've roped in to help you move." That's definitely quite the way to say thank you, but no doubt your friends and guests would thoroughly enjoy such a thoughtful pie.
Gather your ingredients for pastrami Reuben pizza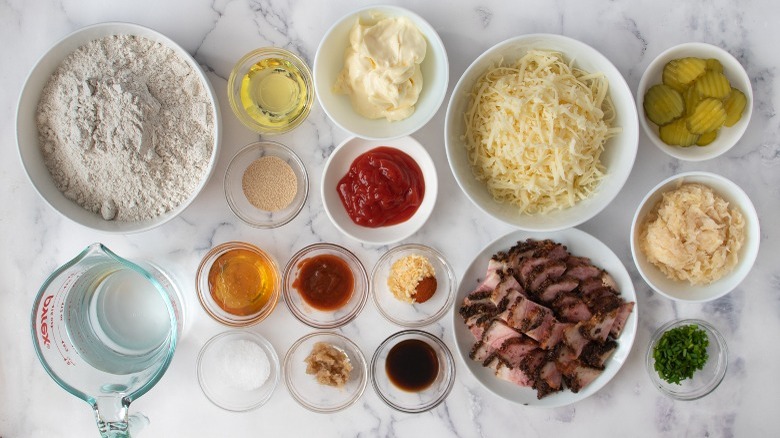 Patterson Watkins/Mashed
To make this pastrami Reuben pizza, you can start by gathering your ingredients. For this recipe, you will need water, honey, rapid yeast, all-purpose flour and rye flour blend, salt, olive oil, mayo, ketchup, sriracha, horseradish, Worcestershire sauce, dried minced onions, paprika, shredded Swiss cheese, sliced pastrami, sauerkraut, dill pickle slices, and fresh chives.
Prepare the rye dough for crust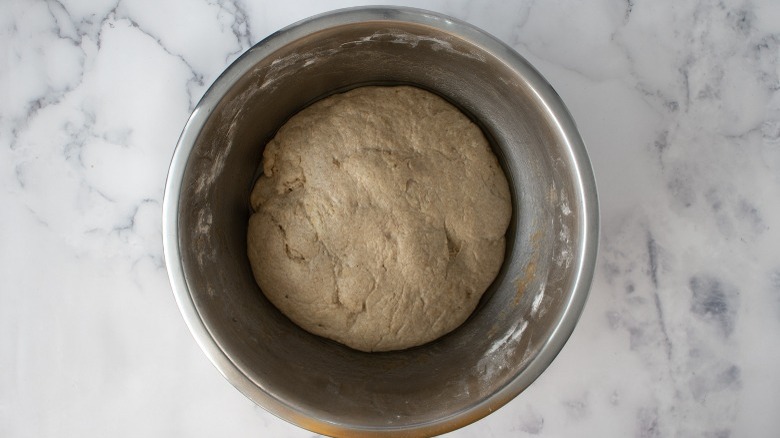 Patterson Watkins/Mashed
Watkins says she "wanted to take it a step further by testing out a rye flour pizza dough (for maximum Reuben-pizza crossover)," but fear not — it's quite easy to make your own dough. Combine the water, honey, and yeast in a small bowl and set it aside to bloom for about 5 minutes. Then, add the flour blend, salt, water yeast mixture, and olive oil. Whisk these ingredients together to create a shaggy dough. Then, fold the dough and form it into a ball. Drizzle the ball with olive oil, set it in a large bowl, and cover it with a dish towel to rise for about 1 ½ to 2 hours. The dough should double in size.
Create the Russian dressing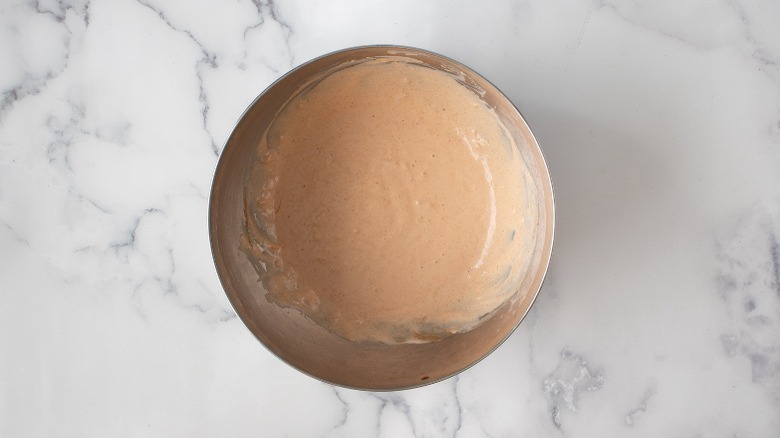 Patterson Watkins/Mashed
In the meantime, create the Russian dressing by mixing the mayo, ketchup, sriracha, horseradish, Worcestershire sauce, dried minced onions, and paprika in a small bowl. Whisk these ingredients together until they are well-combined. Then, place the bowl in the fridge to chill until later use.
Top the pizzas before baking and garnishing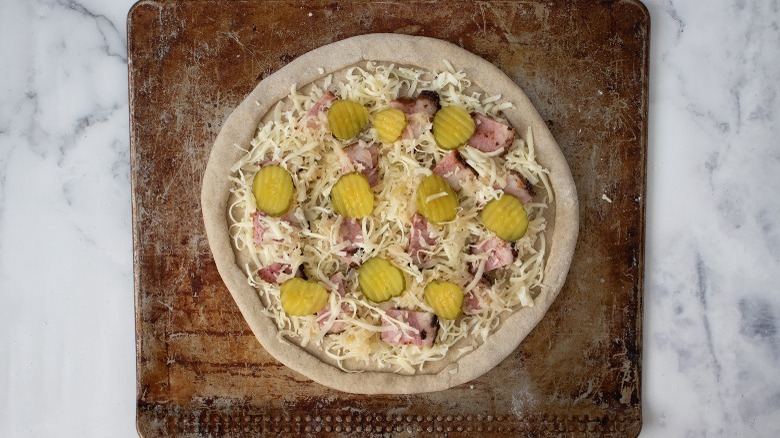 Patterson Watkins/Mashed
Preheat your oven to 475 F and, if using a pizza stone, place that in the oven to warm. Divide the risen dough in half and roll out the dough into two large circles. This dough recipe creates enough for two pizzas. If you are not baking up them both right away, store the other in an airtight bag in the freezer until you are ready to make it. Then, place the large circle of dough on a baking sheet and roll up the edges to create a crust. Make sure to dock the dough all over with a fork to avoid air bubbles when baking.
Top the pizza with the shredded Swiss cheese, pastrami, sauerkraut, pickles and a light brush of olive oil. Then, bake in the preheated oven for 15-20 minutes. Remove the pizza from the oven and top it with the chilled Russian dressing and chopped chives.
"Round out this unique pizza feast with a bright and vibrant garden or caesar salad," Watkins recommends. "Or go full gastro-pub with wings, fries, chips and dips, and mozzarella sticks." Of course, no matter what you serve it with, there's no doubt that this pastrami Reuben pizza will be the star of the show.
Pastrami Reuben Pizza Recipe
This pastrami Reuben pizza recipe puts a unique twist on the classic sandwich.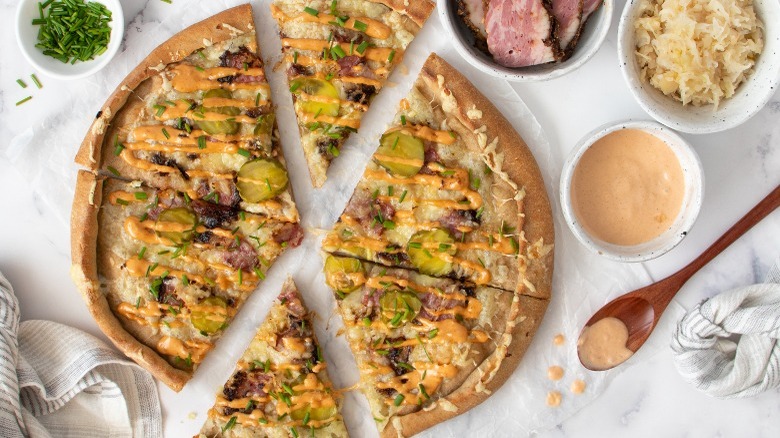 Ingredients
For the rye pizza dough
1 ½ cups warm water
2 tablespoons honey
3 teaspoons rapid yeast
4 cups rye flour and all-purpose flour blend
1 tablespoon salt
2 tablespoons olive oil, plus extra for drizzling
For the Russian dressing
½ cup mayonnaise
3 tablespoons ketchup
1 tablespoon sriracha
2 teaspoons prepared horseradish
2 teaspoons Worcestershire sauce
2 teaspoons dried minced onions
¼ teaspoons paprika
For the pizza toppings
1 ½ cups shredded Swiss cheese
1 cup sliced pastrami, cut into bite-sized pieces
¾ cup sauerkraut
½ cup dill pickle slices
2 tablespoons fresh chives, chopped
Directions
Place the warm water and honey in a liquid measuring cup, stirring to combine. Sprinkle the mixture with yeast and set aside to bloom for 5 minutes (the yeast will begin to get foamy).
Place the flour blend and salt in a large bowl and whisk to combine. Drizzle the flour mixture with olive oil, add the bloomed yeast and water, and whisk to combine, creating a shaggy dough.
Using a rubber spatula, fold the dough until more thoroughly blended, adding more flour, if necessary. Form the dough into a ball, drizzle with a tablespoon of olive oil, cover, and set aside to rise for 1 ½-2 hours or until the dough has doubled in size.
Meanwhile, place mayonnaise, ketchup, sriracha, horseradish, Worcestershire sauce, dried onions, and paprika in a medium bowl, and whisk to combine the Russian dressing. Keep refrigerated until ready to serve the pizza.
Preheat oven to 475 F and, if working with a pizza stone, place it in the oven to preheat as well (preheat your pizza stone 30 minutes before baking).
Once the dough has risen, divide in half, and, working with one portion of dough at a time, roll out into a large circle (12-14-inches round) on a lightly floured surface.
Transfer the dough to a pizza peel or cookie sheet and roll the edges slightly to create a crust (about ½ -inch thick). Using a fork, dock the center of the dough to keep bubbles at bay. Repeat with the other portion of dough.
Top the pizzas evenly with shredded Swiss, pastrami, sauerkraut, and pickles and brush the crust lightly with a little olive oil (about 1-2 tablespoons per pizza).
Place in the oven, carefully sliding the pizza onto the stone, and bake for 15-20 minutes or until the crust is crisp and the cheese has melted. Repeat with the other pizza crust.
Remove the pizzas from the oven, slice, drizzle with Russian dressing, and garnish with chopped chives before serving.
Nutrition
| | |
| --- | --- |
| Calories per Serving | 871 |
| Total Fat | 30.1 g |
| Saturated Fat | 8.2 g |
| Trans Fat | 0.3 g |
| Cholesterol | 35.8 mg |
| | |
| --- | --- |
| Total Carbohydrates | 126.0 g |
| Dietary Fiber | 11.6 g |
| Total Sugars | 9.4 g |
| Sodium | 749.4 mg |
| Protein | 25.5 g |