Bobby Flay Adds A Porky Ingredient To His Scrambled Eggs (It's Not Bacon)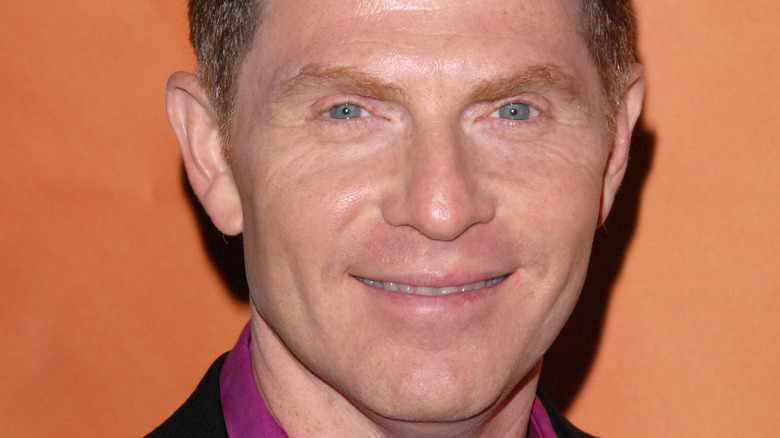 s_bukley/Shutterstock
It's the simplest recipes where a secret ingredient or two can make the most difference, and scrambled eggs are no different. Lightly whisked eggs, a dash of salt and pepper, a few minutes on low heat, and there you have it: a plate of scrambled eggs ready to go. But use a little trick here and there, and this humble dish can transform into a stunningly upscale meal.
Need inspiration? You have your pick among the best chefs' techniques for scrambled eggs. Ina Garten mixes in truffle butter and half and half for a luxurious breakfast. For Martha Stewart, it's a base of clarified butter that does the trick. Alton Brown adds mayo for more richness, whereas Chrissy Teigen relies on a splash of heavy cream for heartier eggs. As for Bobby Flay, the secret to his scrambled eggs is a crisp porky ingredient: prosciutto.
In a recipe shared on TikTok, Flay takes thin slices of prosciutto, gives them a few minutes in hot oil to fry, and then sets the cured pork leg aside to cool and crisp up. Rather than going on to fold the prosciutto into the scrambled eggs, however, the chef layers the slices over the eggs on a piece of focaccia, creating a scrambled egg sandwich of sorts.
Flay's scrambled eggs have another Italian ingredient
A few slices of crisp prosciutto may be the highlight, but that's certainly not the only secret ingredient Flay uses to add an oomph to his scrambled eggs. In his video for soft and creamy scrambled eggs, Flay adds a spoon of crème fraîche, along with butter, into a pan before turning on the heat and pouring in the whisked eggs. He stirs the eggs continuously, and once they start to get a custard-like texture, Flay throws in his next Italian ingredient: a handful of Parmigiano-Reggiano.
Another scrambled egg tip Flay gives to his fans is to not add salt until the very end. Why? "We want the curds of the scrambled eggs to be really silky, he explains, "and sometimes salt can really kind of make them a touch grainy."
While this Italian-inspired recipe is a Flay favorite, the Food Network star likes his scrambled eggs in more ways than one. In another video, Flay uses smoked salmon, scallions, and goat cheese butter to make a sumptuous scramble. As for those who miss the eggs from his now-closed NYC eatery, Gato, a spoon of romesco sauce, some Bûcheron cheese and chives, Marcona almonds for garnish, and a side of tomato confit bread will help you recreate Flay's iconic recipe at home, per Grub Street.