The Magnum Ice Cream Bar Copycat Costco Fans Want You To Know About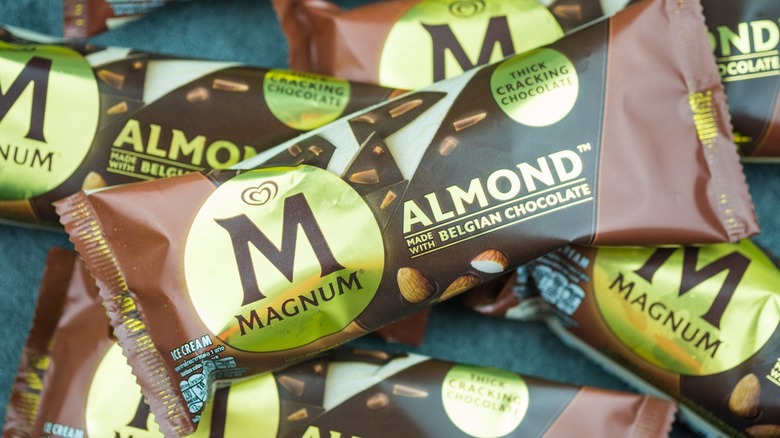 Dontree_M/Shutterstock
There's no shame in opting for grocery stores' private-label dupes for brand-name products. More often than not, the "real thing" comes with a higher price tag than that of its non-affiliated copycat. Whether it's cookies, chips, or another snack food, chances are you can find a similar product that will come at a better value — without sacrificing ingredients or even taste. In a TikTok by @viviantenorio, for example, the original Magnum classic almond ice cream bar is juxtaposed with Costco's Kirkland Signature chocolate almond dipped vanilla ice cream bar, and the price comparison alone may leave you with a brain freeze.
In a typical box of the Magnum brand ice cream bars, you'll find three 100-milliliter bars of Belgian chocolate-coated treats for $4.97. However, Kirkland Signature's version of the creamy-meets-crunchy goodies is a much larger box of 18 bars (at 91.6 milliliters each) for $9.99. That means that the average Magnum ice cream bar will sell at retail for roughly $1.66, whereas the Kirkland Signature brand bars come out to around $0.56 per bar. While there is no doubt about the money you will be saving if you purchase the copycat version of these chilly treats in bulk from Costco, how do the actual tastes compare? 
How do these Costco ice cream bars compare to Magnum?
For straight-up value, there is no comparing the Costco ice cream bars to the original Magnum ones, which cost about three times more. However, money isn't everything when it comes to taste. So does the Costco brand hold up, or are you getting what you pay for? Tenorio's TikTok had nothing but rave reviews for the knock-off chilly treat. She went on to swoon over the "thick" chocolate and almond coating, similar to that of the Magnum variety. "If I did a blind taste test," she said, "I can't tell" the difference.
But Tenorio isn't the only one raving about these copycat ice cream bars. In a Reddit thread, other fans couldn't help but melt over the dupe's flavor. Some said they actually find the Costco ice cream bars better than Häagen-Dazs, which sells a similar dessert as Magnum. One commenter mentioned that the Kirkland brand's ice cream "is creamier and richer," and another said that "the texture of the Costco bar is amazing." Another fan even had an affectionate nickname for the tasty treat: "We call them Fauxgen Dazs! Pretty much always have them in our freezer."