The Marinated Aldi Product You've Probably Been Sleeping On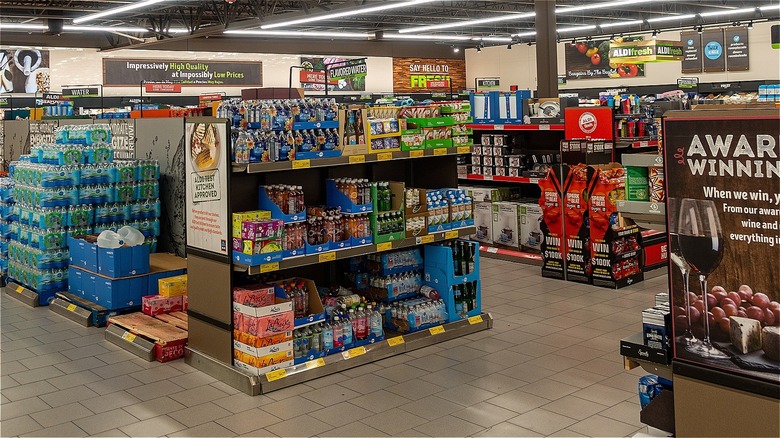 Joni Hanebutt/Shutterstock
Even if you're the type of home cook who prefers to make almost everything from scratch in their kitchen, most of us have a few particular semi-prepared items on hand, our own personalized pantry staples. After all, sometimes you're short on time and just need a quick and easy way to elevate a basic dish into something a little more satisfying. And, there's one such item from Aldi that you may want to pick up the next time you're wandering the aisles of the grocery chain. Better yet, it's a jarred item, so you can keep one or two on hand in your pantry so they'll be ready when you're in a pinch.
Aldi's Tuscan Garden branded quartered marinated artichoke hearts are an easy, flavorful addition to a wide variety of dishes. While you can purchase artichokes that are just stored in water from the same brand if you prefer to add your own seasoning, the marinated variety is a great shortcut if you don't want to bother mixing up your own oil and seasoning blend to dress up your artichoke hearts.
Because the versatile pantry staple has the artichokes quartered rather than whole or chopped, it gives you a lot of flexibility. If you're serving up the artichokes as is or in larger pieces, the quartered size is great. If you prefer to incorporate smaller pieces of artichoke, they're much easier to dice than a whole artichoke.
How to use artichoke hearts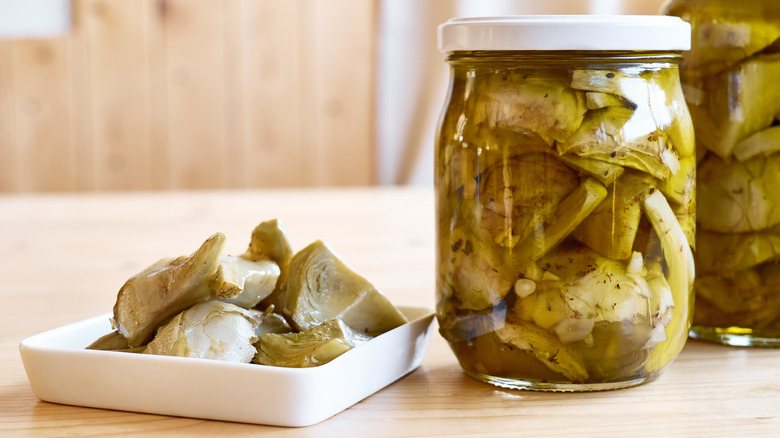 Caterina Trimarchi/Shutterstock
When you're working with fresh artichokes, there are a fair amount of steps involved in terms of cleaning and prepping them for use. If all you need to do to incorporate them is open a jar, though, you're far more inclined to add artichokes to a dish you're creating.
Marinated artichoke hearts are a great addition to a charcuterie board, if you're looking for a great no-cook meal. The seasoning blend and oil means they're tasty on their own, atop a cracker, or piece of crostini. However, they also provide a much-needed contrast to the fattier pieces of meats and cheese you're serving, helping you craft a well-balanced board.
They're also a wonderful addition to pastas and salads. With pasta in particular, they add that little something extra that allows you to plate up a quick and impressive meal without much effort at all. The addition of the marinated artichoke hearts can level up a basic pasta dressed with lemon, butter, and Parmesan, for example, which is ideal for adding freshness to a pasta dish when you have no other vegetables on hand. 
As per Healthline, artichokes are also packed with fiber and nutrients including folate, copper, and vitamin C, so they're worth adding for more than flavor alone.