The Key To A Unique Potato Salad Is America's Favorite Condiment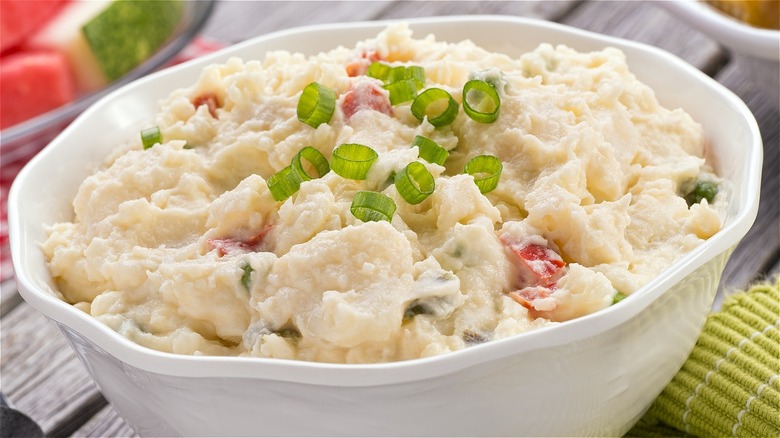 Credit: Fudio/Getty
We love homemade potato salad. It's delicious and fulfilling as a side dish, easy to make, and loaded with convenient ingredients. Plus, it's an excellent option for meal prepping. However, when we end up making potato salad more often, especially during summer cookout season, it can be easy to get bored of this classic picnic staple. A simple solution is to elevate your recipe by switching around some ingredients and finding new ways to upgrade. According to the cook behind TikTok's @pepperandme, the key to a unique and better potato salad is ranch.
In a video, the TikToker breaks down an easy dressing of ranch seasoning, sour cream, mayo, vinegar, and lemon. This dressing gets combined with non-traditional but delicious ingredients, including roasted potatoes, diced tomatoes, bacon, chives, and pickles to create a more German-style potato salad. But you can still follow the more classic mix of potatoes, red onion, herbs, and spices before adding either store-bought or homemade ranch dressing if you'd like.
Ranch and potatoes are meant to go together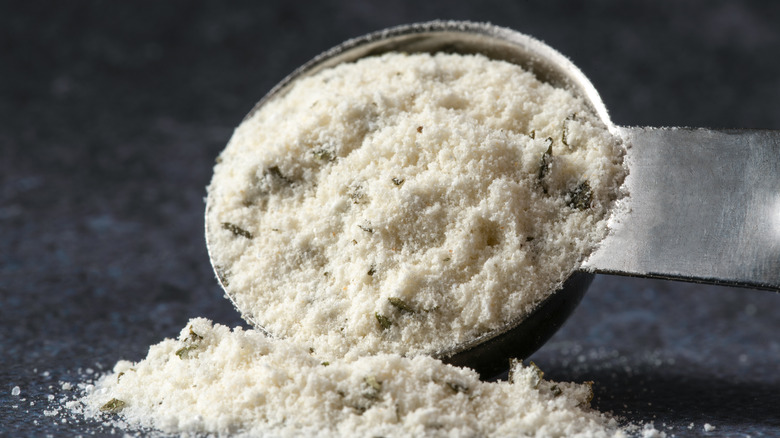 Michelle Lee Photography/Getty Images
"This looks amazing," read a comment on the TikTok video. Another commenter suggested a different seasoning: onion dip mix with mayo, red onion, and fresh mint. But ranch and potatoes work well together in more than just potato salad. Ranch can boost any dish that includes starchy potatoes as a main ingredient. For example, in mashed potatoes: Add ranch dressing to your boiled potatoes before mashing so they can be creamy and flavorful with extra tanginess and a herbaceous kick. 
Instead of having fries with a side of ranch dressing, season homemade fries or chips with ranch seasoning. It shouldn't be labor-intensive: Air-fry potatoes (either baby potatoes or sliced regular potatoes) with a sprinkle of ranch seasoning for a wonderful side dish in less than 20 minutes. Or go the deep-fried route and season your fries with ranch at the end. After trying these ideas, you might want to add ranch to every meal. Ranch dressing with hash browns? Add the seasoning to the grated potatoes before cooking.  
If you are not into regular potatoes but love ranch, play around with the seasoning, and maybe you'll discover new favorite recipes. For example, sprinkle some ranch over crispy sweet potato fries or a veggie omelet. If you're a huge fan, consider making homemade ranch dressing a household must-have. This versatile condiment can be your best-kept secret ingredient.