Is Whipped Cream Ranch A Blessing Or Food Curse?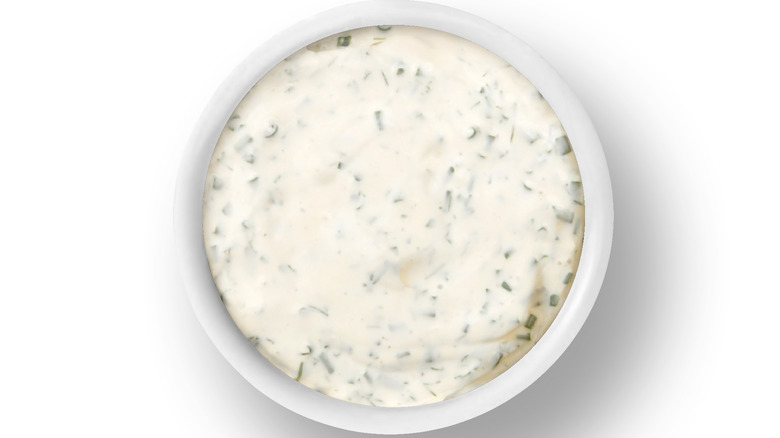 Derek Brumby/Shutterstock
Since its salad days, ranch has evolved from America's favorite dressing and dip to something that people will put on everything and bring just about anywhere. Most recently, ranch has reached the next logical point in American food evolution: coming whipped from a spray can nozzle. It's called Flip Whip, and depending on who you ask, it's either revolutionizing the ranch movement or just a passing, ill-advised fad.
On Flip Whip's official Instagram, the ranch product is shown being used with all of the sauce's favorite partners — celery, carrots, and wings. However, the brand also shows its whipped ranch adding a fluffy layer of tang to favorite bar foods like burgers, pizza, nachos, and soft pretzels. Flip Whip's website boasts original recipes that incorporate its whipped ranch in a handful of creative, unconventional ways, including wanton pizza cups, Buffalo chicken dip, and jalapeño flippers. It also advertises a bleu cheese flavor, which it recommends using in recipes like flip sear steak and an avocado bleu cheese chicken pita. 
Flip Whip's Ranch was met with some understandable skepticism on the internet, where many noted the baffling whipped cream appearance and texture. One TikTok user commented, "Just seeing the texture and thinking ranch taste...." Another wrote, " I can't do this texture." However, those who tried the product had overall good things to say. 
It's whipping us into a frenzy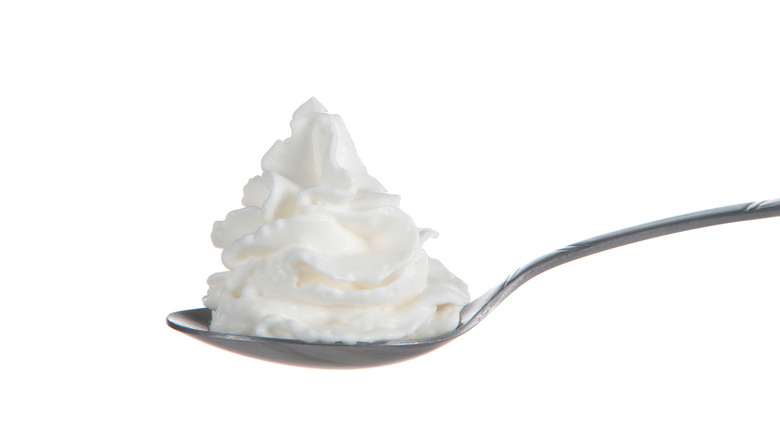 Sheila Fitzgerald/Shutterstock
It might be hard to get past the initial shock, but the overall consensus on Flip Whip's whipped ranch is positive. TikTok food reviewer TyBott was surprised by the creaminess of the whipped product when he tried it. TikTok creator AlluredBeauty seemed incredulous at first, remarking, "Y'all this should be illegal." When she tried the Flip Whip on a chicken wing, she didn't seem entirely sure what to think, describing it as airy and kind of sweet. By the end of the video, she had made up her mind, providing the most resounding endorsement of whipped ranch yet by spraying it directly into her mouth. 
Some commenters were inspired by the product and began to think of how they might incorporate it into their favorite dishes. One user wrote, "Why do I think of chicken and waffles?" It does seem like an interesting idea to bring savory ranch flavor to the world of whipped cream waffle toppings. 
However cursed Flip Whip might seem, this whipped ranch might not be so far from the dressing's original recipe as you might think. Invented in 1949 by Steven Henson, a plumber in the Alaskan bush, the original ranch contained buttermilk, herbs, and the not-so-natural ingredients of MSG and MiracleWhip. Flip Whip can be found at Woodman's Markets  and select Walmarts.