We Finally Know What The Gushers Rebrand Looks Like (And TikTok Is Ablaze)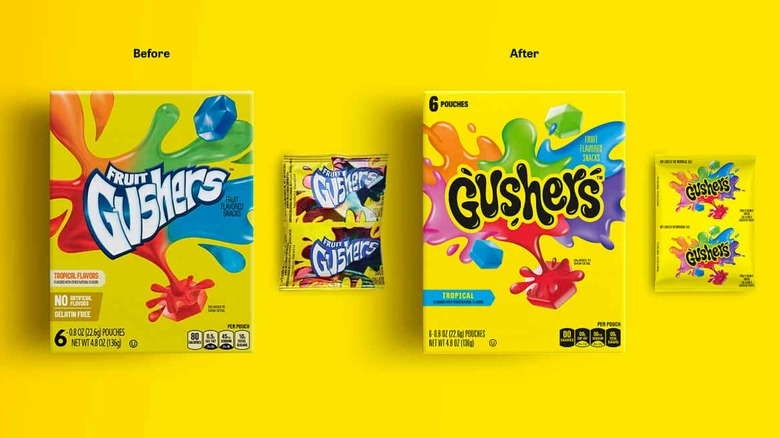 General Mills
For '90s kids, Fruit Gushers were — and still are — the ultimate snack. However, Gushers and Fruit by the Foot are now embracing Gen Z as well, having teamed up with TikToker Emily Zugay for some redesign fun. Zugay, of course, is known to her fans for hilariously recreating brand logos with her own sense of humor and style. In two videos shared by Zugay, she revealed General Mills reached out to her to share how she would redesign the logos. Zugay also promoted an official redesign by the company. 
In a TikTok in late April, she shared her thoughts on a Gushers logo makeover. The brand commented on her video, "You're making some good points." Zugay then made a second TikTok for Fruit by the Foot's logo. Unfortunately, Zugay's take on Gushers (combining all the gusher colors into a sphere) and Fruit by the Foot (an actual foot) wasn't exactly what the company had in mind (though they were hilarious). 
However, General Mills did give Zugay the opportunity to reveal the actual redesign to her followers. The real logos are now more modern, and more minimalistic. Don't worry, though, all the packaging is still just as colorful as we remember. 
Emily Zugay's Gushers logo reveal has an extra surprise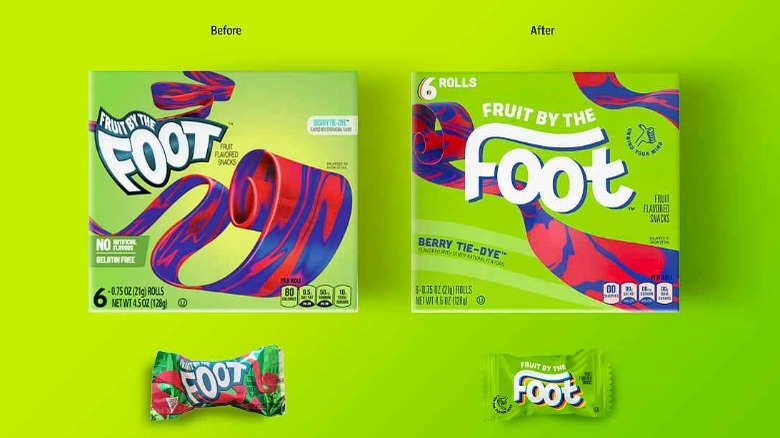 General Mills
As part of the Gushers and Fruit by the Foot rebrand announcement, Emily Zugay revealed the new designs on her account. As a consolidation prize, the company did share a box of Fruit by the Foot with Zugay with her hilarious concept on one end, as she documented in one TikTok. She showed an "authentic box of Fruit by the Foot with my very logo on it," though she noted that there was another "new" logo (the official design) on the back that "isn't nearly as good" as hers. 
Sadly, you won't be able to buy a box with Zugay's foot design, but the new logo looks pretty rad as well. In a second TikTok, Zugay shared a Gushers bucket hat the brand had sent her, complete with her logo on one side, and the official new logo on the other side. Even better, she announced that she was partnering with Gushers in a bucket hat giveaway. 
@emilyzugay

#ad Gushers didn't pick my logo, but I'm giving away some hats anyway with a Sweepstakes. RULES FOR ENTRY: 1. Follow @emilyzugay 2. Follow @therealgushers 3. Comment on this post by tagging a friend who appreciates high fashion 4. Include #GushersSweepstakes in your comment/tag *Each tag is an entry. Sweepstakes ends 11:59PM CST on April 29, 2023. 40 prizes available to be won. The winner will be contacted via DM from @therealgushers only. This Sweepstakes is in no way sponsored or endorsed by TikTok. Open to US residents only, must be 18+.
Through April 29, anyone who follows both Zugay and Gushers on TikTok, as well as tags a friend in the comments, has a chance to win a bucket hat as well. Of course, if you happen to win, Zugay wants people to "make sure [her] logo is in the front." So far reception to the rebrand has been positive. For instance, one user wrote, "Personally, I love it. Can't wait to see the full rebrand." Another user commented, "Time to buy more Fruit by the Foot." In the meantime, let's go eat all the 90s snack foods.