The Untold Truth Of Fruit By The Foot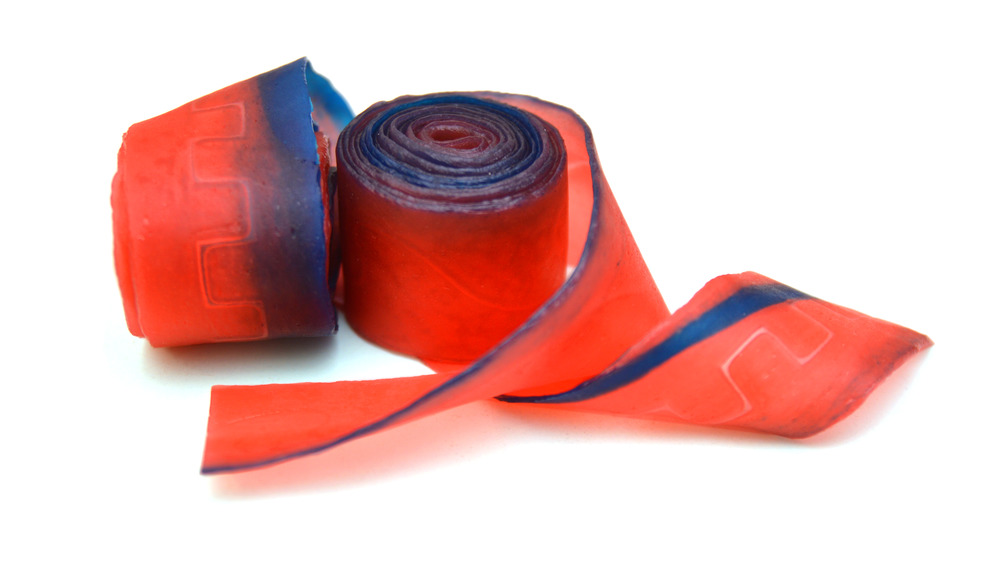 Shutterstock
Unlike some beloved fruit snacks that have sadly gone by the wayside, Fruit by the Foot has some stretch when it comes to staying power. According to Snack History, Fruit by the Foot was created in 1991 and marketed to kids as being entertaining to eat. The elongated, sugary snack hit its mark and became a popular sighting in school cafeterias. In 2017, the snack was made a little healthier when General Mills removed artificial colors and flavors. 
Fruit by the Foot is sold in a variety of flavors under the Betty Crocker brand name alongside similar fruit snacks, Fruit Roll-Ups and Fruit Gushers. With a slogan of "3 Feet of Fun," what sets Fruit by the Foot apart is, of course, its absurd length. In 2015, students at Vernon-Verona-Sherrill High School in Verona, New York, did some claim testing of their own by measuring different samples of the snacks and found, with the fold included, the average length of Fruit by the Foot is, indeed, about 36 inches (via Snack History).
Fruit by the Foot in pop culture
Though Fruit by the Foot has stayed rather loyal to its original shape and size, the snack has had many whimsical iterations. Throughout the decades, boxes have featured Goosebumps, Teenage Mutant Ninja Turtles, and iCarly themes, and have also included stickers, trivia, and jokes throughout the years for extra enjoyment (via Snack History). According to The Chive, Fruit by the Foot even featured Nintendo 64 game tips one year as a way to boost holiday sales for the toy company.
The fruit snack not only made for a playful lunchbox addition for '90s kids, but has also proven to be a good TikTok fodder for Gen Z. According to Mobile Marketer, the Fruit by the Foot Challenge, in which two contestants stand side-by-side, unroll the snack, and race to a finish by eating it hands-free, was so popular that the brand hosted its own social media challenge. Now there's social proof — the snack really has come a long way.