The Discontinued Aldi Item That Has Customers Feeling Fishy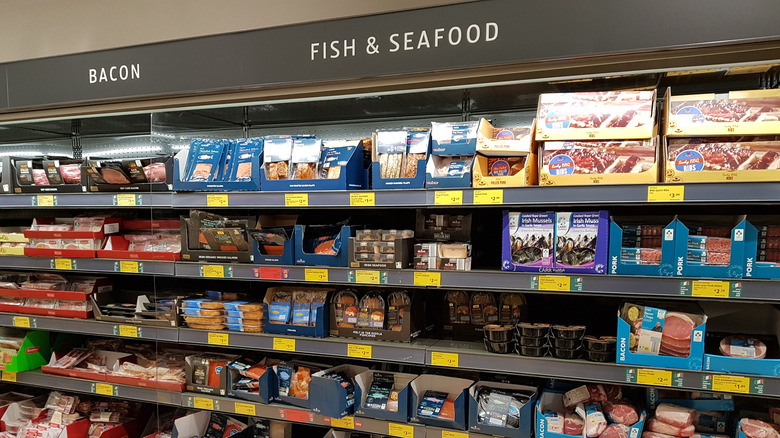 shutterupeire/Shutterstock
Without as much as a warning, Aldi recently removed a favorite fish dish from store shelves. Though it's unsure when the parmesan-encrusted tilapia made its exit, it likely happened in early April 2023 when one customer clocked its discontinuance. "@AldiUSA plz bring back your Parmesan crusted tilapia," Twitter user @meg_ohgee wrote. In reply, Aldi confirmed the product's absence and promised to pass the message on to its buyers. Just a month before, the same Twitter user posted that they were "about to buy all of [Aldi's] Parmesan crusted tilapia." The discount store's response had no indication that the packaged fish would be leaving in the next month. "We don't blame you–it's that good!" Aldi replied.
Before its demise, the tilapia was sold in a 16-ounce container, and its boneless nature made it simple to prepare. It was produced by Aldi's trademarked Fremont Fish Market, which provides much of the fish sold in Aldi's stores. This product was especially intriguing to TikTok users looking for a healthy, yet easy-to-cook meal. As a result, the platform is flooded with individuals sharing how they chose to prepare the dish.
Budget-minded chefs were huge fans of the fish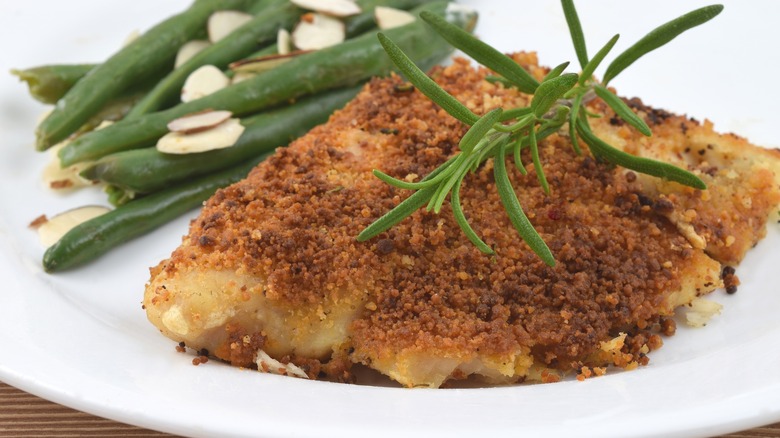 Melissa S Bornbach/Shutterstock
About a month before the parmesan-encrusted tilapia was pulled from stores, one thrifty TikTok user by the name of @boujeebudgetgirl excitedly reported her inexpensive find. To create a full meal, she prepared the pre-seasoned tilapia alongside items found at her local food pantry and leftovers she had in her kitchen. Instead of leaving the fish as-is, she placed her own spin on the already flavored dish. "I'm gonna make some kind of like, creamy slaw to go down on top of the fish," she said. To create the slaw, she used cabbage, jalapeños, cilantro, mayonnaise, sour cream, garlic powder, sugar, salt, and pepper. When the meal was finished, TikTok users filled the comments with praise and appreciation of the new recipe.
There's no word on if customer demand will be loud enough to bring parmesan-encrusted tilapia back to Aldi. However, that doesn't mean you can't prepare it yourself. Although not as quick as popping a pre-packaged meal in the oven, all you need to make the dish is tilapia fillets, breadcrumbs, parmesan cheese, garlic powder, olive oil, lemon juice, Italian seasoning, salt, and pepper. Just be sure to stay away from the mistakes everyone makes when cooking tilapia.