Taco Bell Removed A Fan-Fave From Its Rewards Program
After working tirelessly to buy lunch from Taco Bell week after week, you hit the 2000-point threshold within a calendar year to unlock the Fire Tier level. Upon reaching Fire Tier, free rewards are no longer basic bean burritos or drinks. Instead, you can cash in for options like an entire chalupa, beef burritos, and even Doritos Locos Tacos. But as of April 2023, Taco Bell has not only raised the price of its online exclusive $5 custom box by 99 cents but, in another blow to Taco Bell lovers everywhere, it has also taken away a fan-favorite item from the Rewards menu.
On the r/tacobell Reddit forum, user @jayfromrehab posted the update, which showed that the Nachos BellGrande, beloved among Taco Bell fans, had been struck from the Fire Tier rewards menu. As one user said, "Nachos BellGrande is a huge loss. RIP." This menu item left the rewards list — but not the regular menu, thankfully — on April 17, 2023, so for some Taco Bell rewards users, it's almost like it was never there. Taco Bell's Nachos BellGrande not only offers a mountain of sour cream, beef, cheese, chips, and tomatoes, but it's also general knowledge that it was the best deal for a Fire reward choice due to its retail price of $4.99 — which can be higher depending on location – making it the most expensive item on the list. However, this isn't the only change to the Fire Tier menu.
Other menu items have been added to Taco Bell Rewards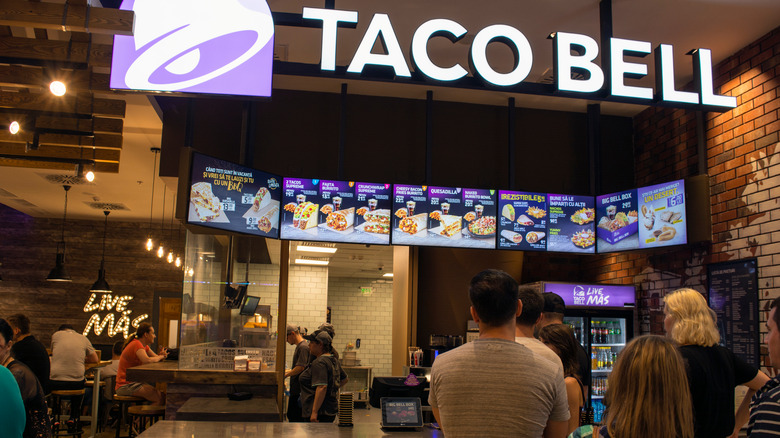 kitzzeh/Shutterstock
While losing the Nachos BellGrade from the "Fire Tier" level is likely devasting to some fans, there's more than one shift to Taco Bell Rewards. Fortunately for members of Taco Bell's Rewards program, only one menu item has been removed. Everything else, like the Crunchy Taco and Baja Blast Freeze, will stay the same.
Most excitingly, a total of 11 items have been added to Taco Bell's Rewards list. Some of the most enticing ones for Taco Bell users are the Cheesy Gordita Crunch — which one Reddit user claimed is "the winner for best ROI" — and the Chicken Chipotle Melt. The more substantial items get rounded out by smaller ones like Cinnabon Delights and the underrated Spicy Potato Soft Taco. Taco Bell gives, and Taco Bell takes away: such is the way of things. For now, it seems that the new rewards are here to stay.