TikTok's Slow Cooker Hack Makes Copycat Taco Bell Quesadillas A Breeze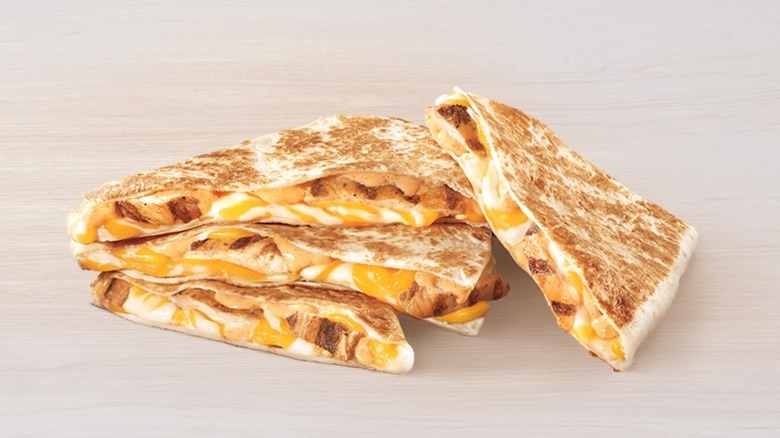 Taco Bell
It's not always easy to perfectly replicate your favorite restaurant meals at home. However, thanks to Taco Bell's passionate fan base, you can pretty much always find a copycat recipe for your favorite menu items from the Mexican fast food joint. One Taco Bell copycat recipe taking the Internet by storm is a riff on the chain's chicken quesadillas. With the help of a slow cooker, folks can easily make this popular menu item at home.
Taco Bell's quesadillas are made using the chain's three-cheese blend, creamy jalapeño sauce, and — in this viral copycat recipe — shredded chicken. The flour tortilla and cheese are easy to buy at the store, but you'll need to DIY the sauce for the best version of Taco Bell's quesadillas. As for the chicken, TikTok user @cheysingh makes the chicken in a slow cooker instead of on the grill as the chain does. 
After seasoning the chicken with spices like garlic powder and paprika, it slow-cooks for about 4 hours. After that, it's easy to shred the chicken. Re-season the meat to taste, and that's it: It's ready to be used inside a copycat Taco Bell quesadilla — and with less effort than if you broke out the grill. Not to mention, using a slow cooker allows you to prep ahead of time, making this a perfect weeknight meal. Plus, you can skip the drive-through line. A win-win! 
Avoid overstuffing your copycat Taco Bell quesadilla
While you might be tempted to stuff your tortilla full of homemade shredded chicken from the slow cooker, you should think twice. Taco Bell's quesadillas are pretty conservative with their meat-to-cheese ratio. Though some think Taco Bell's quesadillas lack meat, the truth is that you can't add too much filling to a quesadilla (or taco or burrito) without this popular handheld item becoming very difficult to eat.
@cheysingh

Let's make some copycat Taco Bell chicken quesadillas! Inspired by the beautiful @moribyan #recipes
When assembling your quesadillas, think about tortilla size and, for larger tortillas, only use about 2 tablespoons of meat for the filling. To achieve the perfect meat-to-cheese ratio, equal amounts of cheese and protein should be used. Melted cheese doesn't only act as the glue that holds everything inside the tortilla together, but it also helps it adhere to the surface. Even though you might want your delicious shredded chicken to take center stage in these copycat Taco Bell quesadillas, using a scant amount of meat will be more authentic and help maintain the quesadilla's structural integrity. 
What about the leftovers? Don't sweat it — we can think of at least 18 shredded chicken recipes to whip up tonight.