How To Make The Best Version Of Taco Bell's Quesadilla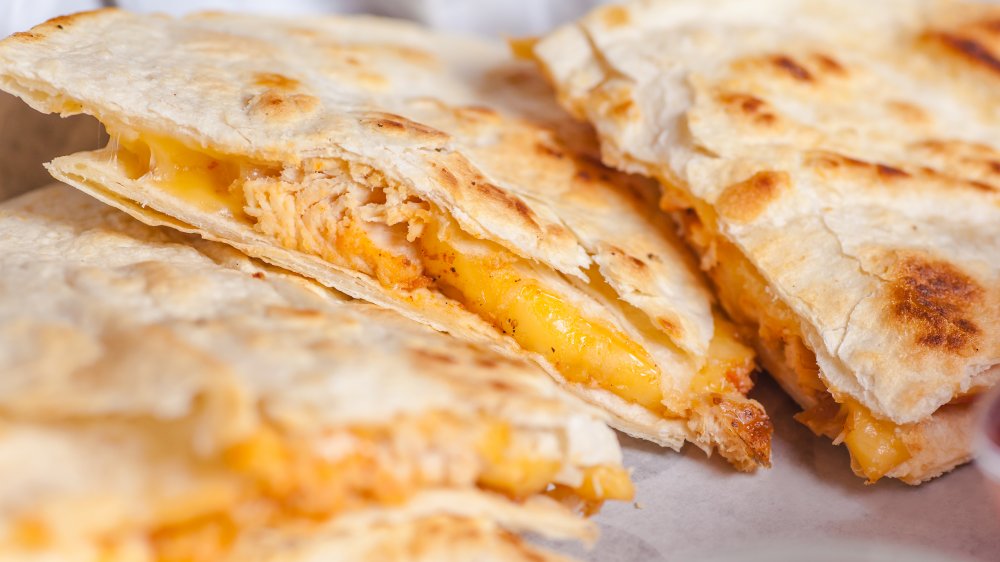 Shutterstock
Taco Bell may not be the healthiest meal option, but honestly, if you are making a run for the border, you probably aren't counting calories and there's no judgement here if you aren't. Taco Bell consistently ranks as the favorite Mexican food restaurant in the United States (via People). While some may take issue with it being called a Mexican food restaurant, there is no doubt that people love it (via Rare). Maybe it's the Doritos Locos Tacos, the 7 layer burritos, or Taco Bell's crunchy supreme tacos that make this such an appealing place to grab a bite. 
But one thing's for certain, its menu is full of options. One of the franchise's most popular menu items is their cheese quesadilla. Made with a soft tortilla, a three-cheese blend, and a creamy jalapeno sauce, the Taco Bell cheese quesadilla is simple with ingredients, but unleashes a firework festival of flavors for your taste buds. Taco Bell offers lots of options to customize this favorite menu item, too. From proteins like shredded chicken and steak to beans and rice and sour cream and tomatoes, Taco Bell will dress up your quesadilla order to satisfy and satiate the pickiest of eaters (via Taco Bell).
The secret sauce for Taco Bell's quesadilla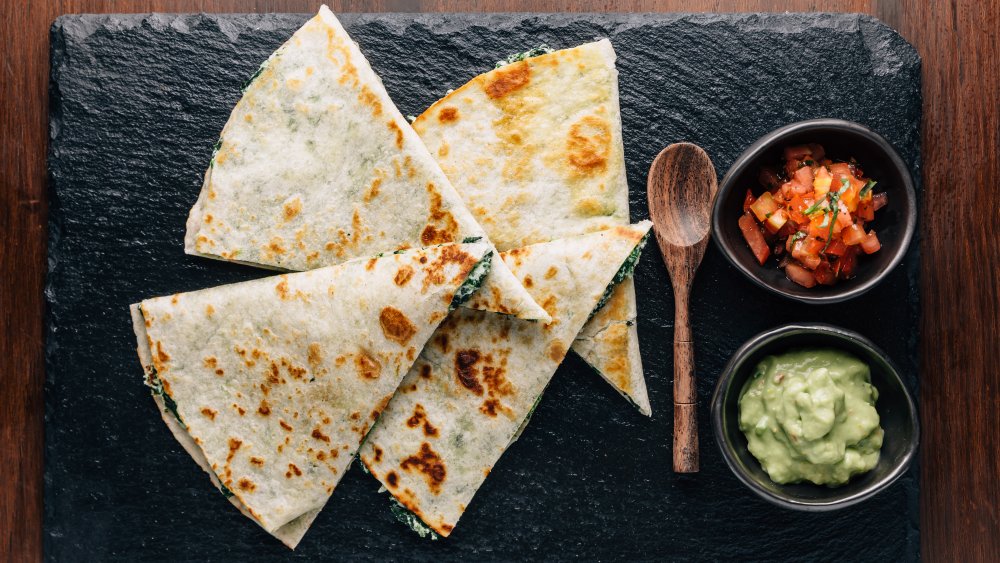 Shutterstock
What if you can't make it to your favorite Mexican-inspired drive thru to order up this cheesy meal? It seems like the Internet is full of copycat recipes for Taco Bell's quesadilla. The recipe site Food. has a version of the recipe with a 5-star rating over 234 users. Cooking with Janica also has a copycat version with rave reviews. But the one point of consensus about these recipes seems to be this: they all believe the secret to getting this recipe right is getting the sauce right.
The base of the creamy, spicy sauce for the Taco Bell quesadilla begins with mayo. Then comes an array of spices: cumin, paprika, some cayenne pepper, garlic powder, a little sugar, and a dash of salt, all mixed into the mayo. But what truly makes this sauce pop is a secret ingredient. What is the ingredient? Delish contends that the secret ingredient for the sauce for Taco Bell's quesadilla is using pickled jalapenos and the juice from the jar. Still, the Gracious Wife swears by a slightly different recipe that favors chili powder over paprika. 
Bottom line: if you are going to try and make a version of the Taco Bell quesadilla, the secret is in the sauce.