The McDonald's Menu Hack That Turns Hotcakes Into Dinner For Breakfast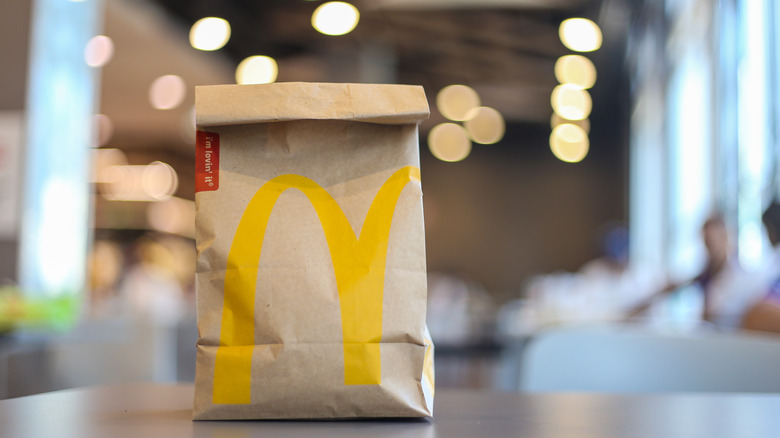 URAIWONS/Shutterstock
McDonald's no longer serves all-day breakfast (cue sad face), but if you time it right, you can create a meal that feels worthy of dinner for breakfast. McDonald's breakfast menu is served until 10:30 a.m. in most locations, while the all-day menu is available around 10:30 a.m. or 11:00 a.m. While you won't find the option to order the different menu items online, if you drive-thru or dine in at the right time, you can order from both menus at the same time. TikTok user @Maccas perfected the timing and created Sweet McNugget Hotcakes, a riff on chicken and waffles.
In a viral TikTok video, Maccas orders McDonald's hotcakes, adds the whipped butter, and tops the short stack with a few chicken nuggets. The gluttonous masterpiece is then doused with maple syrup to ensure the perfect savory-to-sweet ratio. People were quick to comment on the creation, with several people admitting that they were interested in trying it. One person wrote, "Ok this actually looks good," while another commented that it was a good way to, "...Get your protein and carbs in for breakfast." Even McDonald's Australia got in on the commenting action.
Why stop there?
McDonald's came to the defense of the breakfast creation when some users began questioning the creation. When one person asked, "WTF is this?" McDonald's cheekily replied, "Your new fave." McDonald's Australia also confirmed that this creation won't be found on the menu, but the hotcakes are available to order before 10:30 a.m. Even though the chicken nugget and pancake hybrid seems like the ultimate savory-sweet treat, there are tons of other options for the best breakfast hacks.
If you want a more classic take on the chicken and pancakes, customers can create a unique spin on chicken and waffles. You can order a chicken McGriddle, and add buffalo hot sauce and maple syrup for the ultimate sweet and spicy brunch treat. If you happen to hit the sweet spot timing around 10:30 a.m. you can order an Mc10:35. Of course, this isn't an official menu item, but it includes ordering a McMuffin and McDouble and adding the beef patties to the McMuffin.