People Are Loving A Child's Reaction To Trying Costco Samples For The First Time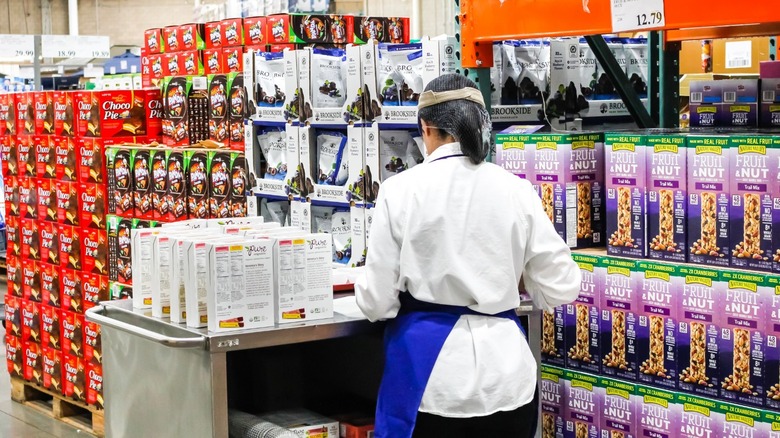 The Image Party/Shutterstock
Headed to Costco? Chances are while you're there you'll have the opportunity to load up on plenty of free food samples. Costco has been famous for its samples for quite some time, and, after bringing them back after a pandemic-induced pause, has even rolled out new ways to serve samples, including sample kiosks. Ideally, the principle behind the samples is to give customers a taste of a product in hopes they will buy it. In fact, per Supermarket News, there have been instances where serving samples at some stores has increased sales by 2,000 percent. However, many times Costco shoppers grab a bite of a sample just for the sake of enjoying it. On one recent trip to Costco, the latter seemed to be the case for Instagram user @joshterada's son, a young child who was treated to his first taste of samples and is lighting up the internet with his "reviews."
Throughout the Instagram video, @joshterada's son, whom he calls "Bubba," tries a variety of Costco samples ranging from cranberry juice to cheeseburgers to bread and jam to dinosaur-shaped nuggets. Fans took to the comments of the video to share their reactions to the adorable tyke, including @thikyoda who wrote, "This little man has a savory palate," and @maccalavitta who chimed in with, "Man after my own heart with those Dino nuggies."
Costco's cutest taste tester is inspiring other families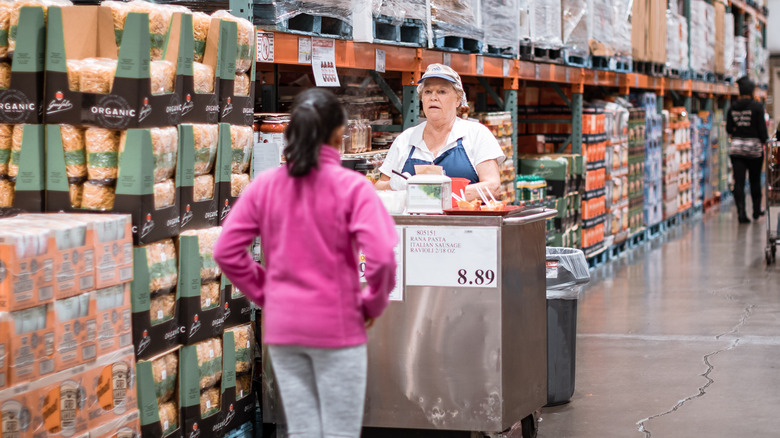 ARTYOORAN/Shutterstock
So what were little Bubba's takes on the Costco free food samples? While he seemed "very interested" in the cranberry juice, after one sip he made a taste that @joshterada interpreted as "utter disgust." Things took a more positive turn with the cheeseburger when the kiddo reached for seconds. There was no interest in the bread and jam that Dad called a "hard pass." The dinosaur nuggets, on the other hand, were a total hit if the little guy stuffing as much of them into his mouth at once tells us anything.
Dad also posted the video of the young Costco taste tester on Reddit, where the post also garnered comments complimenting him on his "adorable" son. "This is really super cute. Love how attentive the dad is and the communication between him and the baby is priceless. Good stuff to see!" wrote one Redditor. Another user was inspired by the post., writing, "Lmao this is fantastic! We took our one year old to Costco this past weekend for the first time. We'll have to try this next time!"