New York Chopped Cheese Sandwich Recipe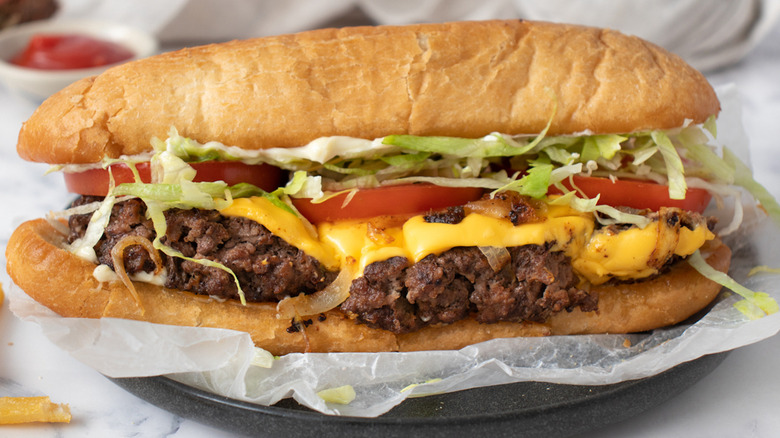 Patterson Watkins/Mashed
Philly may be known for its cheesesteak, but New York's chopped cheese might just be a contender for the beef sandwich crown. While it's possible to get a great cheesesteak in the Big Apple, the chopped cheese is distinctly New York. A quick and delicious meat and cheese hoagie, the chopped cheese grew from the bodegas on the corners of America's great cultural melting pot. Luckily you don't have to book a trip to New York for a chopped cheese (though it's always a good time to visit New York). Recipe creator Patterson Watkins has put down a recipe for you to make this magical meal in your own home. "Chopped cheese is so much more than just a sandwich," says Watkins. "It's a vibe, an experience, not quite NYC underground, but if you're in the 'know' you know."
Watkins nails the perfect balance of meat, bread, cheese, and all the savory accoutrements. While it might seem like a lot of ingredients and maybe a little more doing for "just a sandwich," this isn't just a sandwich. And once you have it dialed, you might just leave the flattop burning and serve these up for breakfast, lunch and dinner.
Gather the ingredients for a New York chopped cheese sandwich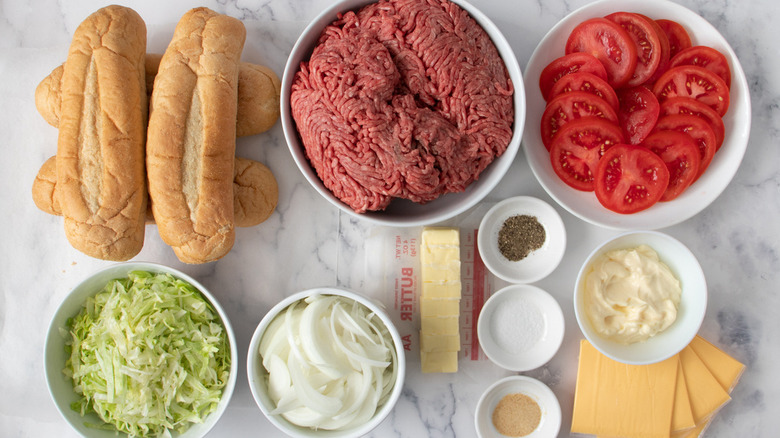 Patterson Watkins/Mashed
Like so many great recipes, you need to start this one by picking up a stick of salted butter. As for the bread, you'll need four hoagie rolls. Then you need 2 pounds of ground beef and eight slices of American cheese. "I love 80/20 ground beef, it is my go-to," adds Warkins. "I find that this ratio of lean to fat keeps my burgers and ground beef recipes relatively moist (even when you cook the bejeezus out of it — either on purpose or on accident)." You'll need a large yellow onion, a few tomatoes (which should be sliced), and a head of iceberg lettuce, which should be shredded. Grab a jar of mayonnaise and finish it off with a container of salt, one of garlic powder, and one of pepper. Now you're ready for some chopped cheese.
Toast your buns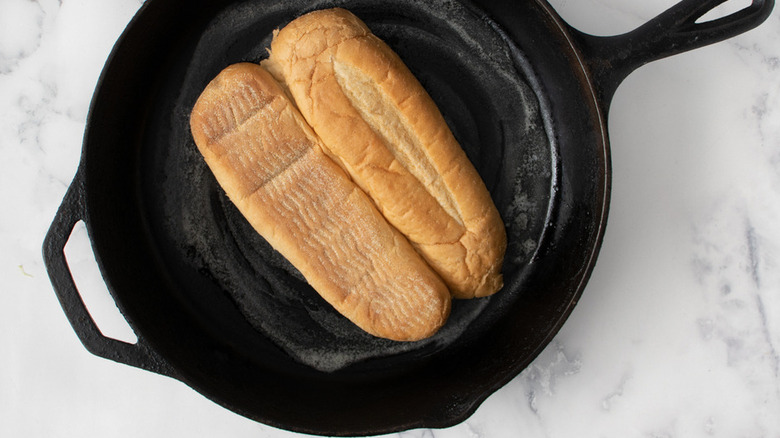 Patterson Watkins/Mashed
Cut the butter into 8 single-tablespoon slices. Melt the first one in a large skillet over medium heat, then fry your first halved hoagie in it, cut-side down. Repeat this process — 1 tablespoon of butter in the skillet followed by the hoagie — until all four buns are toasted.
Sauté the onions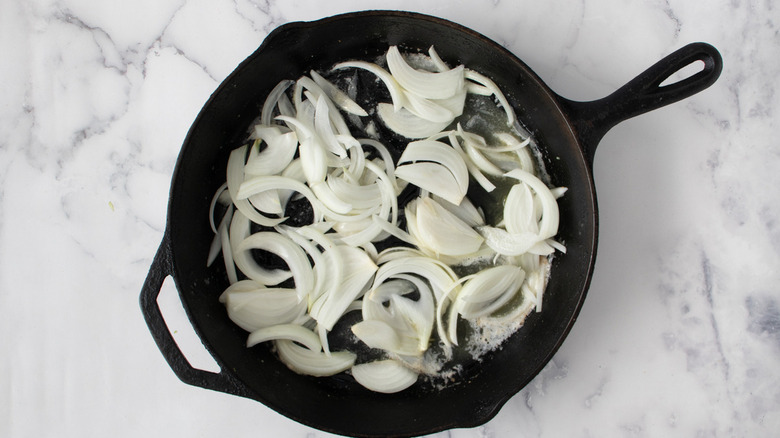 Patterson Watkins/Mashed
Melt the remaining 4 tablespoons in the same skillet and throw in your onions. Sauté them in the pan for 4 to 5 minutes, until that sweet smell of onions fill the air. "When cooking the onions, my aim here was to get them soft and semi-translucent," explains Watkins. "Where they are a little bit sweet and just passed the point of loosing that eye-watering pungency." Once they're ready, remove the onions with a slotted spoon or tongs and set those aside too. Finally increase the temperature to medium-high for the beef.
Sear the beef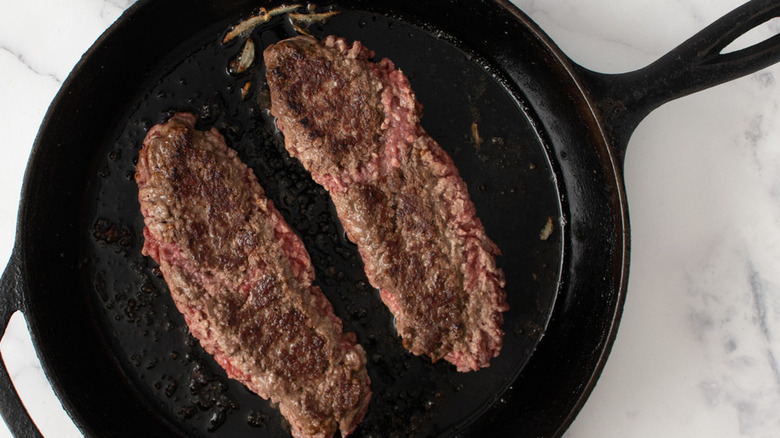 Patterson Watkins/Mashed
Portion the beef into four torpedoes, or logs, and sprinkle each with salt, black pepper, and garlic powder. Cook each beef portion in the hot skillet, searing for 2 minutes, until deeply browned on one side. Flip and flatten the torpedo using a spatula so it looks like a long patty. Keep cooking for 2 to 3 minutes, then flip again for a final 2 minutes. Repeat for each log of beef.
Add in the onions and cheese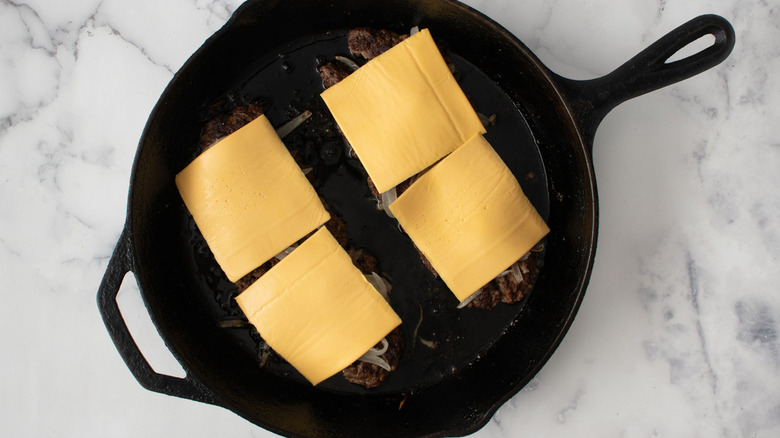 Patterson Watkins/Mashed
Split the onions between the patties and chop the meat and onions into smaller pieces with the spatula. Then put two slices of American cheese on top of each portion of this onion/patty mixture and leave it on until the cheese has melted. "The super NYC bodega way of making chopped cheese is to chop the cheese into the burger and onion combo (and it is a bit quicker than waiting for cheese to melt on top)," explains Watkins. "My adjustment is more of an 'ease for the homecook' (and, to be honest, I really don't want to scrub a cheese crusted skillet) than spitting in the face of tradition (don't come for my neck NYC, there's method to my madness)."
Finish and serve your New York chopped cheese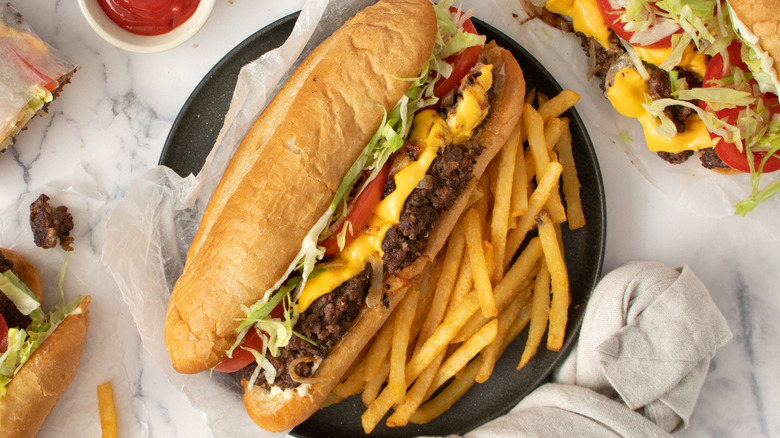 Patterson Watkins/Mashed
Spread mayonnaise on the toasted rolls from step one. Then fill, or maybe just stuff, the chopped burger onto each hoagie roll. Add in the tomato slices and the shredded lettuce. Then wrap the whole sandwich in deli paper and cut each in half, or simply serve it whole. "Any crunchy, deep-fried, potato-based product would make for the perfect chopped cheese side dish," adds Watkins.
As a final quandary, Watkins muses,  "Is it a cheese burger? Is it a cheesesteak? Is it a sloppy joe with cheese? Or is it a tasty combination of all three?" We like that last option the best.
New York Chopped Cheese Sandwich Recipe
Forget a Philly cheesesteak - this New York chopped cheese sandwich makes for the ultimate hoagie.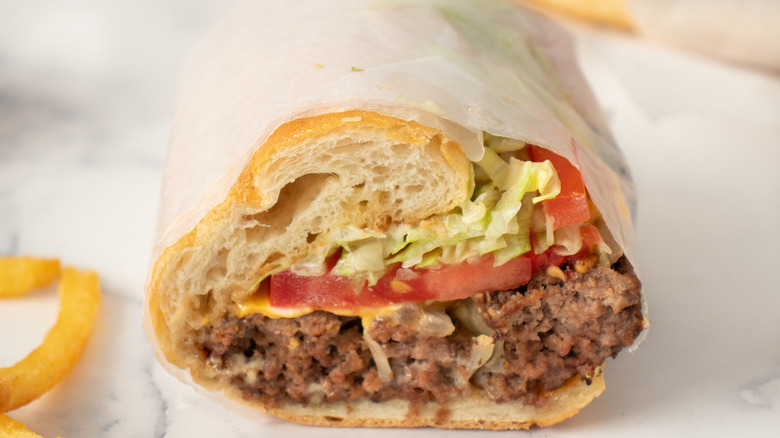 Ingredients
1 stick salted butter, divided into 8 tablespoons
4 (6-inch) hoagie rolls, split
1 large yellow onion, peeled and sliced (about 1 ½ cups)
2 pounds ground beef
1 teaspoon salt
½ teaspoon garlic powder
¼ teaspoon black pepper
8 slices American cheese
⅔ cup mayonnaise
2 medium tomatoes, sliced
2 cups shredded iceberg lettuce
Directions
Working in batches, melt 1 tablespoon of butter in a large skillet over medium heat. Place a hoagie, cut-side down, into the skillet, and toast for 1-2 minutes or until golden brown. Repeat with the remaining hoagie rolls and, once all are toasted, set aside.
Return the skillet to medium heat and melt the remaining 4 tablespoons of butter in the same skillet used for toasting the rolls. Once melted, add the onions, and sauté for 4-5 minutes or until tender. Using a slotted spoon or tongs, remove the onions from the skillet and set aside. Return the skillet to the heat, increasing the temperature to medium-high.
Portion the ground beef into long, even log shapes and season each with salt, garlic powder, and black pepper. Working in batches, place the beef portions into the hot skillet and sear for 2 minutes or until deeply browned on one side.
Flip and flatten the ground beef, using a spatula, into a long patty. Continue to cook for 2-3 minutes, thoroughly searing before flipping the patties over once again to finish cooking, another 2 minutes or so.
Divide onions between the patties and, using the spatula, chop the meat and the onions into smaller pieces.
Place 2 slices of cheese on each portion of chopped-up patty and continue to cook until the cheese has melted, about 1 minute. (You can speed up this process by mixing the cheese in with the chopped beef and onion).
Spread the toasted hoagie rolls with mayonnaise and fill (or stuff) with the chopped burger, tomato slices, and shredded lettuce. Wrap the chopped cheese in deli paper and cut in half or serve whole.
Nutrition
| | |
| --- | --- |
| Calories per Serving | 296 |
| Total Fat | 24.5 g |
| Saturated Fat | 9.6 g |
| Trans Fat | 0.8 g |
| Cholesterol | 58.6 mg |
| | |
| --- | --- |
| Total Carbohydrates | 7.3 g |
| Dietary Fiber | 0.8 g |
| Total Sugars | 1.2 g |
| Sodium | 282.5 mg |
| Protein | 11.7 g |