Olive Garden's Owner Buys Ruth's Chris Steak House For A Ridiculous Amount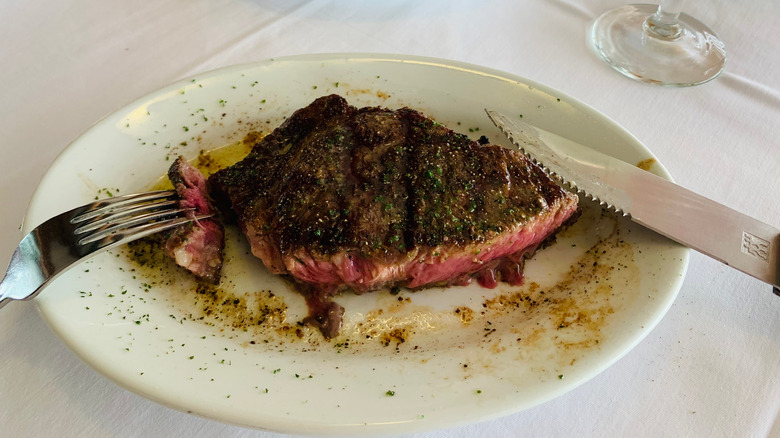 Chung-Hao Lee/Shutterstock
Darden Restaurants, the company responsible for Olive Garden and LongHorn Steakhouse, is adding a new powerhouse to its roster. In a $715 million deal, Darden is acquiring Ruth's Hospitality Group, otherwise known as Ruth's Chris Steak House, according to CNBC. The addition of the fine-dining establishment will increase Darden's $18.4 billion market value; Ruth's Chris is currently sitting pretty with a market value of $525 million. Founded in 1965, the restaurant began with a single location in New Orleans. Today, it's expanded to include more than 150 locations.
This acquisition adds to Darden's other two restaurants in the fine-dining industry: Eddie V's, made popular by its seafood, and Capital Grille, which is well-known in the steakhouse world. For five years, from 2010 to 2015, Ruth's Chris Steak House topped the Nation Restaurant's News Consumer Picks Survey for fine dining establishments. Even with its slew of accomplishments, its humble beginnings are certainly not to be forgotten. The company was spearheaded by a single mother in an age unlikely for women to succeed. Her name? Ruth Fertel, which you'll immediately recognize by the first half of the restaurant's namesake.
From unlikely start to major company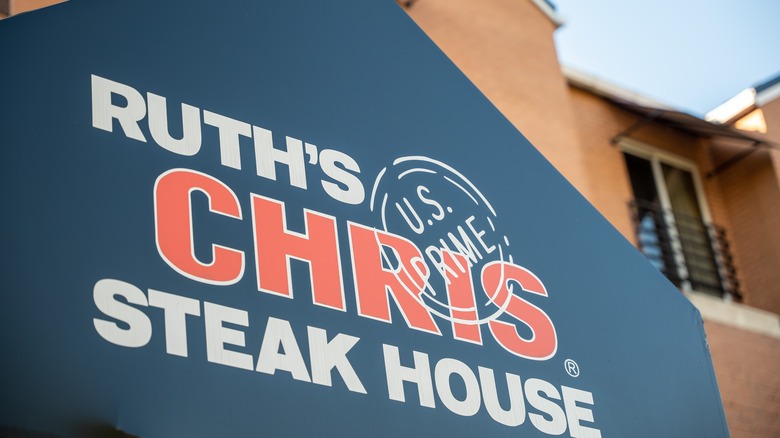 M4Productions/Shutterstock
Following a divorce from her husband Rodney, Ruth Fertel had to find a way to support herself and her two sons. While peering over the classifieds one day, Fertel found her answer in the form of a for-sale restaurant. After taking out a home mortgage and facing tons of trial and error, she turned it into a successful business. 
Originally called Chris Steak House, Fertel rebranded the restaurant Ruth's Chris after the original location burned down. Sometime in the late 1970s, a fan of the restaurant became the first franchisee, which kicked off the climb from a one-location eatery to a luxurious high-end chain. Fertel ran the organization until Madison Dearborn Partners took a majority in 1999. Fertel passed away in 2002, but her creation lives on. 
Fertel's surviving family haven't always been fans of the corporation that the restaurant turned into. In 2020, her grandson, Rien Fertel, criticized the restaurant's current state after the company took, and then gave back a $20 million small business loan. "My grandmother believed in the virtue of giving, in community, in helping those in need," he said in a series of Twitter posts. "She fed first responders, those in need, the hungriest." It's too soon to tell the impact Darden's purchase will have on Ruth's Hospitality Group, but maybe it will send the steakhouse back in the right direction in the eyes of Rien.