Skittles Spotlights LGBTQIA+ Artists In Its Latest Colorful Campaign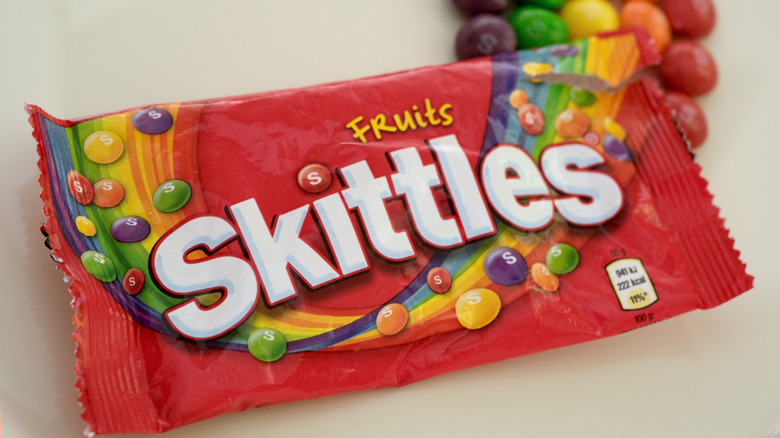 Yuriko Nakao/Getty Images
Pride month may be in June, but Skittles has already spilled its plans to celebrate the LGBTQIA+ community. If you're familiar with the brand's promotion from the past few years, you may know what to expect from its 2023 campaign. According to a press release, the company is once again bringing back its Pride packs, featuring new designs. 
To showcase the talents of LGBTQIA+ individuals, Skittles' Pride packs will trade out the product's usual rainbow design for artwork created and inspired by five artists in the community. As a way to show further support for the Pride movement, Skittles will donate $1 (up to $100,000) from every Pride pack sold to GLAAD, an organization that pushes for and promotes inclusivity.
Skittles started changing its packaging to promote the LGBTQIA+ community in 2019, working with four illustrators that year. Since then, it's become an annual tradition. In 2020 and 2021, Skittles "gave up its rainbow" in a more literal fashion. Skittles packs lost their rainbow colors, with their packaging and candy turning entirely black and white. According to GLAAD President Sarah Kate Ellis, this was an attempt from the company to spark conversations about the LGBTQIA+ community, no matter how uncomfortable. In 2022, the company shifted to a more colorful representation. Now, Skittles will be bringing attention to the five artists that worked on the 2023 campaign — Zipeng Zhu, Symone Salib, Mady G, Bianca Xunise, and Shanée Benjamin.
Five artists worked on the 2023 packages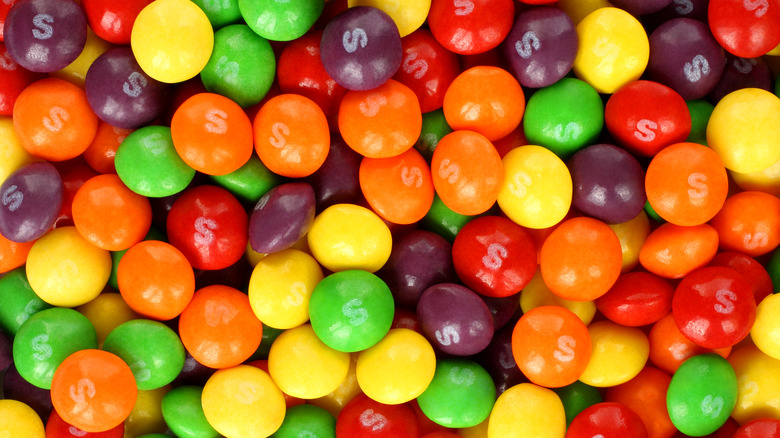 rvlsoft/Shutterstock
Five artists in the LGBTQIA+ community worked to create the packages used for this year's Skittles campaign. Zipeng Zhu (he/him) created his pack with a smiley place enclosed by progress Pride flag colors. In the corner, the words "express yourself" appear with a similar color pattern. Zhu is a New York-based artist and the owner of Dazzle Studio. Symone Salib (she/her) is the founder of a studio bearing her name. Her creation, which was themed to look like a city block, was mostly pink with rainbow accents.
Mady G (he, they) is an illustrator with many specialties and interests. Their package's design takes place in the space, teeming with rainbows as well as the sun, moon, and a planet. Bianca Xunise (they, them) is the first non-binary cartoon creator syndicated in the United States. They created a Skittles package featuring a children-filled skate park with positive graffiti messages. Finally, Shanée Benjamin (she/her) is an artist that's worked with several large corporations, such as Instagram and Google. Her Skittles pack illustrates a rainbow flowing into an open mouth.