Jennifer Lopez's McDonald's Cheat Meal Is Loaded With Ketchup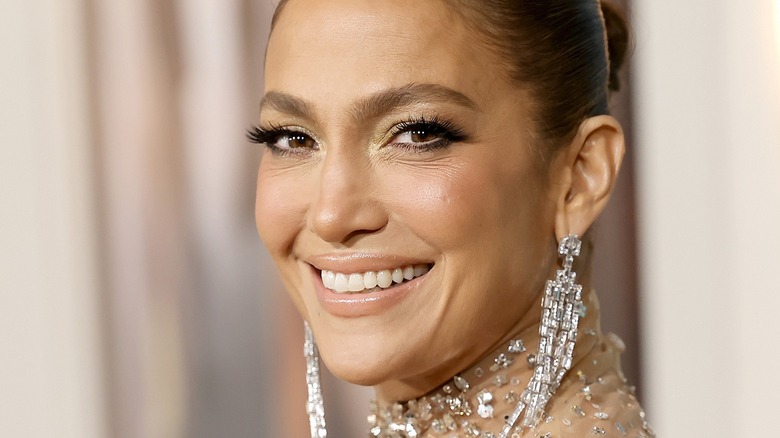 Emma Mcintyre/Getty Images
Jennifer Lopez has always followed a strict fitness regimen, but she still makes room in her life for the occasional cheat meal — which, in her case, involves a ton of ketchup!
Since rising to fame in the '90s, the singer and actor has promoted eating habits that prioritize both health and personal enjoyment. "I don't deprive myself," shared Lopez with People. "But I've learned the importance of maintaining a healthy lifestyle." Lopez's trainer, Tracey Anderson shared a similar idea with People. "She is a very balanced person, so she's not going to miss out on Thanksgiving or a holiday with her children," said Anderson. "That's one of the reasons why the workout is important, and it's so consistent – so we don't do any kind of extreme dieting."
And yet, some occasions warrant a more disciplined commitment. Kelvin Fernandez, Lopez's personal chef opened up to Us Weekly about her Super Bowl diet plan. "It was one of those things where she was eating almost the same thing every single day," shared Fernandez. "There were simple carbs and complex carbs and different types of carbs that we had to implicate into the breakfast, lunch, and dinner structure." He continued, "I've never had breakfast vegetables before, but this woman was having egg white scramble with vegetables three different ways and every single day." 
When Lopez isn't in training for the Super Bowl, however, a Mcdonald's meal is her go-to food craving.
Even J-Lo loves McDonald's
Even Jennifer Lopez loves a little Mcdonald's from time to time! In fact, it's her go-to cheat meal. Lopez revealed her tasty indulgence to Entertainment Tonight in 2020. "The other night, after the American Music Awards, I went to Mcdonald's," shared Lopez. "I was like I'm going to Mcdonald's 'cause I've been like really good these past few weeks, getting ready for my first performance in a long time. You know, the quarantine. So, I was working out every day." Lopez continued, "I was just like I haven't had McDonald's in about three years, maybe longer, so I was like I'm going to have McDonald's. "Of course, Lopez kept things simple by having her friend, producer Benny Medina order her a cheeseburger meal, which she enjoyed with a pile of ketchup. Relatable!
Lopez doesn't just visit McDonald's with her friends, however. Since reconnecting with Ben Affleck, the A-list couple has been caught out visiting the golden arches on a couple of separate occasions. By the way, Affleck totally supports Lopez's snacking habits. When appearing on "The Drew Barrymore Show," Affleck revealed, "Jennifer just eats whatever she wants. Whatever she wants. She eats cookies, ice cream, everything" (via People). He continued, "She works out. I work out too but I don't magically appear to be 20 years old, you know what I mean, with perfect skin and the whole thing. She's the most gorgeous woman in the world, she looks spectacular."