KFC Is Offering The Perfect Gift For Mother's Day: Free Chicken Nuggets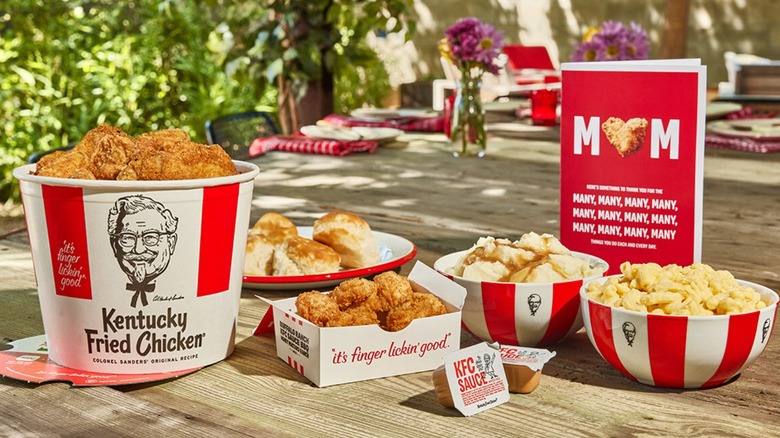 KFC
It's almost Mother's Day, and it's time to give back. Mom has been there for you through thick and thin; she gave birth to you, bathed you, and fed you. So now, it's time to feed her. And as any toddler knows, nothing says love like nuggets. 
In honor of Mother's Day, Kentucky Fried Chicken is making a special offer, designed to please mothers and their picky-eating children alike. Customers can get a free 12-pack of KFC's new chicken nuggets when they purchase the chain's "Nuggets of Appreciation" meal. This deal lasts from May 10 to May 14, and is only available on the KFC website or on the app — so it's not for techno-phobes. 
The nugget offer is designed to promote KFC's Mother's Day special and entice busy families to consider sharing their holiday meal at KFC. Per KFC's press release, the Nuggets of Appreciation spread includes 8 pieces of chicken on the bone or chicken tenders (KFC chicken tenders are significantly bigger than chicken nuggets), 2 large homestyle sides, four biscuits, and dipping sauce. And if you forgot mom's card, the meal has provided for that, too: you get a free digital card in English or Spanish, which you can send to the mother of your choice. 
Diez de mayo and second Sundays are for moms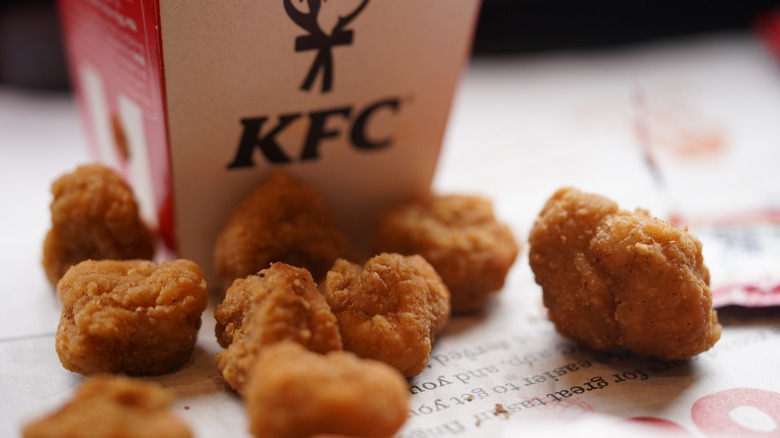 rotanachannel/Shutterstock
In case you're wondering about the dates chosen for the special offer, it's designed to span from Día de las Madres to Mother's Day. Día de las Madres is the day honoring mothers in Mexico; the second Sunday of May is recognized as Mother's Day in the U.S.; this year it falls on May 14. 
Americans have officially celebrated their mothers on the second Sunday of May ever since President Woodrow Wilson declared it a holiday in 1914 (though it had been promoted earlier in the century and was observed in most parts of the country already). While many Spanish-speaking countries follow the US lead in celebrating Mother's Day on May's second Sunday, some countries celebrate on other dates. Mexico, for its part, declared May 10 its official Mother's Day in 1922. May was chosen for religious reasons — it's a month traditionally associated with the Virgin Mary — and the 10th for a practical one: It coincided with standard pay periods at the time.
Let's note the intelligence in placing Mother's Day on a Sunday. In keeping with the spirit of motherhood, while it's not technically a work day, it's not an extra day off either. And if you want, it can also be a day full of chicken.