If You're Stuck In A Cinnamon Roll Rut, Grab A Jar Of Jam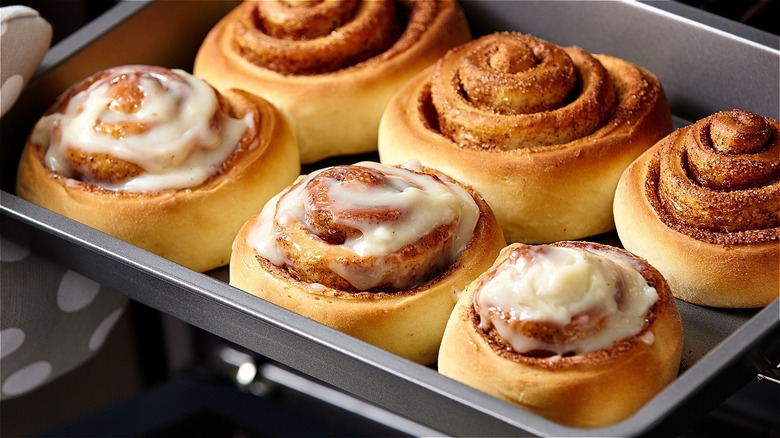 K_E_N/Shutterstock
Cinnamon rolls have a classic flavor combination. The fragrant and flavorful cinnamon blends perfectly with the soft dough and the decadent slightly tangy cream cheese icing. However, while warming spices like cinnamon are fantastic for cooler seasons, you may be searching for some lighter, more refreshing flavors in the hotter months. Or, perhaps you're just a huge fan of those soft, pillowy buns and want to play around with different flavor combinations.
Either way, consider setting aside the blend of cinnamon, sugar, and butter that you're accustomed to smearing on your cinnamon rolls and instead reach for a jar of jam. As an added bonus, if your dough itself is vegan, eliminating the butter inside the filling makes it much simpler to create a vegan version of the comforting treat.
Start the process the traditional way, by crafting your dough (we have a great easy cinnamon roll recipe for that). Then, select your preferred flavor of jam and spread it along the dough's interior before rolling, just as you would the cinnamon sugar paste. While the exact amount will depend on the size of your rolls and how filled you want them to be, a good rule of thumb is to spread about ¾ of a cup of jam for a batch of rolls. It'll infuse them with a delicious fruity flavor that's a welcome twist on the classic (and yes, you can still add icing).
Tips for a perfect final product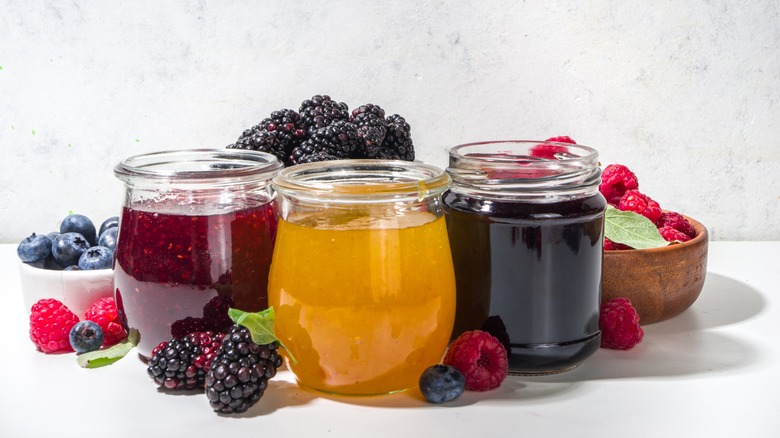 Rimma Bondarenko/Shutterstock
The consistency of your jam is one of the key elements to the success of jam-filled rolls. You want your jam to stay in place when you're rolling and slicing the dough, not to run out before you can even pop them in the oven. So, while a more runny jam might be easier to spread, aim for something that's more viscous.
You can also mix in a few teaspoons of flour to help thicken the jam as it bakes, which will prevent it from seeping out of the rolls.
If you're truly committed to making the rolls from scratch, there's nothing better than using homemade jam to fill them. However, if you're seeking the convenience of store-bought jam, consider adding a hint of salt to the jam to really level up the flavor. The principle is the same as adding salt to your baked goods — it helps bring out the existing flavors of the jam, making it taste juicier and fruitier in your rolls.
And, don't be afraid to infuse fruity flavors in other elements of the buns. For example, a citrus zest that pairs well with the jam added to your dough will bring some brightness and freshness. If you opt to ice the buns, add some citrus juice or zest to the glaze or frosting.