Costco Released A New Pasta Salad That's Perfect For Summer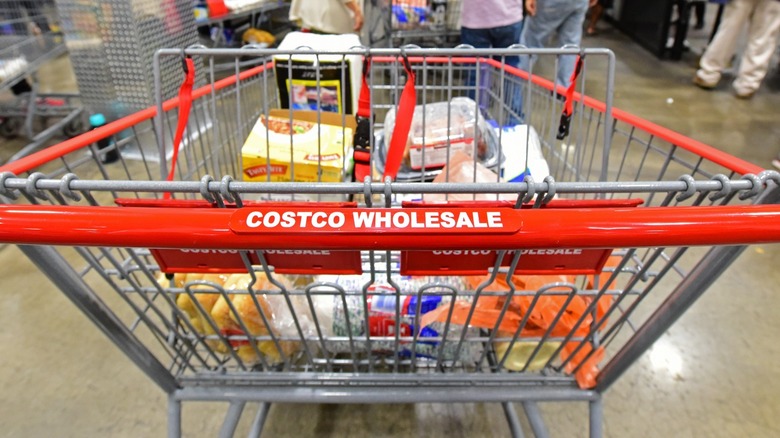 a katz/Shutterstock
Nothing beats a simple, refreshing salad on a hot summer day, especially when paired with an ice-cold beverage. Costco has unveiled a new pasta salad that is perfect for summer gatherings and will save you time on cooking, so that you can enjoy the sunshine and recreational activities at the swimming pool or beach. Costco is well-known for introducing seasonal items in addition to their already popular rotisserie chicken and ready-to-cook meals. Their new Mediterranean Orzo Pasta Salad features orzo, olives, cherry tomatoes, salami, feta cheese, and spinach. The use of orzo makes it a standout, and it weighs about two pounds — enough to serve big groups or provide plenty of leftovers.
For those who may not have tried it before, orzo is named after the Italian word for barley, but is made with semolina flour, and the pasta's unique shape only enhances its popularity. It hails from the Friuli Venezia Giulia region in northeast Italy. Celebrity chef Gordon Ramsay called orzo "one of the hidden delicacies of Italian pasta" because it tends to hide in dishes. The pasta blends in with the other ingredients. Feta cheese is also commonly used in summer salads and oftentimes paired with strawberries or watermelon for a refreshing taste. 
Feedback is positive for the pasta salad
Costco's new pasta salad is already a hit on social media channels, with Costco aficionados quickly picking up the side dish for review. TikTok user account @floridamomof3 gave the new pasta a try and provided feedback. The duo food team loved the orzo, calling it "perfect," and also enjoyed dressing with it. The reviewers noted that the pasta salad was not too salty despite it containing some cured meats. Instagram account @costcohotfinds, which boasts more than one million followers, shared a similar sentiment and deemed the new pasta salad great for summer.
The new salad could also work well for changing up your diet, especially for anyone looking to cut down on carbs and fried foods during the hot summer months. Research from the Association for Dressings & Sauces (ADS) with Dr. Lenore Arab of UCLA suggests that enjoying a salad a day provides a good starting point for eating more vegetables and staying healthier — with more vitamins introduced in your diet. For example, the spinach and cherry tomatoes in Costco's Mediterranean Orzo Pasta Salad contain important, beneficial vitamins. Think of the pasta salad as a middle ground food, where it's not just carbs, but healthy items as well.
If you find yourself searching for a new dish to try this summer and share with the family, consider the new Mediterranean Orzo Pasta Salad from Costco.