The Spiciest Menu Items You'll Find At Fast Food Restaurants
Static Media / Getty / Shutterstock
Taking a bite of something delicious is an easy way to wake up those dormant taste buds. Your palate patiently (and sometimes incredibly impatiently) awaits for you to eat, and once your tongue gets smacked with flavors, it stands at attention quicker than a Marine in boot camp. If the meal you're enjoying also has a kick of heat to it, your palate instantly springs to life with a fire extinguisher at hand to help you cope with those tongue tingles. Not everyone loves heat in their food, but spice-heads know just how satisfying a savory shock to the palate can be.
There are plenty of fast-food chains that offer spicy items to entice heat enthusiasts who can't bother with the regular stuff. Of course, depending on your tolerance, some of those spicy offerings end up falling flat and never really hit like you want them to. Fear not, friends. We're here to help guide you on your quest for all things spicy in the fast-food landscape. So, make sure you put some fresh batteries in your fire alarms because these are the spiciest fast-food items you can treat yourself to when you have a sizzling craving for a fiery meal.
Spicy Chicken Deluxe Sandwich - Chick-fil-A
Prepare to have your taste buds transported to flavor paradise with Chick-fil-A's spicy chicken deluxe sandwich. This iconic fast-food sandwich is a testament to the art of combining premium ingredients with a spicy kick that will have you coming back for more. The star of the show is, of course, the spicy chicken filet. Hand-breaded and seasoned to perfection, it boasts a tantalizing blend of spices that adds a fiery zest to every bite. The heat is perfectly balanced, never overwhelming but always leaving a delightful tingle on your tongue that dances with the rest of the ingredients.
Now, this sandwich is more than just the spicy chicken filet. Nestled between two toasted and buttered buns, you'll find a symphony of complementary flavors. Crisp lettuce adds a refreshing crunch, while ripe tomato slices provide a burst of juiciness. Sliced dill pickles offer a tangy kick that harmonizes with the spice, and a slice of pepper jack cheese adds a creamy, melted element that ties everything together while also giving an additional punch of spice.
Spicy Melt - Burger King
Get your palate ready for a fiery feast with Burger King's spicy melt. This sandwich is a sizzling sensation that combines a bold kick of spice with a melty, cheesy indulgence. At the heart of this culinary creation lies a juicy beef patty, flame-grilled to perfection. It's infused with a special blend of spices that ignites a fiery explosion of flavor on your palate. The patty is crowned with a slice of creamy, melted American cheese that oozes over the sides, adding a rich, velvety touch to every mouthful.
But, Burger King doesn't stop there — it takes it up a notch by layering on zesty jalapeños and a spicy sauce. The tangy heat from those two ingredients adds a one-two kick that lets your taste buds know they've arrived with pride. Just as the heat really starts to strike like an iron, the sweetness of caramelized onions swoops in to help alleviate some of it. Each bite is a harmonious blend of juicy beef, sweet onions, melted cheese, and fiery jalapeños, creating a symphony of flavors that all sing in spicy unison.
Spicy Chicken Nuggets - Wendy's
There are few fast-food items as simple as the chicken nugget. Take bite-sized white-meat chicken pieces, bread them with some seasoning, and then toss them in the deep fryer for a good time. Wendy's does every nugget-lover a huge favor by also offering a spicy version of the wonderfully dippable food. Order up the spicy chicken nuggets and you not only get all the enjoyment of nuggets but an extra kick of heat, as well.
The spice comes from a pepper blend that's mixed into the batter, so the entire fried casing boasts heat. The nuggets are super soft in the middle, and the warmth from the chicken meat almost feels like it enhances the pepper flavor. If you find that the nuggets aren't hot enough for your liking, you can always go the extra mile and plunge them into the ghost pepper ranch dipping sauce for a scorching good time.
Spicy BK Royal Crispy Chicken Sandwich - Burger King
If you're looking to embark on a fiery fast-food adventure, you're going to want your appetite to tag along with Burger King's spicy BK royal crispy chicken sandwich. Burger King uses a white-meat chicken breast that's coated with a thick triple-pepper glaze and smeared with a savory sauce, lettuce, and tomatoes. This is a wonderful avenue to travel down if you're trying to avoid red meat but also crave a sandwich that hits you with the right amount of heat.
The triple-pepper glaze that coats the chicken filet really steals the show here. It's thick enough to cover every ingredient it comes in contact with without ever feeling too rich and heavy. The pepper flavors are super pronounced and they're enhanced by the savory sauce that's slathered on the bun. The creamy sauce and the peppery glaze act as two best friends whose goal is to slap a smile across your face, and boy do they succeed. Lettuce and tomatoes finish off this creation, and the soft toasted potato bun is the perfect vehicle to transport this into your mouth.
Atomic Wings - Wingstop
Any time you're ordering food with the word "atomic" in its name, you better be prepared for what you're getting your mouth and stomach into. It's a situation that likely warrants an ice-cold beverage within arm's reach so you can extinguish the inferno that's bound to rage on your palate and in your belly. But, if you think you can handle that kind of situation, look no further than the atomic wings from Wingstop.
The first thing you notice when you peer into the basket of wings is the aggressive red color of the pieces of chicken. That tells you right off the bat you're dealing with something serious. It only takes seconds after your first bite before a volcanic eruption of heat occurs in your mouth, and it doesn't get any better as you swallow. You can feel the temperature of your throat rising as it travels down to your stomach, so tread lightly. These wings aren't for the faint of heart, but that's what makes them the perfect option for chili heads.
Spicy Chicken Sandwich - Popeyes
When Popeyes chicken sandwich came into the fast-food scene, to say that it created chaos is a gross understatement. This thing had people everywhere waiting in lines for hours and even getting into physical altercations at some Popeyes locations. It kicked off what became known as the "chicken sandwich wars," with plenty of fast-food chains concocting their own chicken sandwiches to compete with the wild popularity of the Popeyes product. Of course, Popeyes couldn't just create one chicken sandwich. It had to add a spicy option into the mix to appeal to its heat-seeking customers.
The most impressive part of this sandwich is the sheer size of the chicken filet. This is one thick boy, and it's fried to a beautiful golden color in a blend of Popeyes' seasonings. The sandwich comes with zesty pickle chips and a hefty drizzle of a deliriously tasty spicy mayo. The mayo is where the heat hides, and this sauce does a great job of supplying each bite with a lovely kick that works great with the rich chicken and tangy pickles. There's a reason Popeyes led the sandwich wars, and this spicy little number is it.
Chicken Chipotle Melt - Taco Bell
Who doesn't love a heat-filled flavor fiesta in their mouth? The answer is no one, and that's what makes Taco Bell's chicken chipotle melt a great option for anyone whose appetite needs to think outside the bun. The lead actors in this mouthwatering masterpiece are the tender pieces of seasoned shredded chicken, and boy what a performance they give thanks to a noteworthy supporting role from the chipotle sauce. The chicken is generously slathered in the creamy, smoky chipotle drizzle that gives every bite a tantalizing kick.
But what makes this spicy melt truly melt-worthy is the addition of warm cheddar cheese. As it cascades over the seasoned chicken, it creates a luscious, gooey layer that blankets each bite with a heavenly richness and mixes with the chipotle sauce for a silky, spice-laden sensation. All of this flavor-packed goodness is tucked inside a soft, warm flour tortilla, providing the perfect vessel to deliver this spicy Mexican-inspired delight to your eager hands.
Spicy Pretzel Bacon Pub - Wendy's
Beer and burgers go together like Christmas morning and presents. After a bite of a juicy patty, few things wash it down better than a cold brew. But, if you're heading out to Wendy's you unfortunately won't be able to snag yourself a beer at the fountain. However, you can order up the spicy pretzel bacon pub burger for a sandwich that not only hits you with a great amount of spice but is slathered in beer cheese so you can get a little bit of that beer experience while you eat.
The bell of the ball here is the juicy filet of chicken that's fried to a golden crisp after marinating in a blend of peppers and spices. The marinade really imbues the chicken with a great level of spice that's not overwhelming but definitely still loudly announces itself to your palate. The chicken is topped with Applewood smoked bacon, smoky honey mustard, crispy fried onions, pickles, muenster cheese, and of course, a heap of gooey beer cheese. The roasted malty flavor of the beer cheese pairs perfectly with the spicy chicken, and it combines with the smoky honey mustard sauce to create a flavor-packed duo. Rich, sweet, crispy, smoky, and above all spicy, this is a great Wendy's purchase.
Spicy Deluxe McCrispy - McDonald's
When hunger strikes, it's tough to ignore those looming golden arches you see in the distance. It's a sign that relief is just a short journey away, so why not go and have it your way? McDonald's offers customers lots of iconic options, like the Big Mac and the Big Breakfast, but it also throws a couple of spicy options into the mix for anyone who wants a punch of heat. One of these options is the Spicy Deluxe McCrispy, which might look like a pretty standard chicken sandwich but comes packed with spicy flavor.
The sandwich is served on a potato roll, and the wonderfully squishy vessel is packed with a Southern-style fried chicken filet, lettuce, tomatoes, and a spicy pepper sauce. It's the sauce here that marries all of the other ingredients together with a sensation of heat that wallops your palate. The sauce rides alongside the fried chicken like a perfect partner in crime, offering a creamy texture that works really well with the crunchy breading. There's a lot more spice packed into this sandwich than you might think, and that's a good thing.
Jalapeño Angus Burger - Carl's Jr.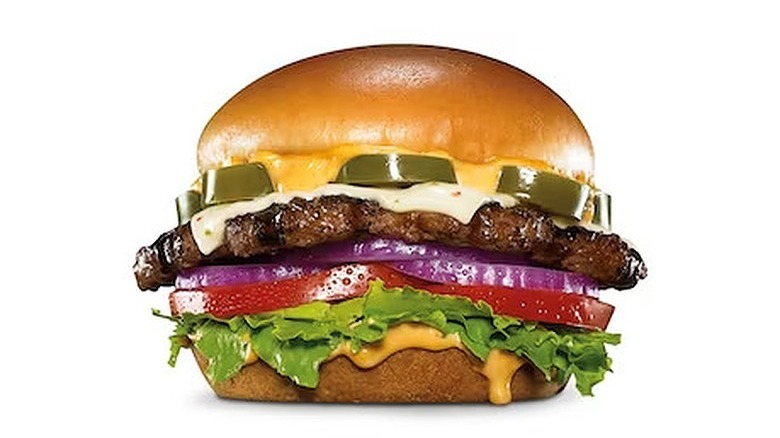 Carl's Jr.
Ordering a sandwich with jalapeños indicates two things: You want a little bit of spice in your meal, and you also don't want to plunge your head into an ice bucket due to an overwhelming amount of heat. You want the perfect level of spice, where the heat is just right. This is where the jalapeño Angus burger from Carl's Jr. comes into play. You won't feel like you chewed up a Carolina Reaper once you're done, but your palate will definitely need a few minutes to reacclimate into normalcy.
This charbroiled Angus beef patty is a pretty hefty fella, clocking in at a third of a pound and topped with pepper jack cheese, diced jalapeño discs, lettuce, tomatoes, red onion, and Santa Fe sauce, which is the restaurant's version of spicy mayo. The cheese, jalapeños, and sauce all combine for a three-way hit of heat that infuses the rich Angus patty with an awesomely kickin' spice that sends delicious tingles over your tongue. The cheese also gives the whole sandwich a gooey texture that complements the crunch of the lettuce and red onions. Carl's Jr. knows what's up when it comes to spicy stuff, and this burger proves it.
Jalapeño Bites - Arby's
While Arby's is known for its roast beef sandwiches, that's not the only item you can order. Yes, the roast beef sandwiches are pretty awesome, but do yourself a favor and explore the rest of the menu as well. If you're a little confused as to which direction to point your attention to, we advise that you pave yourself a path down a road that ends with the Jalapeño Bites. These little bite-sized morsels are packed with flavor as well as a lovely punch of pepper spice.
The coating on each of the Bites is super crunchy and offers a great mouthfeel, so before your teeth even sink into the middle you feel satisfied. Then, beneath the crunchy exterior is a flavor bomb of cream cheese and jalapeño spice that blasts off on your palate. The cream cheese is super gooey and helps counteract some of the spice, but the pepper flavor definitely overpowers the cheesiness in the best way possible. You can order up some Bronco Berry dipping sauce, a sweet and spicy condiment that pairs perfectly with the tangy cream cheese and jalapeño pepper. Sweet heat never tasted so good.