Stuffed Kabocha Squash Recipe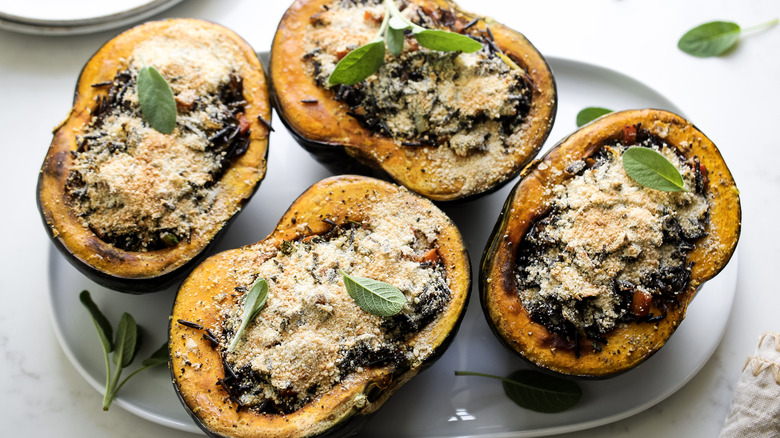 Feta Topalu/Mashed
If you have a busy life and are looking for a vegetable you can procrastinate on using up, look no further than hardy, long-lasting winter squash. You may be familiar with varieties like butternut and acorn squash, but have less experience with kabocha, a type of pumpkin from Japan that's a tad sweeter than its more common cousins. "I feel that kabocha squash is an underrated squash in comparison to the other squash varieties and is a great fit for a stuffing," recipe developer Feta Topalu says, who has a recipe for stuffed kabocha squash that relies on hearty autumnal flavors but is versatile enough to enjoy any time of year. Plus, it's entirely plant-based.
"This show-stopping vegan dish is worthy for any event or holiday," Topalu says. "The humble kabocha squash is stuffed with wild rice, vegetables, and plenty of herbs that bring out earthy flavors. Not only do I love how impressive this dish is, but also how nutritious it is." You and your family are bound to be impressed by this beautiful and flavorful dish all the same.
Gather your stuffed kabocha ingredients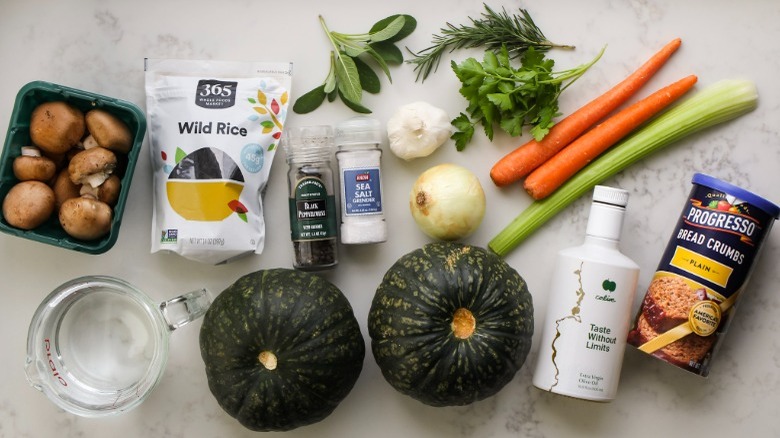 Feta Topalu/Mashed
This recipe requires several other ingredients in addition to kabocha squash, but every component is fairly easy to get your hands on. You'll need wild rice, sage, rosemary, parsley, carrots, celery, garlic, onion, mushrooms, breadcrumbs, olive oil, and salt and pepper.
Looking to bulk up this dish? "Adding ground beef, ground chicken, or ground turkey to the filling is a great option to add animal protein to this stuffed squash," Topalu says. "Simply add 1 pound of cooked protein along with the wild rice to the vegetables in the pan and stir to combine. Then, stuff the squash, top with breadcrumbs, and bake as directed. When cooking the rice, reduce to ½ cup of rice and half of the water amount."
Roast the squash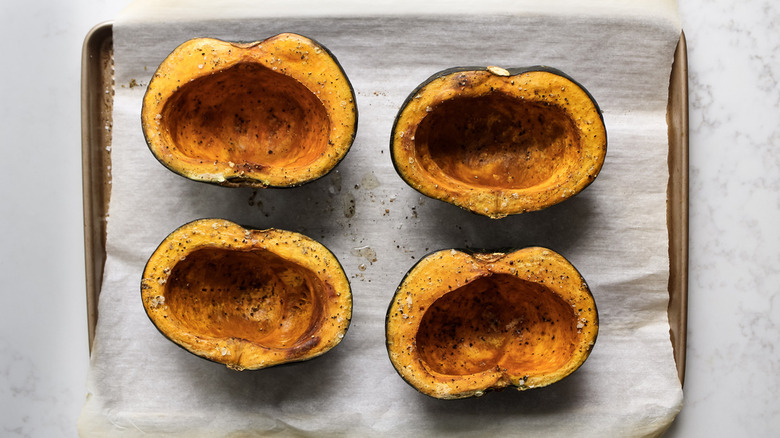 Feta Topalu/Mashed
Begin by preheating the oven to 400 F and placing parchment paper on a sheet pan, then start prepping your squash. Cut each one in half with a sharp knife and scoop out the seeds (feel free to save and roast them if you want, just like pumpkin seeds), then cut a bit off the round exterior side so it sits flat when placed on a tray. Then, simply add some oil, salt, and pepper, and roast for about 40 minutes, until the flesh is nice and soft.
Make the filling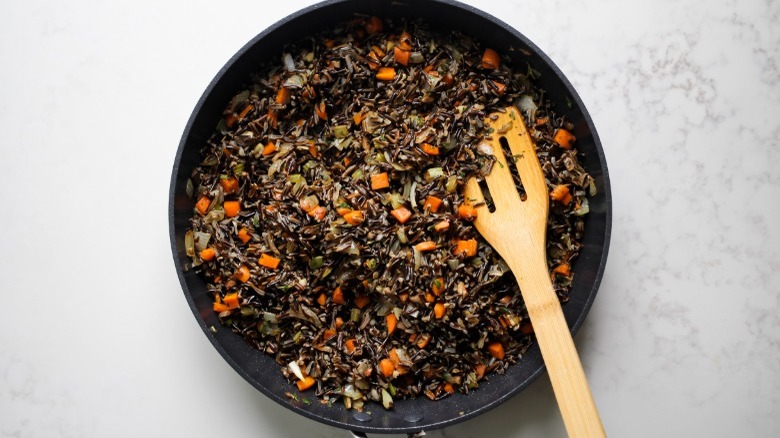 Feta Topalu/Mashed
While your squash halves are roasting, it's time to prepare the filling. Make the wild rice by simmering it in a big pot of salted water for 50 minutes, and get all the vegetables and aromatics ready by sautéing them until soft, then adding the cooked rice to the pan.
If you're the type of person who likes to prep in advance, you're in luck: "The filling can be made three days ahead of time," Topalu notes. "Reheat in the pan and then stuff the squash. Bake as directed."
Stuff your kabocha squash and enjoy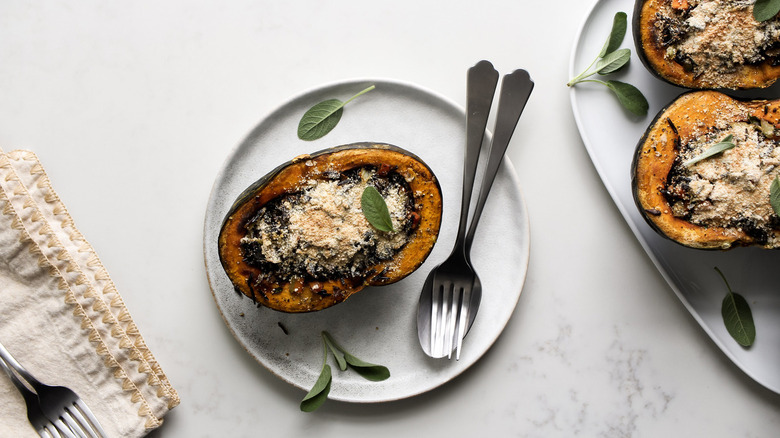 Feta Topalu/Mashed
Once your squash is roasted and your filling is ready, place a big dollop of rice and veggies in the center of each kabocha half, then sprinkle them with breadcrumbs and pop them back in the oven for the finishing touch. Since this is a dish that prioritizes vegetables, why not do the same with what you serve it with? "I think a seasonal salad would pair exceptionally well with this stuffed squash," Topalu notes. "Whether it's a grilled peach summer salad or a fall harvest salad, you can't go wrong."
"To store any leftover stuffed squash," Topalu adds, "completely cover the squash with plastic wrap or foil and store in the refrigerator for up to 3 days. [It's] best reheated in the microwave."
Stuffed Kabocha Squash Recipe
This stuffed kabocha squash recipe features a hearty filling of wild rice and vegetables.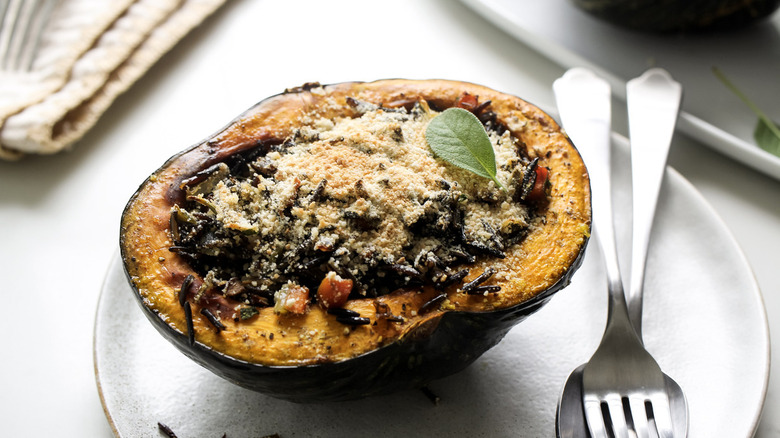 Ingredients
2 kabocha squashes
4 tablespoons olive oil, divided
2 ½ teaspoons kosher salt, divided
¾ teaspoon fresh cracked black pepper, divided
1 cup wild rice, rinsed
2 carrots, diced
1 celery, diced
1 onion, diced
1½ cups diced mushrooms
3 garlic cloves, minced
1 tablespoon chopped parsley
1 tablespoon chopped rosemary
1 tablespoon chopped sage
4 tablespoons bread crumbs
Directions
Preheat the oven to 400 F. Line a baking sheet with parchment paper.
Cut the kabocha squash into halves and remove the seeds using a spoon. Cut off about ¼ inch from the back to level the squash and prevent rocking. Transfer the squash to the baking sheet. Rub with 2 tablespoons of olive oil and season with 1 teaspoon of salt and ½ teaspoon of pepper. Bake until soft, about 40 minutes.
Fill a small saucepan with water and bring it to a boil. Add the wild rice and 1 teaspoon of salt to the saucepan. Stir and reduce heat to low. Cover and cook rice for 50 minutes, then drain and set aside.
Heat 2 tablespoons of olive in a large pan over medium-high heat. Add the carrots, celery, onion, and mushrooms and sauté until soft, about 8-10 minutes. Add garlic, parsley, rosemary, sage, ½ teaspoon of salt, and ¼ teaspoon of pepper. Sauté for 2 minutes. Add the cooked rice to the pan with the vegetables. Stir to combine and remove from heat.
‌Divide the rice and vegetable filling between the 4 squashes. Top each squash with 1 tablespoon of breadcrumbs and bake for 15 minutes.
Serve right away.
Nutrition
| | |
| --- | --- |
| Calories per Serving | 419 |
| Total Fat | 15.0 g |
| Saturated Fat | 2.3 g |
| Trans Fat | 0.0 g |
| Cholesterol | 0.0 mg |
| | |
| --- | --- |
| Total Carbohydrates | 66.7 g |
| Dietary Fiber | 8.9 g |
| Total Sugars | 4.9 g |
| Sodium | 883.5 mg |
| Protein | 10.5 g |