Costco Competes With Aldi With The Hottest Merch Drop In Time For Summer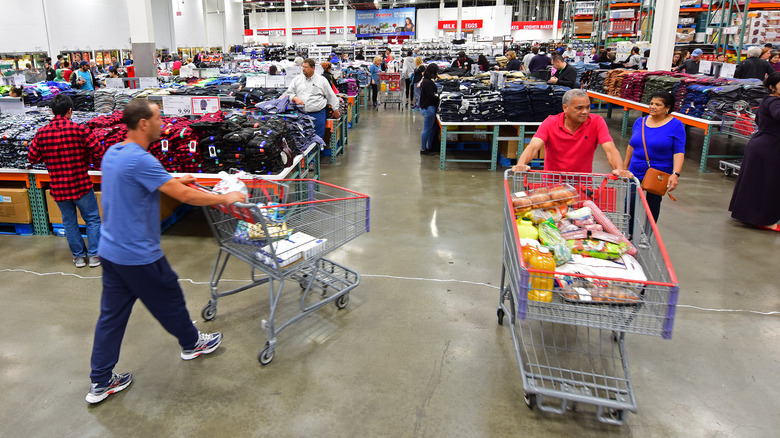 a katz/Shutterstock
Aldi ... merch? If you didn't already know, yes, it's actually a thing. Various wearable items with the Aldi logo are available to purchase (while supplies last) in stores and online on eBay, Poshmark, and similar sites. Hats, socks, pants, and sandals are some of the merchandise you can wear to show your love for the grocery chain. Costco also joined the merch party this past February and now offers its own line of fan gear, ranging from crewneck sweatshirts to joggers to hoodies that feature the Costco or Kirkland Signature logo. 
With summer just around the corner, the warehouse club announced on Instagram that it recently dropped some new wearable merch: Kirkland Signature slides. These black, unisex sandals feature adjustable velcro straps, a flexible outsole, and a full-cushioned, contoured footbed. They can be purchased exclusively from the Costco website for about $15, which includes shipping and handling. And of course, in Costco bulk fashion (no pun intended), you also have the option to purchase the slides in bulk and save money on each pair.
Since Costco's sandals dropped after Aldi's, it's natural for comparisons to be made between the two on social media and elsewhere. Some prefer Costco's version while others prefer Aldi's. 
Reddit has mixed reactions to the sandals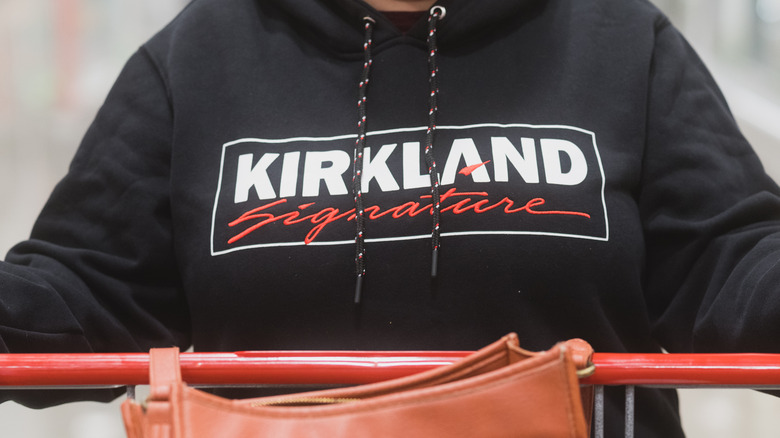 Bloomberg/Getty Images
One Costco fan picked up his pair and posed for a photo. Reddit user u/AllHisFault21 posted the fresh pic of him wearing them — with the tag still attached. "Just arrived. He's so excited," the caption read. A follower reminded the poster that Costco also sells Kirkland Signature socks, which can complement the sandals.
Although the solid black color offers more flexibility with how to complement the slides — if you care about matching your shoes with your clothes — one follower prefers Aldi's version. "Nowhere as stylish as the Aldi sandals!" the post read. By the way, Aldi's offers slides in a variety of colors, including a footbed in gray or blue (several different shades of blue). 
In another Reddit post about the Costco slides, one person jokingly recommended the sandals (las chanclas) for disciplinary reasons after being asked about the throwing accuracy. "Abuelita can nab you from across the street if she sees you pulling your sister's hair again," the post read.
Aldi and Costco may be competitors from a revenue standpoint, but that doesn't mean customers have to choose one pair of sandals over the other. It's perfectly fine to love — and own — a pair of Kirkland Signature sandals and Aldi sandals.