Fast Food Kid Menu Deals Even Adults Can Take Advantage Of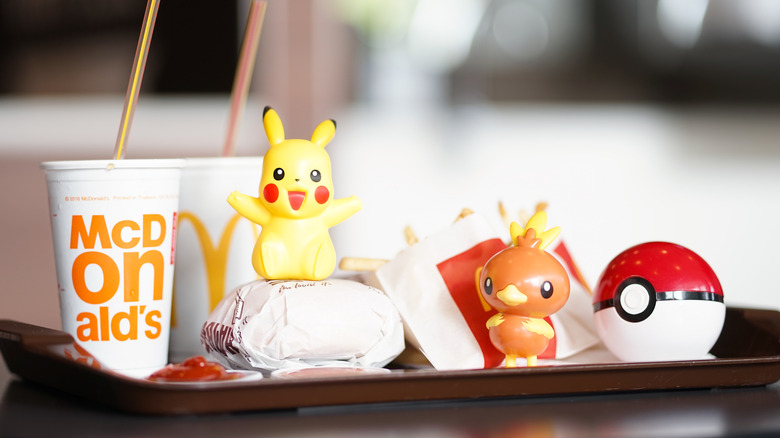 enchanted_fairy/Shutterstock
It's so easy to wax poetic about childhood as it was a time filled with wonder and joy. Simple moments like blowing bubbles in one's backyard could be transformed into underwater adventures filled with mermaids and pirates. There were no bills, delicious food just appeared, and the words 401k had never crossed one's mind. Adults need unbridled joy more than a well-loved 2-year-old whose biggest problem is when the next episode of "Bluey" comes out. Childhood is, quite frankly, wasted on children as they do not understand the alternative. There is one way to get this childhood lust for life back that's actually very simple, order a kid's meal!
Kids' meals have a myriad of advantages beyond whimsy and caprice. They are economically advantageous which is a very adult way of saying they are cheaper than adult portions. They are also smaller which is a great way to control portion size and caloric intake. The biggest benefit is they are fun, with some even giving one a prize. Take that, adulthood.
McDonald's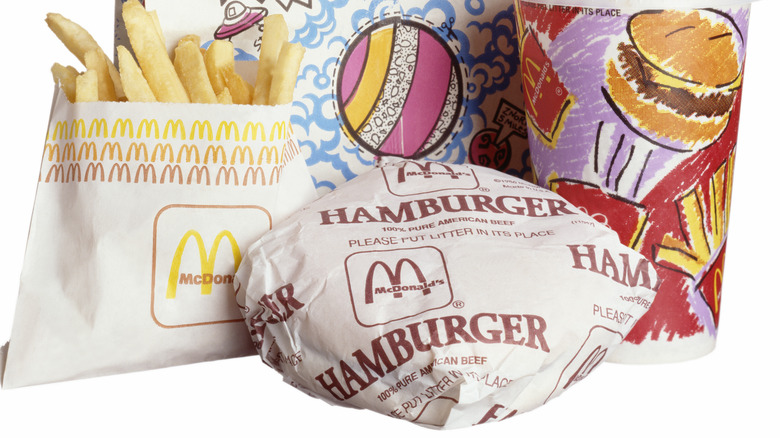 Evemilla/Getty Images
The McDonald's Happy Meal is an iconic pop culture gem that has been bringing joy to those young and old since 1977. It is interesting to note that not everyone in the company was initially on board with the idea but Bob Bernstein, the advertising brain behind Happy Meals, worked hard to convince them according to an interview given to CNN. The nostalgia runs so deep that in 2022 McDonald's launched an adult version for a limited time.
Adult Happy Meals are technically over but one can still just order a regular Happy Meal and call it a wise adult decision even if one has food at home. Options include a hamburger, a four or six-piece chicken McNuggets and both come with fries, apple slices, and your choice of milk, chocolate milk, apple juice, or bottled water. Let's not forget the toy.
The total calorie count for a hamburger meal or a six-piece chicken McNugget is 475. A Big Mac by itself is 590 calories with 34 grams of fat which is 44% of one's daily value, while a hamburger Happy Meal has 16 grams of fat total coming in at just 21%. Depending on one's choices and location, a Happy Meal costs around $4.99-6.59 but who can put a price on nostalgic joy? However, adults should restrain themselves from playing at the PlayPlace, the few that still exist anyways.
Burger King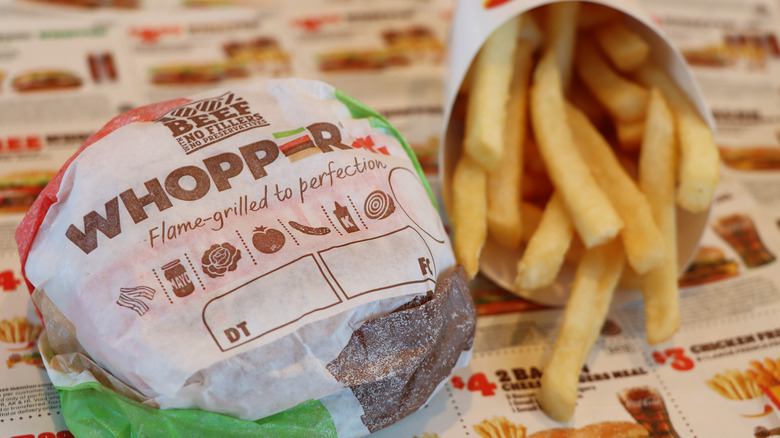 Deutschlandreform/Shutterstock
A fun fact is The Happy Meal was actually created in part as a response to Burger King's growing popularity with children. A discerning adult realizes ordering a King Jr. meal at Burger King is the smart way to go financially. A Whooper alone costs around $5.99 and that's without fries or a drink. A kids' meal is only around $4.99 to $5.19 and it is all-inclusive.
The dairy lovers out there can rejoice as unlike McDonald's Happy Meals, King Jr. options include a cheeseburger in addition to a hamburger and four or six-piece chicken nuggets. The meal is rounded out with an apple sauce cup. To quench one's thirst, a Capri Sun is offered which also teaches the patience and focus needed to stab a straw into its pouch.
Calories for a kid's burger are just 240. Meanwhile, a single Whopper would be 660 calories with 40 grams of fat. There is also a toy included which is calorie-free but filled with joy.
Subway
Burgers and nuggets are great and all but sometimes, one wants something that is still quick but less filling. Subway's normal sandwiches come in foot long and 6 inches. Sometimes even adults do not want that much which is where a kids' meal comes in.
For a healthy fast food alternative try the brand's Fresh Fit for Kids Meals. This is a great option for picky eaters as well because it is fully customizable. Hate mayonnaise? Go for the oil and vinegar or mustard. Despise pickles? Leave them off. Choose from Turkey, Black Forest Ham, or Veggie Delight. It comes with a GoGo squeeZ Apple Apple so there are no spills and a milk or Honest Kids Super Fruit Punch.
Kids' mini-subs are 4 inches and run under 200 calories. Toy included, the price point is around $5.99, depending on one's location. An adult meal costs double that so for those days when one isn't in the mood for a big portion, the kids' meal is the way to go.
Chipotle
Burritos are delicious but they are huge and messy. Adults can get their burrito cravings satisfied while still keeping their clothes spotless. How? The Chipotle kids' menu offers tacos and quesadillas using all the similar components of a burrito, only in a smaller portion and a bit less messy. After all, society frowns on adults with food stains on their clothes.
Chipotle's kids' meals might not have the swag or toys like other fast food restaurants but they make up for it in value and healthiness. The taco option comes with one's choice of protein and two toppings while the quesadilla can be the traditional cheese or have meat added along with its side of rice and beans. Both meals come with kid's chips, fruit, and a choice of milk, chocolate milk, apple juice, or a 16-ounce fountain drink. The best part is there is no age restriction.
One can infer that Chipotle workers won't look down on anyone who orders one. In fact, they might even think an adult who goes that route is one smart cookie. Since the meal is so customizable, it is hard to nail down the exact calorie count but the price will be around $5.55, depending on location. A burrito alone would cost nearly double that price and that's not including chips and guacamole, which one has to add.
KFC
As a responsible adult when the desire for fried chicken hits, one may want to both satisfy it and be conscientious. Oh, the paradox of adulthood. Just because one can consume all the fried things one wants, should one? Mama said there would be days like this. This is when a kids' meal of fried chicken at KFC is just the thing.
The regular three-piece tenders combo has 780-1340 calories. The kids' meal calories are half of that coming in at 300-640 making it the ideal way to indulge mindfully. Plus one cannot beat the price point at around $5.19, depending on location. The kids' meal at KFC checks all the boxes being both the lower-calorie and cheaper choice.
It comes with five delicious chicken nuggets that are all white meat and hand-breaded using Harland's original recipe. For a side, one has a choice between Musselman's Applesauce or Jr. Seasoned French Fries. To drink there's a milk or Capri Sun option. Another opportunity to practice patience as those straws are tricky.
Wendy's
Wendy's kids' meals have two unique attributes that are both equally awesome for adults needing a mood boost. Variety is the spice of life after all. Speaking of spice, one of Wendy's calling cards is its ability to be spicy and the second is the Frosty.
When an adult chooses to order a kid's meal they can decide between a hamburger, cheeseburger, four-piece nuggets, or four-piece spicy nuggets. It comes with apples as a side and a choice of milk, chocolate milk, soda, water, or Frosty. If one can really call that a choice — go with a Frosty.
Calories in this meal range from 240-620. Let's compare that to an adult 10-piece nugget combo which has 420 calories, just in the nuggets alone. A kids' meal costs $4.69 location dependent while the adult version runs around $8.00, further proving kids have all the fun but adults can visit from time to time.
Del Taco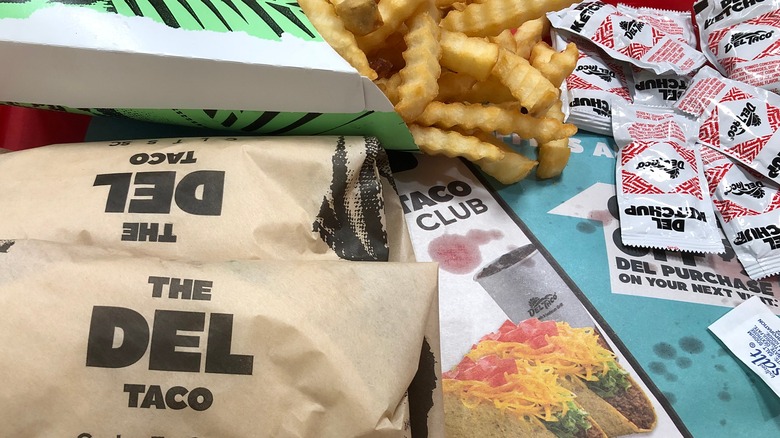 Sheila Fitzgerald/Shutterstock
Grown up kid's meal lovers should not go to Taco Bell as they discontinued the kids menu in 2013 making it the only major fast food joint to do so. That's no fun. Instead, say Del-Yeah and head to Taco Bell's competitor Del Taco.
Del Taco's Kid Loco options include a quesadilla, bean and cheese burrito, snack taco, hamburger, and cheeseburger. All of them come with the restaurant's signature crinkle fries and a bottle of water. They also come with stickers so one can decorate any boring adult paperwork they may be trying to knock out on their lunch break. 
A crunchy snack taco is only 120 calories as compared to the Del Taco's 300. Ordering the Kid Loco meal is also the cheaper way to go as a snack taco, bottle of water, and small fries will cost only around $6 if ordered a la carte. Go loco and it will only cost around $4 which means it's time to get crazy.
Rubio's Coastal Grill
Rubio's nomenclature has gone through many identity changes throughout the years from fresh Mexican grill to Baja grill, finally landing on a coastal theme. Thankfully, its kid's menu is more stable than its name.
This steadfast bill of fare for children and those young at heart has comfort classics such as quesadillas, crispy chicken bites, fries, tacos, and bean and cheese burritos. All of the meals come with a choice of drink. The quesadillas and burrito options are lovely because they come with a choice of two sides so one can choose between chips, "no fried" pinto beans, black beans, cauliflower rice, Mexican rice, citrus rice, churro, apple sauce, or French fries. One could infer that since the meal does not come with a toy, a churro is a natural choice to remedy the situation.
With all the options available, it is impossible to consider the calories. The price point is around $6.49 depending on location, and considering all one gets, it's a kids' deal that's hard to beat.
Arby's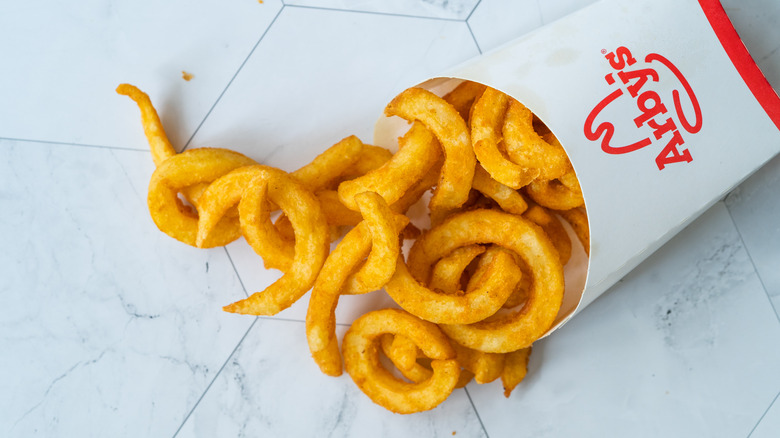 Alp Aksoy/Shutterstock
Arby's is known for its "meats" so when the urge for roast beef hits, it is the place to go. To save some dough and eat a bit lighter, turn to the restaurant's kid's meal offerings.
Arby's is the only fast food establishment on this list with a kid's meal slider option. Calorie-conscious adults can choose from four-piece chicken nuggets, six-piece chicken nuggets, a chicken slider, or a roast beef slider. All of the meals come with a choice of curly or crinkle fries which is also kind of fun. To drink. one can decide between Shamrock Farms Low Fat Milk, Shamrock Farms LowFat Chocolate Milk, Honest Kids Organic Apple Juice Drink, or bottled water. Past toys have been Scooby Doo and Kidz Bop themed — if you care about that sort of thing.
The kid's meal runs around $6 depending on location which is the same price as the Classic Roast Beef sandwich alone. A slider comes in at 167 calories whereas the sandwich clocks in at 360 calories.
Jack in the Box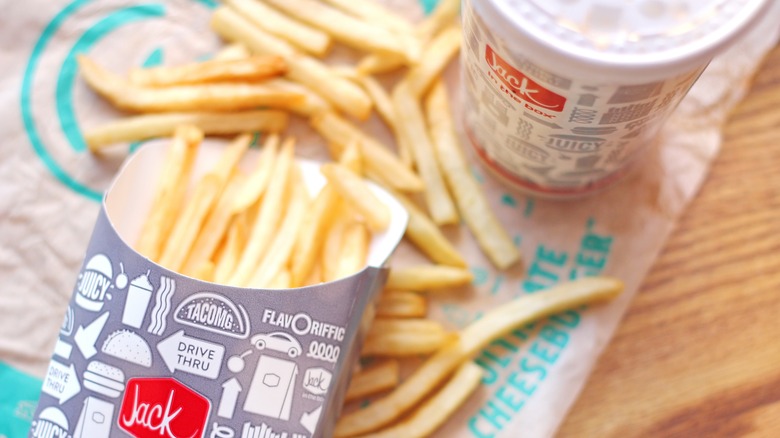 Birch Photographer/Shutterstock
The term "a la carte" is French in origin and literally means "on the card" or menu. Fancy French restaurants used to make one eat a whole meal complete with appetizers, salad, main course, and more without getting to choose any of it. One can thank the French for one's ability to order a la carte off the Jack in the Box kid's meals menu. One has the power of choice. 
Jack in the Box's kid's meals are unique because they come with the option of a full meal or just the main entree. One can choose between a five-piece chicken nugget meal, simply the five-piece chicken nuggets, a hamburger meal, just a hamburger, a cheeseburger meal, or just a cheeseburger. The meals come with fries and a Dasani Bottled Water. It's our opinion that Jack in the Box's a la carte options are great when one is not feeling too hungry and has packed some water from home.
Raising Cane's
Some restaurants may not have a wide range of offerings and combo options but the ones it does have are impeccable. Raising Cane's are fast food specialists with an advanced degree in chicken fingers.
Because of the specialized nature, there are no options on the restaurant's kid's meal menu. One knows exactly what one is getting when one goes there, which honestly, it can be nice to not have to make a million decisions. Adulthood is stressful enough. The kid's combo comes with two chicken fingers, crinkle-cut fries, Cane's sauce, and a kid's size drink.
The price point is around $6.50 as compared with the larger three-finger combo which is $9.99. The larger portion is 1020 – 1210 calories as opposed to 740 – 850 for the lighter option. This marks another check mark in the win column for the youthful elders who decide to eat off the kid's meal menu.
Carl's Jr.
Kids find magic everywhere from sticks found at the park to the shapes of clouds in the sky. They even discover it in the shapes of their food. This is pretty easy when one eats chicken nuggets at Carl's Jr. because they are shaped like stars. Adults are not supposed to play with their food but sometimes one has to throw off societal expectations and live a little.
When ordering a StarPals Kids Meal at Carl's Jr., one gets to choose between a hamburger, cheeseburger, two-piece chicken tender, or chicken stars. All of the meals come with fries and a choice of milk, bottled water, or fountain drink. So what's the adult appeal of this kid's meal? Well, since you'll be saving calories and money by eating a kid's meal, you have room to treat yourself to a chocolate cake for just $2.99. A grown-up Famous Star with cheese meal is around $12, and a StarPals Kids Meal is just $6, so you'll still be financially ahead even with cake. A rare adulthood moment of having one's cake and eating it too.