The TikTok Veggie Salad You'll Want To Bring To Every Summer Barbecue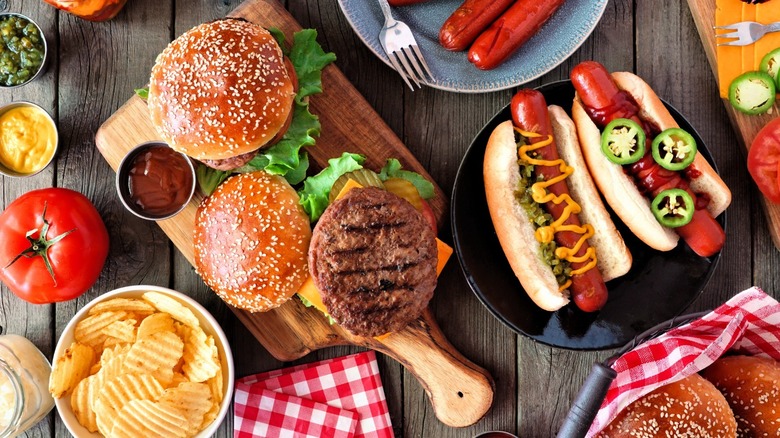 JeniFoto/Shutterstock
Cookout season is one of the best seasons for those who love enjoying good food with friends and family on warm outdoor afternoons. While the main courses may get most of the attention, summer barbecue experts know the sides are just as important. And one easy side dish recipe that's been taking the internet by storm is a veggie salad, courtesy of TikTok, that may quickly become your new go-to.
It only requires a few ingredients, though a couple may require a trip to a specialty store or an online order if you can't find them at your local supermarket. However, these seasonings are typically longer lasting and can be used in many other dishes — or more of this salad recipe. For each salad, you'll need one mini cucumber, eight mini sweet peppers, 1 teaspoon of everything bagel seasoning, 1 teaspoon of prepared chili crisp, and 1 tablespoon of your favorite bottled ginger dressing. The recipe is highly customizable, so feel free to tweak and adjust amounts as your taste desires.
After you've gathered everything, slice the cucumber and peppers into half-rounds and place them in a bowl, then top with the additional ingredients. Toss everything together and enjoy immediately for a fresh, sweet, spicy, savory, crunchy veggie side dish that you and your guests won't be able to get enough of. 
TikTok's viral veggie salad was created by a reality star
The viral salad recipe appears to have originated from reality star Rachael Kirkconnell (best known for winning Season 25 of "The Bachelor"), who posted it on TikTok in March 2023. Since then, it has been liked and shared by more than half a million users, with many posting praise in the comments and suggesting additions like edamame, feta cheese crumbles, or avocado. While it comes together in just minutes, the salad will taste even better if left to marinate in the fridge, which helps encourage the flavors of the dressing and veggies to blend.
Depending on your appetite and the other dishes you've prepared, the above recipe quantities are best for one to three servings. Luckily, it's one of the more straightforward and affordable recipes to scale up in size for large groups. You can also add proteins like steak, grilled chicken, or shrimp to produce a more substantial main course. Plus, with a recipe as simple and tasty as this, you'll have plenty of time to focus on other easy side dishes for your barbecue.