Taco Bell Is Beefing With Taco John's Over Its 'Taco Tuesday' Trademark
On Tuesdays at Mashed, our minds go to one place: Tacos, tacos y mas tacos. Did you know that Taco Tuesday — a common and seemingly available phrase — is trademarked? That means your local taco shack, taco joint, or taco casa, along with every Mexican-American food truck and taqueria from Nogales, AZ to Huntington, West Virginia, can't use the phrase without permission.
Now Taco Bell is asking Taco John's — the Cheyenne, Wyoming-based chain that gained the exclusive rights to use the catchy alliteration in 1989 — to rescind the federal trademark registration, thereby liberating the term for use by all. On Tuesday, May 16, Taco Bell filed legal petitions with the United States patent office's appeal board. 
Not a half-hearted expression for Taco John's, the phrase began as "Taco Twosday" in the early 1980s to promote the chain's two-tacos-for-99-cents deal. When Taco John's changed it to "Taco Tuesday" and registered the phrase, it meant that only the 54-year-old chain could use it. Since then, any restaurant or food truck (mis)using the slogan has received a cease-and-desist letter from Taco John's lawyers, according to Business Insider.
Whether it's spelled Twosday or Tuesday, the common phrase should belong to no one and everyone, says Taco Bell — which is not seeking trademark rights or damages. The fast-food giant is collecting signatures on Change.org. In addition, supporters are invited to an AMA on Reddit on May 22. The 'Freeing Taco Tuesday' petition claims to be representing taco lovers everywhere.
How about Taco Saturday or Enchilada Tuesday?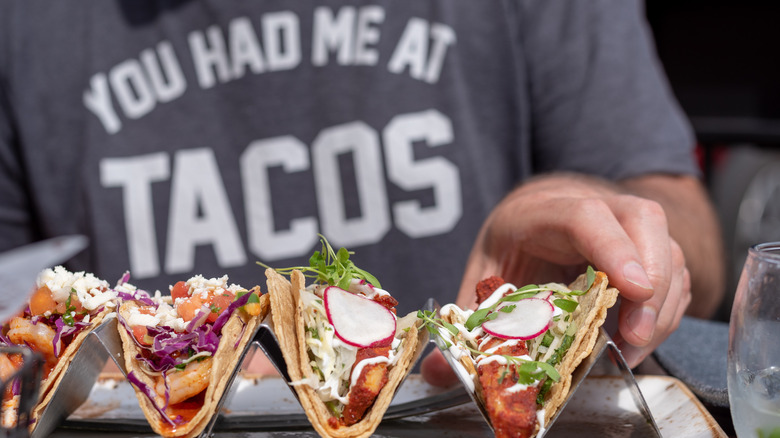 David Prahl/Shutterstock
Taco John's website boasts "The home of Taco Tuesday since 1989," flaunting its trademark. "Ever heard of Taco Tuesday®?," it says on Taco John's website. "Fun fact: We started it! We even trademarked it. That's how seriously we take tacos." Customers are encouraged to pencil-in Tuesday on their calendars to celebrate the glorious taco on a regular basis. However, restaurants have been putting together T-words while offering taco specials on Tuesdays since the White Star Cafeteria in El Paso, Texas, promoted three tacos for 15 cents in 1933, according to Thrillist.
With more than 400 locations in 23 states, Taco John's has a trademark influence that reaches into states and regions where the fast-food restaurant has no locations. In fact, the only state free of TJ's iron hand is New Jersey. But don't imagine a Taco Tuesday free-for-all in the Ocean State. The term was trademarked by a restaurant in Somerville in the late 1970s.
Hey, at least no one has the patent on Margarita Monday, Tequila Tuesday, or Sangria Sunday. In the meantime, restaurateurs are free to establish Chimichanga Wednesday or Huevos Rancheros Thursday. Even without a slogan bearing the alliterative ring, we believe Mexican food in general is worthy of celebration any day of the week.