13 Cup Noodles Flavors Ranked From Worst To Best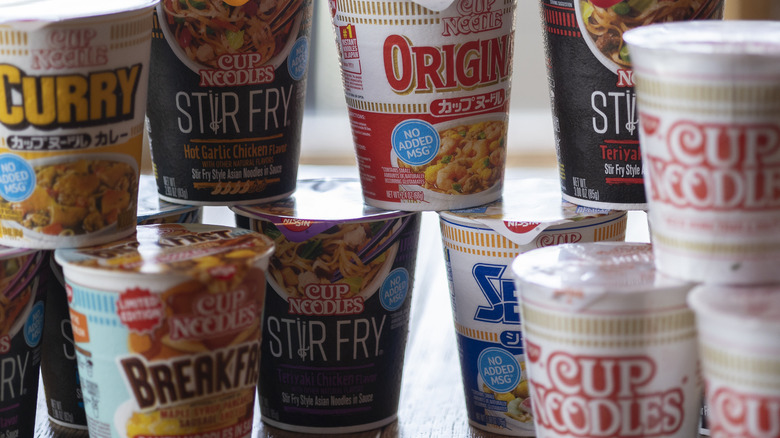 S.G. Howe/Mashed
Cup Noodles are one of those grocery items that inspire polarized opinions. People either love or hate them it seems, with the majority of that former category being college students. And even among instant ramen fans, some flavors are more popular than others. Some are truly bizarre — like pineapple, chocolate, or strawberry-flavored ramen. When it comes down to it, Cup Noodles are usually chosen for their convenience and affordability; most varieties are finished cooking in less than four minutes and cost just a couple of bucks per cup.
So when it comes to the original Nissin Cup Noodles, are the newer varieties, notably the Stir Fry line, worth trying or is it better to stick to the classics, like Shrimp, Beef, and Chicken? Just how nauseating are the limited edition flavors like Breakfast Cup Noodles? We gathered up as many Cup Noodles flavors as we could find to find answers and crown one Cup Noodles flavor as the champion of 2 a.m. college foods. 
13. Shrimp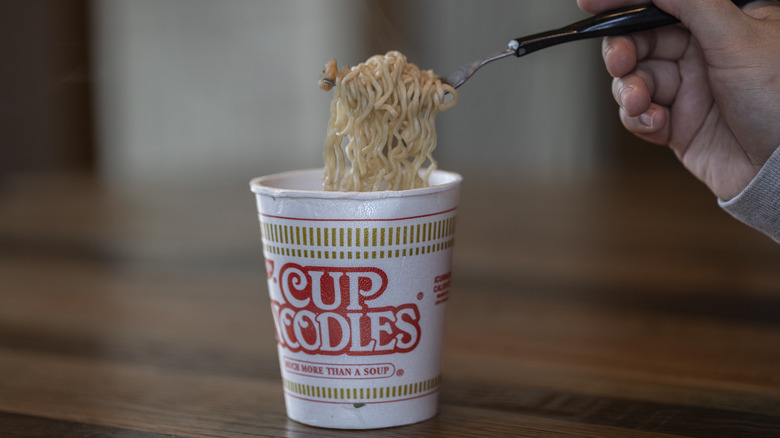 S.G. Howe/Mashed
Despite being one of the classic Cup Noodles flavors, the Shrimp variety impressed us the least. While the quality of rehydrated and microwaved shrimp is guaranteed to be suspect, we weren't expecting the shrimp to be this bad. If you were ever that kid who chewed on the rubber pieces that padded the elementary school playground, you have a pretty good idea of what this shrimp's texture is like. Plus, for this whole cup of ramen, there were perhaps five shrimp in the cup. Maybe if the wimpy little crustaceans were bursting with flavor, this one could be redeemed, but the taste was mediocre at best. 
We sipped the broth to hopefully get a stronger shrimp flavor there, but no such luck. The broth wasn't bad, but it just tasted vaguely of stock. And since there were no veggies or herbs in this flavor to offer any variety, overall the ramen was just too bland and lifeless.
12. Original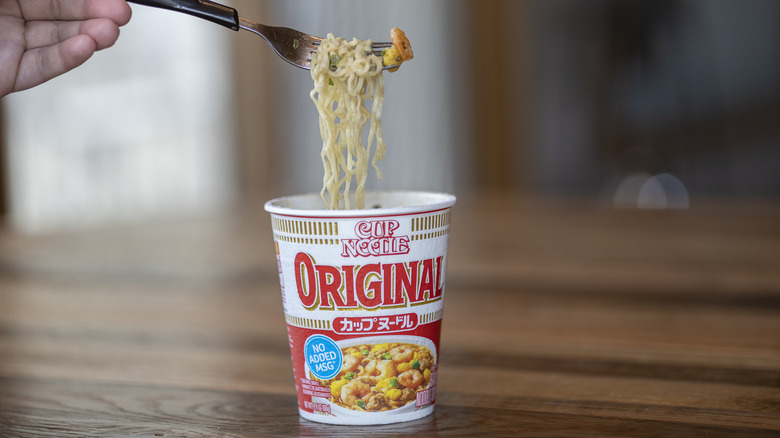 S.G. Howe/Mashed
They say that if at first you don't succeed, you should dust yourself off and try again. If this Original Cup Noodle flavor is Nissin's first attempt, then we're definitely glad that the brand dusted itself off and tried again. Original, which appears to be flavored with shrimp, egg, and spring onion, does have quite a bit more life to it than the Shrimp flavor. But the same issues with shrimp taste and texture remained, there was no flavor to the egg whatsoever, and the broth had that same generic stock taste with no shrimpiness to it. 
The star of the Original flavor is, surprisingly, the green onion. For what it's worth, this does create an enjoyably simple flavor, but you might as well leave the shrimp and egg bits out. If we ever eat Original Cup Noodles again, we will pick out as much of the shrimp and egg before cooking as possible to spare us from dealing with the texture. 
11. Breakfast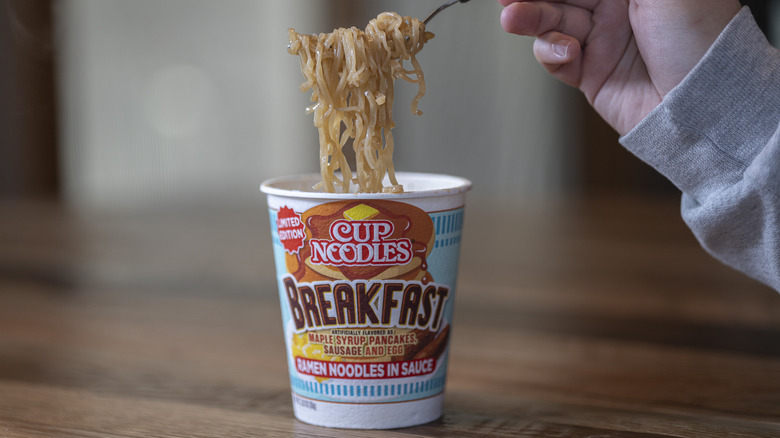 S.G. Howe/Mashed
This bizarre Cup Noodles flavor, which is apparently maple syrup pancakes, sausage, and eggs, immediately recalls the scene from "Elf" where Buddy douses his spaghetti dinner with maple syrup. The taste of these noodles isn't bad as much as it is incredibly jarring; maple syrup of course seems out of place on noodles, and the spongy little flecks of egg are nowhere near powerful enough to break through the sugary syrup with an egg flavor. Even sampled on their own, the egg pieces have a very un-egglike texture and as much flavor as the styrofoam cup the noodles came in.
This limited edition flavor is a classic case of "just because you can, doesn't mean you should." After all, is it more logical to eat ramen noodles doused in maple syrup as a breakfast meal or a lunch meal? Rather, should you eat ramen noodles soaked in maple syrup at all? We'll leave answering that question up to the ramen noodle fans out there. But if we really had to put out a begrudging verdict on this variety's flavor, the taste wasn't necessarily bad — the little breakfast sausage pieces were superbly flavorful, and provided a savory-salty contrast to that maple syrup-based ramen sauce. 
10. Teriyaki Chicken Stir Fry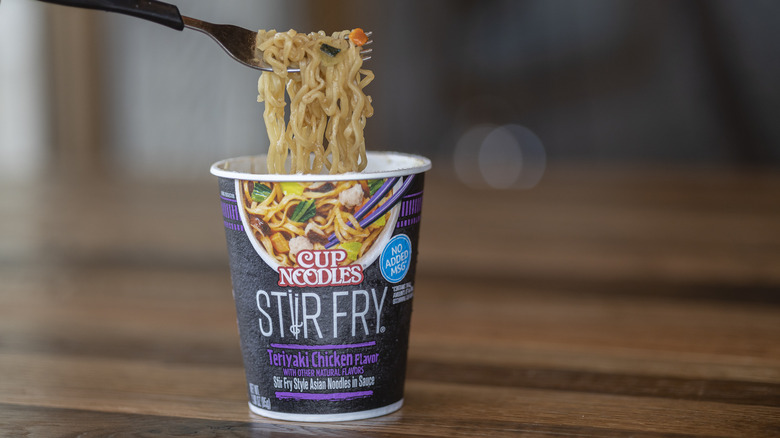 S.G. Howe/Mashed
The Teriyaki Chicken Stir Fry Cup Noodles fall short in taste. Our biggest complaint about this flavor is that the teriyaki sauce just tastes overwhelmingly of salt and soy sauce; it is so overpowering that we can't pick up on any of the mirin, garlic, honey, ginger, or other ingredients used to give teriyaki sauce some dimension. 
We also found that this flavor got significantly stickier than the other Stir Fry varieties, which made the noodles cling together in gluey clumps. The vegetables included were lackluster, there was a disappointing shortage of chicken, and this flavor definitely didn't have enough sauce, even though we followed the directions on the cup exactly. It wouldn't be the end of the world to have to eat this flavor again, but there are way more enjoyable Stir Fry Cup Noodles ahead — ones that trounce this one in texture and in flavor. 
9. Beef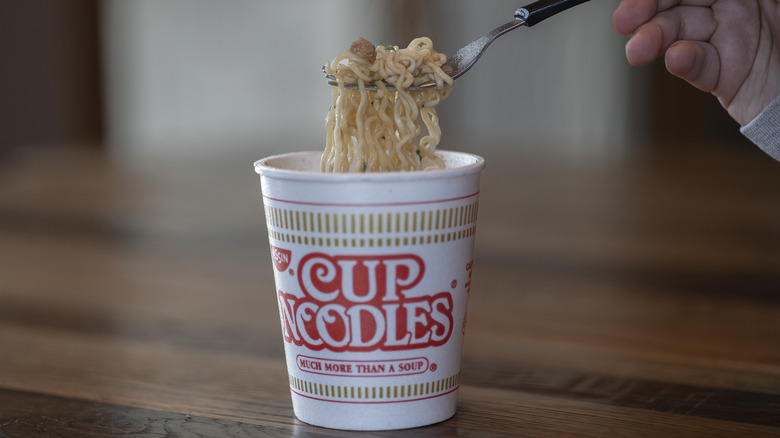 S.G. Howe/Mashed
This classic Cup Noodles flavor, Beef, is uncomplicated but not to be underlooked. The beef chunks, while still a bit more sparse than we'd like to see, became surprisingly tender and flavorful when rehydrated, and actually held up in taste against the broth, noodles, and herbs. Of the three classic Cup Noodles varieties — Shrimp, Beef, and Chicken — Beef's broth was definitely the saltiest, but it wasn't to an unbearable degree. And while this flavor definitely has more body to it than the classic Shrimp, there are other brands of instant ramen, including the Maruchan beef ramen, that have way more oomph in the beef broth. 
Regardless, with these Nissin Cup Noodles, you get the little pieces of yummy beef, an aromatic and comforting broth, and a slight but still detectable herbiness that keeps the flavor complexity and interest alive. Compared to the newer, more interesting flavors, Beef barely offers any competition, but it's still a solid midrange option. 
8. Teriyaki Beef Stir Fry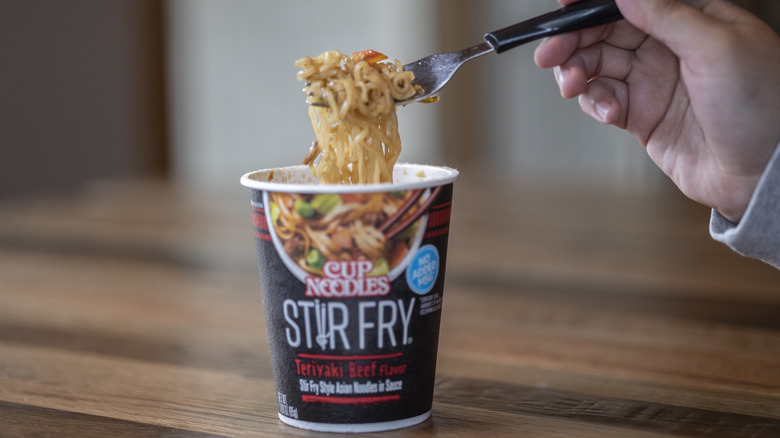 S.G. Howe/Mashed
The Teriyaki Beef Stir Fry Cup Noodles narrowly beat out the Teriyaki Chicken Stir Fry variety. This flavor shared the same issues with the preceding one in terms of a salty teriyaki sauce that was made with too much soy sauce, but for some reason, the vegetables were significantly better — they were bigger and had a more vibrant, fresher taste — and an adequate amount of sauce prevented that sticky, gluey mess of noodles from happening. 
Also, as we mentioned with the Beef Cup Noodles, the texture and taste of this brand's rehydrated beef is impressive, much more so than the chicken. Putting the sauce and vegetables aside, the protein in the Teriyaki Beef far outperforms that of the Teriyaki Chicken — plus, the meat in this one is significantly less stingy. If teriyaki is your preferred flavor, we recommend forgoing the chicken and reaching for this one instead.
7. Korean BBQ Stir Fry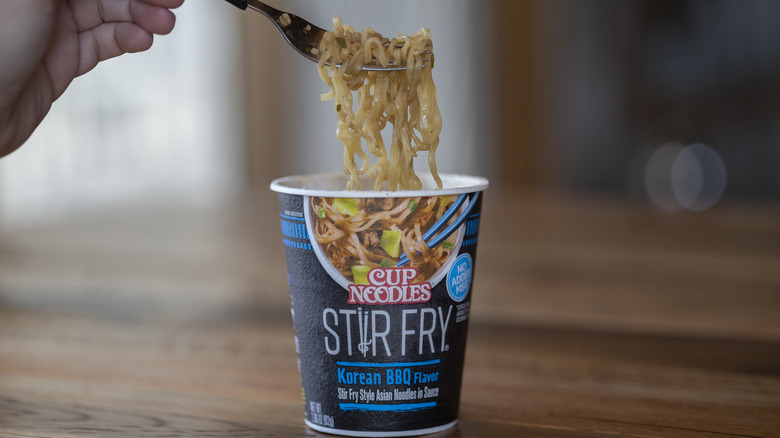 S.G. Howe/Mashed
There is a lot to like about the Korean BBQ Stir Fry Cup Noodles. The noodles have a lovely sweet-and-spicy aroma and, while they don't look all that colorful with vegetables, they're full of flavor from generous portions of garlic, ginger, and peppery cabbage. The cabbage comes in big pieces that have a nice, satisfying crunch when bit into; they accompany the tender chunks of beef perfectly.
The amount of sauce was perfect for coating each noodle and preventing stickiness without being too much. Also, despite being having some pleasant spice, this is not a super hot and spicy flavor, making it a suitable option for those to whom the Hot Garlic Chicken or Sweet Chili are unpalatable. We aren't sure how much the flavor reflects the taste of authentic Korean barbecue, which is a dynamic and intriguing cuisine impossible to distill into a single cup of noodles, but it's still yummy nonetheless. 
6. General Tso's Chicken Rice with Noodles Stir Fry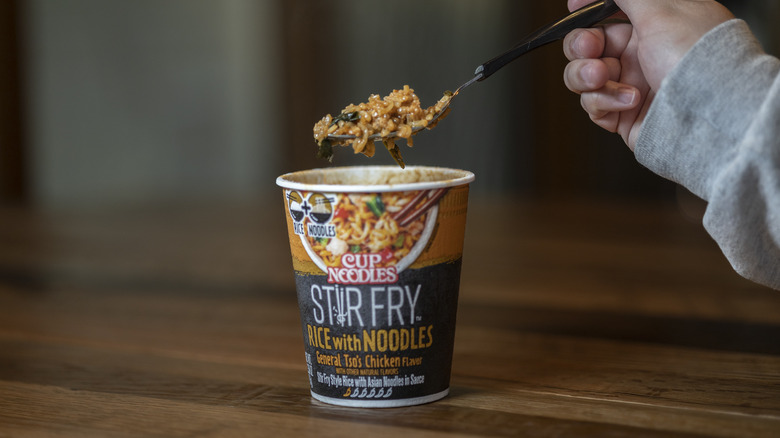 S.G. Howe/Mashed
The flavor of Cup Noodles' General Tso's Chicken Rice with Noodles Stir Fry is a smash hit. It tasted just like the beloved Chinese takeout menu item with an initial tangy sweetness followed by a moderate spice. This was the only Rice with Noodles variety we were able to find in stock locally, and it was overall very enjoyable. The vegetables were impressive both in perceived freshness and abundance. Overall, the rice and noodles were bursting with tons of flavor — but it was a bit too far on the salty side to want to finish the entire serving, so General Tso's couldn't climb over the higher-ranking flavors.
We also have to question why there are noodles in the cup in the first place. They are cut up so small that they could easily be mistaken for rice and don't seem to add anything flavor- or texture-wise. But the noodles also don't detract from the flavor at all, so what's the harm?
5. Curry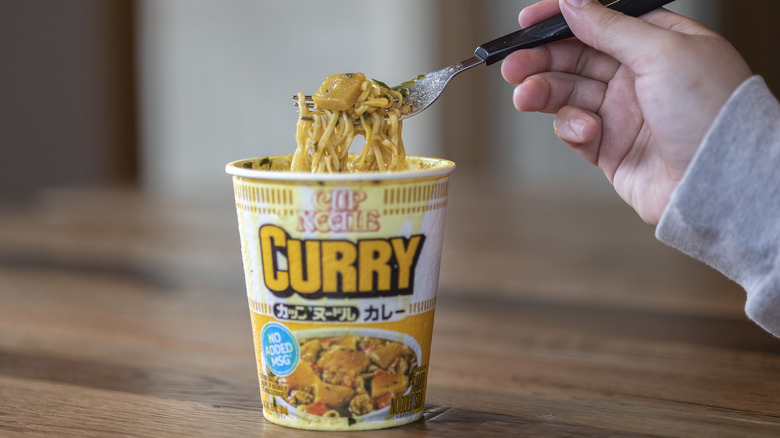 S.G. Howe/Mashed
The Curry Cup Noodles are definitely the most intensely flavored of the traditional ramen-in-broth varieties of this instant ramen brand. They're not quite our favorite out of Nissin's "favorites from around the globe" line, which includes Original, Curry, and Seafood, but they're quite good. The broth has a thick, creamy mouthfeel, strong aroma, and a spicy-sweet taste that makes the broth delicious enough to enjoy entirely on its own. Cumin is the most intense flavor here, accompanied by coriander, ginger, and a little bit of garlic. Bear in mind that, if you are an authentic made-from-scratch curry connoisseur, you might find some insufficiencies in the flavor here. But if we are taking this for its face value — which is a $2 lunch alternative to a $12 plate of authentic curry — there is almost nothing to complain about.
Unfortunately, the Curry Cup Noodles could not rank better because the large potato chunks, as pictured, far overwhelmed the pork pieces, which were about as small as a fingernail. We really had to root around for a piece of protein to include in each bite and ran out before we were halfway through the noodles. But since this is a delicious enough flavor that we'd be content with just sipping the broth, we will look past the disappointing lack of pork and put Curry in the upper middle ranks. 
4. Sweet Chli Stir Fry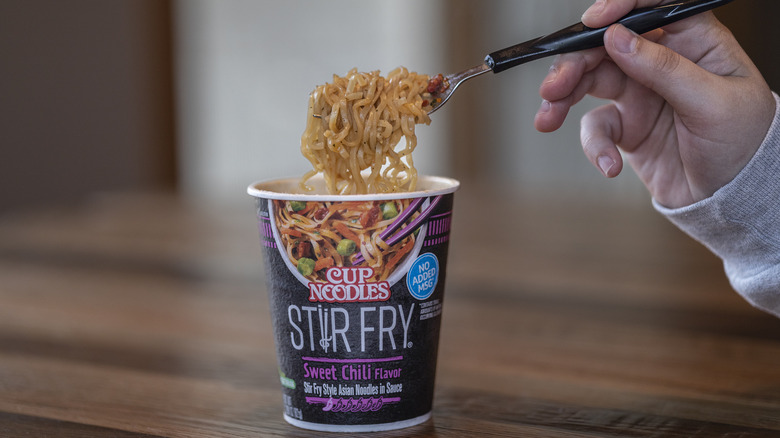 S.G. Howe/Mashed
Sweet Chili is a hard flavor to mess up, and Nissin managed to avoid doing exactly that. When eating these noodles, you're met with an immediate sweetness, and a slow, creeping spice. We would have loved to place the Sweet Chili Stir Fry Cup Noodles a higher rank, but that sweetness needed to be scaled back just a bit; the spice was a bit choked out by it, and we'd take away a half pepper from Nissin's one out of six peppers spice ranking.
But on the other side of the coin, that modest heat makes this a flavorful and gently spicy snack for people who can't tolerate more intense heat. Our biggest ask of Nissin is to add more vegetables to this flavor; it's the only vegetarian option in the Stir Fry line, but even a heaping forkful of noodles, as pictured, is practically barren of any vegetables. Those big, bright chunks of carrot and spring onion on the packaging are a lie.
3. Chicken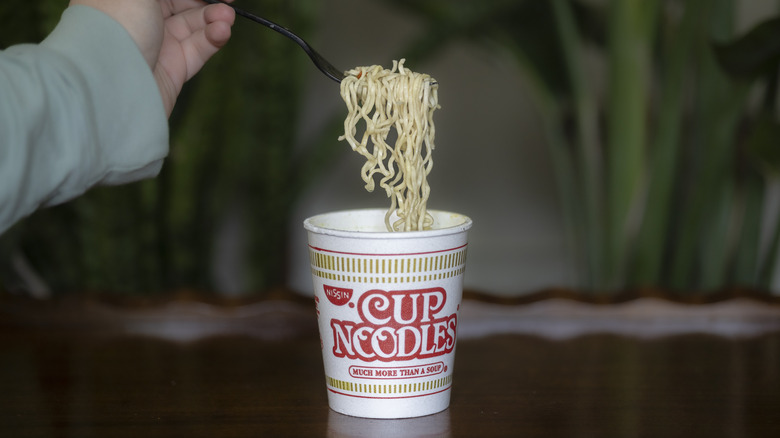 S.G. Howe/Mashed
When something isn't broken, you don't fix it, and that's the case with the original Chicken Cup Noodles. The nostalgia of this flavor alone shot it up in the ranks — many a late-night finals cramming session and questionable boozy midnight snack haul included this flavor of instant ramen. It's salty, savory, and junky in all the best ways. 
There isn't much to remark on in terms of vegetables — there barely are any, aside from some meager little carrots and spring onion — and the chicken is too few and far in between, but the broth is hearty and full of flavor. This one is cozy and comforting, with that craveable basicness that you often seek from simple snack foods like this. The lack of a thicker sauce, more protein, and more abundant vegetables guarantees that you won't feel any sort of satiety from eating this ramen, but the warm fuzzy feelings it invokes make up for it. 
2. Seafood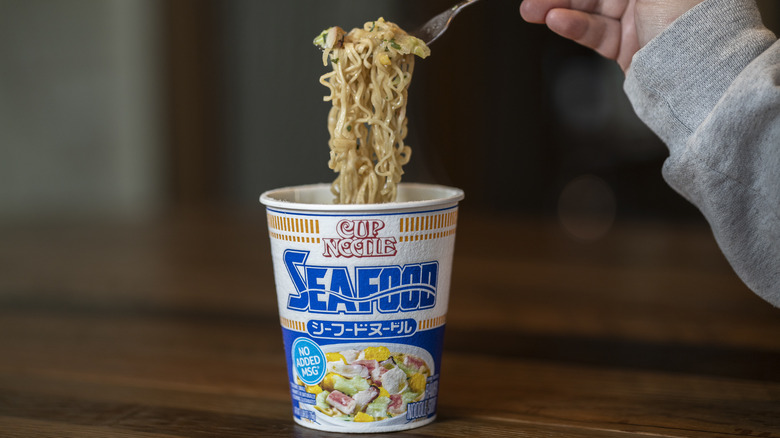 S.G. Howe/Mashed
After a less than extraordinary experience with the shrimp in previous Cup Noodles, we were less than enthusiastic about trying the Seafood variety, but this actually ended up being our top pick from the "favorites around the globe" collection, and one that we'd happily purchase again. 
When you are born and raised in an area of the U.S. where you can load up a cooler full of fresh seafood at a dock and have it in the boil within the hour, it's hard to not look at these sort of reconstituted seafood bits as anything less than packaging peanuts disguised as food. But even though the crab pieces are a far cry from cracking open fresh legs with the sounds of the Gulf outside of your window, you have to give props to an under-$5 instant soup cup doing seafood this well. The vegetables were bright and retained some texture, the broth was deeply savory and flavorful, and the flavor is a celebration of ocean bounty without being overtly fishy in an unpleasant way.
1. Hot Garlic Chicken Stir Fry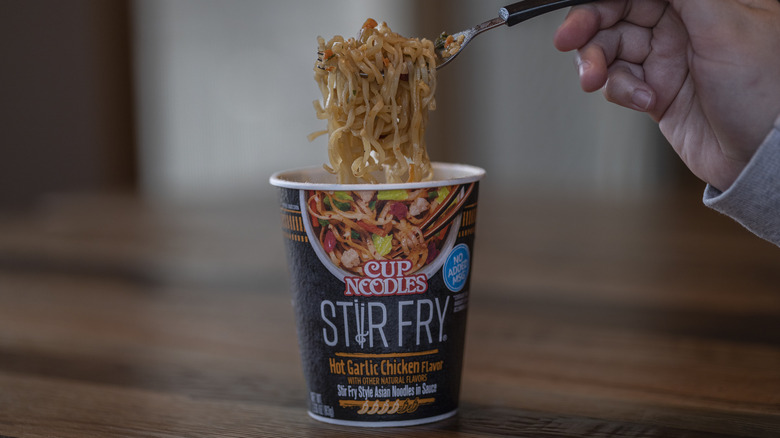 S.G. Howe/Mashed
The Hot Garlic Chicken Stir Fry Cup Noodles is a home run flavor. The spice isn't enough to leave you fanning flames on your breath — it is the kind of heat that sneaks up on you, creeping up the back of the throat with each bite. The packaging's spice rating of four out of six peppers is pretty accurate, in our opinion. The intensely garlicky flavor is delightful, with plenty of allium kick.
Overall, the texture of this flavor is pretty consistent, given how small the vegetables are diced and how sparse the chicken is (the vegetables are tiny, nothing like the pictured noodles on the packaging). But the veggies, while small, are still abundant and tasty. It's one of the stickier Stir Fry varieties, but it is also one of the most flavorful. This isn't just good for instant ramen; it's a great meal, period.