Fans Told Mashed Their Favorite Chain Steakhouse - Exclusive Survey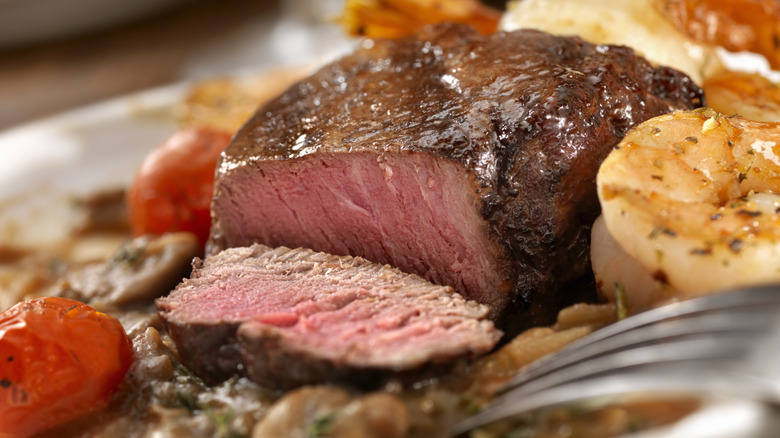 Lauripatterson/Getty Images
On nights you're feeling a bit fancier than picking up fast food, you might find yourself dining at a steakhouse. Whether it's a national steakhouse chain or a regional favorite, steakhouses offer delicious cuts of meat and classic sides. Being that the U.S. boasts thousands of steakhouses, we asked our Mashed readers about their favorites.
According to our YouTube survey's results, Texas Roadhouse is a clear-cut winner, receiving 44% of the votes (or about 7,040 votes). Texas Roadhouse has more than 620 U.S. locations, with Texas having the highest concentration per state. Makes sense, right?
In second and third place, Mashed readers selected Outback Steakhouse and Ruth's Chris Steakhouse, with 16% and 15% of votes, respectively. Longhorn Steakhouse followed closely behind with 13%, and Fogo de Chao Brazilian Steakhouse brought up the rear with 12%. With four of the five steakhouse chains placed so closely together, it really makes you wonder what sets Texas Roadhouse apart from the rest.
What makes Texas Roadhouse more popular than other steakhouses?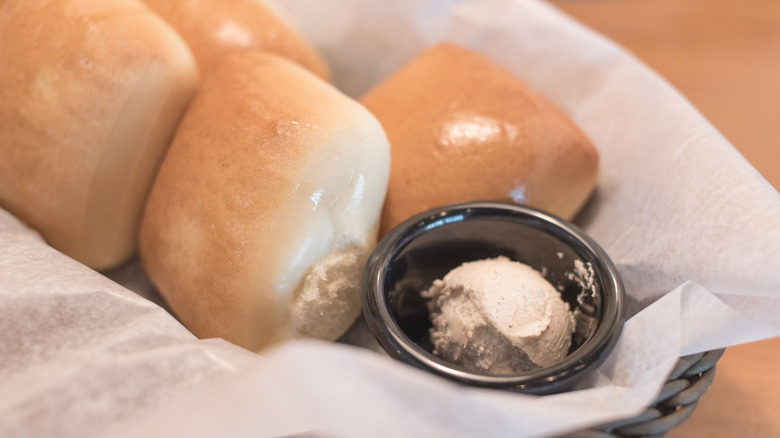 Colinhui/Getty Images
Given the results of our survey, it should come as little surprise that, as of 2019, Texas Roadhouse was the highest-grossing steakhouse chain in the U.S. In 2022 alone, the chain brought in more than $4 billion in revenue, per Globe Newswire, so it must be doing something right in customers' eyes. Some survey commenters pointed out that the chain is a bit more budget-friendly than other steakhouses like Fogo de Chao Brazilian Steakhouse.
A 12 oz Ribeye at Texas Roadhouse costs on average about $17.99, give or take. Meanwhile, a ribeye at Longhorn costs $24.99, and a pocket-emptying $67 at Ruth Chris for a 16 oz. Of course, people aren't just eating steak, they're also chowing down on appetizers as well. While Outback Steakhouse has the Bloomin' Onion and Fogo de Chao offers an extensive salad bar, Texas Roadhouse has plenty of its own delicious dishes to try. Some of its most popular menu items include fried pickles, jalapeno poppers, and, of course, rolls with cinnamon butter. For some Mashed readers, there's no beating Texas Roadhouse's delicious rolls. One person wrote, "Let's be honest, It's really the warm buttered yeast rolls that puts Texas Roadhouse on top!"