The Boozy Addition Your Boxed Cake Mix Is Craving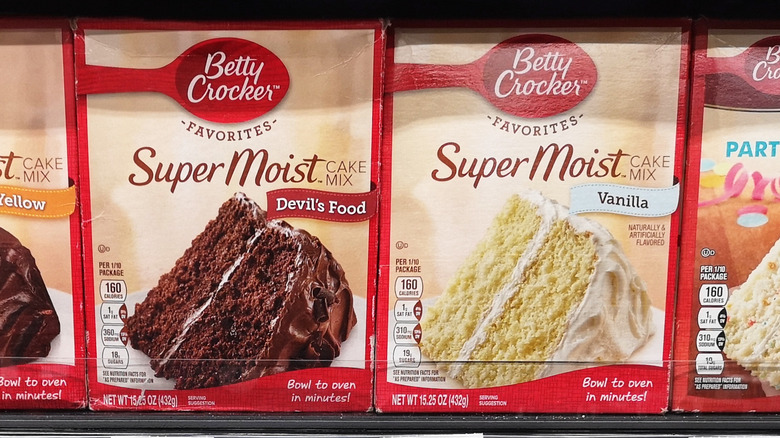 Zety Akhzar/Shutterstock
Since boxed cake mixes first appeared on the scene nearly 100 years ago, they've been a lifesaver for generations of home bakers for birthdays, anniversaries, and parties of every kind. After all, what's not to love about a product that delivers an easy cake that turns out exactly like the picture on the box? However, home cooks are a naturally curious and inventive lot by nature, and over the years they figured out that cake mixes are also easy to improve. A handful of chopped nuts, canned fruit, food coloring, soda, pudding mix ... decades of doctoring have created seemingly endless cake mix possibilities. And one of the very best hacks for transforming box mixes into incredible cakes with unexpected flavors is by reaching for a little booze.
To do it, just substitute some or all of the water called for in the cake mix directions with beer, wine, or liquor. Here are some suggestions on how to elevate your cake with a little tipple.
Bring your favorite cocktail flavors to cakes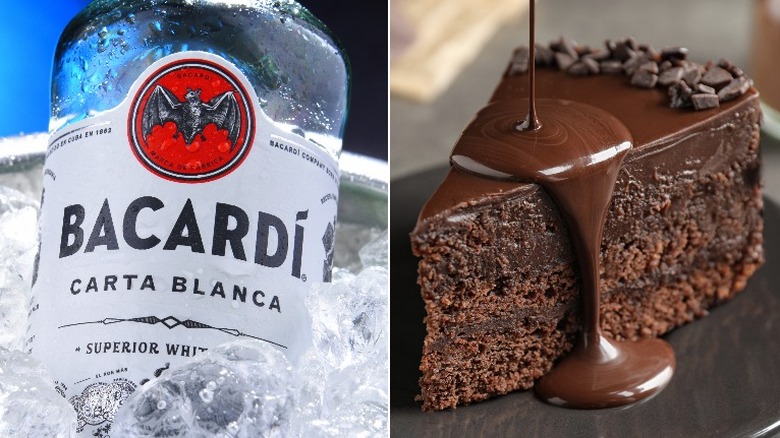 monticello & New Africa/Shutterstock & undefined
When it comes to deciding how to combine beer or liquor with a cake mix, consider first the flavor of the spirit: like the sweet, molasses-like flavor of dark rum, the malt and hops flavors in beer, or the woodsy, botanical flavor of gin. From there, pick a cake mix flavor that will pair well with it. Considering all the choices out there for both alcohol and cake mixes, there's so much potential.
Love a margarita? Try combining vanilla boxed cake mix with tequila and bottled margarita mix in flavors like strawberry or passionfruit.  Ree Drummond shares a family recipe for rum cake on her website, made with boxed yellow cake mix and dark or light rum. (Use a spiced rum like Captain Morgan's for a spice cake version.) Or, take that yellow cake mix and combine it with a can of lager to make a Bundt cake with a subtle but delicious malty flavor. 
Use flavored liqueurs in boxed cakes as well as fillings for the cakes, such as peppermint schnapps in a chocolate-filled chocolate cake. Or, use limoncello to amp up the flavor of lemon cake mix and the lemon glaze to top it. Sweet Moscato wine pairs beautifully with vanilla cake.
Fill your pantry with cake mixes and your home bar with spirits, and begin your cake experimentation. It brings a whole new meaning to the job title of mixologist!