The Biggest Etiquette Mistake At Hotel Breakfast Buffets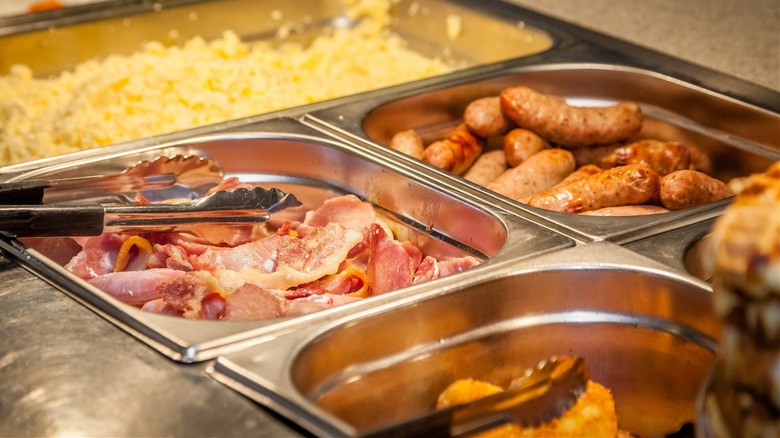 Pawopa3336/Getty
We see you wrapping those muffins in a napkin, tossing that apple and banana into your backpack, and tucking oatmeal packets under your complimentary morning newspaper as you exit the hotel's free breakfast buffet. We are on to you, as you unapologetically enter the elevator in your PJs, clutching paper plates stacked with eggs, bacon, pancakes, and toast. "It's for my husband, who is up in the room," you may tell the couple in the elevator. "He's so lazy."
The hotel housekeeping staff found your stellar collection of tiny yogurts in the mini-fridge. You've been warned by the hotel manager, with your mother's voice in your head or perhaps your own conscience: "Take an extra hot cocoa packet again and run the risk of being barred as a future guest in that hotel chain."
Okay, that's unlikely, but you just tapped into the No. 1 mistake people make at the hotel breakfast buffet. The truth is, we've all taken more than we need at the hotel breakfast buffet. So how much food can we take without risking disapproving glances from fellow guests or hotel staff? What if you need snacks for the many hours on a tour bus? What if your blood sugar gets low? What if you need snacks to keep the kiddies in good spirits? Your mother and God will forgive you for partaking in a granola bar or muffin for the road, but take it easy.
Taking one or two items with you is fine — three is pushing it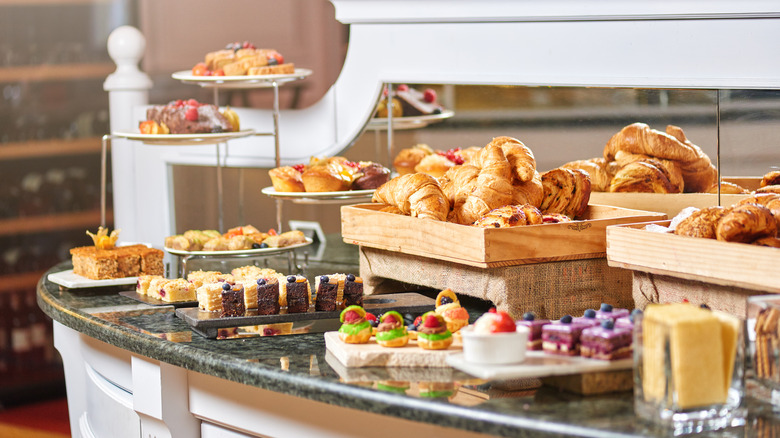 Kartashov Stas/Shutterstock
You can rationalize that the food may go to waste anyway. Or that you spent plenty for that hotel room and you are entitled to an extra biscuit. And really, no one will refuse you that measly cheese danish. But according to the Sydney Morning Herald, wrapping pastries in a "serviette" (Australian for napkin) for later may pose a "health and hygiene issue." 
The Points Guy agrees. Put a little on your plate, they advise, and if it's tasty, you can go back for more. "If you load four sausages onto your plate, you may either eat all of them, wasting valuable stomach space, or throw them out, which is a waste." According to a study reported on by The New York Times, buffet guests ate just over half of the food offered at the buffet. So you may rationalize that it is better to eat and enjoy the given food than to let it end up in the trash. When in doubt, just use common sense and be considerate. 
How to be the perfect hotel guest at the breakfast buffet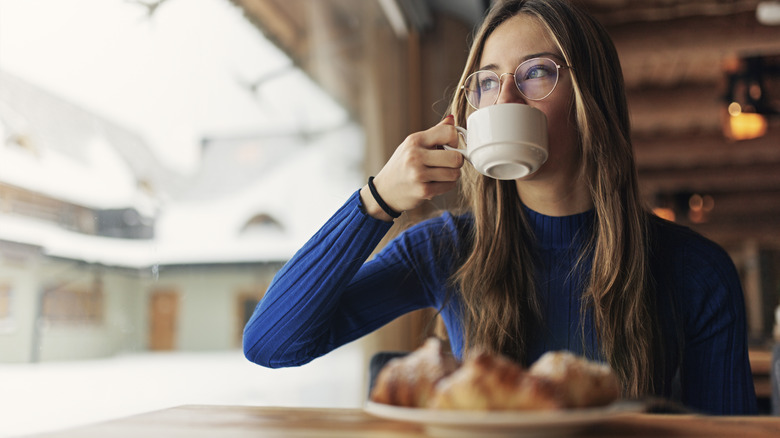 Imgorthand/Getty Images
Imagine that the future of the breakfast buffet, having survived what seemed to be a certain demise post-pandemic, is dependent solely on your sense of moderation. What if, because of your greedy and gluttonous transgressions, the entire hotel industry decides that in order to keep the business in the black, they must do away with offering the beloved breakfast buffet? It's all in your hands.
The study cited by The New York Times also found that hotel buffet guests often pile their plates high to avoid going back for seconds, whether they plan to eat it all or not. This brings us to some of the other etiquette mistakes guests often make at the hotel breakfast buffet. Respect the line. Respect your fellow diners. Respect the server. Use the provided utensils instead of your hands. Don't waste food or serving ware. Don't linger because someone else might need your table. And take a clean plate every time. 
Finally, if there is a tip jar, take it as a sign from the heavens. Here is your opportunity to atone for past breakfast buffet sins.