If You're Feeling FOMO Over The Sam's Club Birthday Cake Sundae, Read This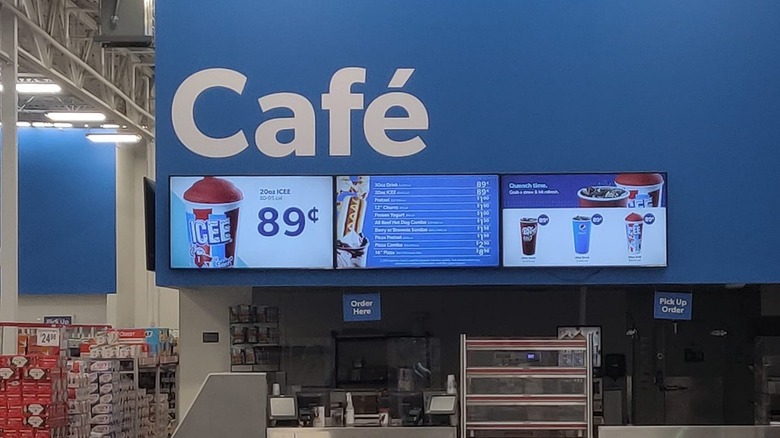 Brent Hofacker/Shutterstock
In case you missed it, Sam's Club celebrated its 40th birthday in April 2023 by offering some sweet deals — literally — over a five-day period. Among them were discounted memberships (one for as low as $10) and a limited edition birthday cake sundae, complete with sprinkles and whipped cream, for just $1.58. When the news broke, it piqued the interest of thousands of members and non-members.
One non-member, Jaybae, couldn't resist the cake offer and posted a TikTok video stating that she purchased a membership "just to get the birthday cake ice cream." Her review? She thought it was delicious. Another TikToker claimed in the comments that they also bought a membership just for the sundae. "It was only $10, so why not," the comment read.
However, several people commented that membership isn't required to dine at Sam's Club. Others said the policies vary by location. Either way, the limited edition, $1.58 birthday cake was a sweet enough deal to cause at least two people to buy a membership just so they could try it. If you didn't get the opportunity, there are still plenty of other food court dessert options available.
Sam's Club has other food court desserts
Although the special 40th birthday cake sundae is no longer available at Sam's Club, you can still order the other sweet treats from the food court. Customers can choose between a vanilla or chocolate yogurt cup, 4-berry sundae, brownie sundae, or churro, all for around the same price as the birthday cake sundae. There are also plenty of cake, ice cream, and other dessert options outside of the food court, but you'll need a membership to purchase those.
As expected, news of this birthday cake offer triggered the unending Sam's Club and Costo rivalry on social media, with some outlets comparing it to Costco's food court options. One person responded to Jaybae's video, saying, "Costco need to step they game up." Costco offers sundaes, froyo, and churros for under two bucks, just like Sam's does, but it also offers a few items that Sam's doesn't. At Costco, you can also order a berry smoothie, latte/mocha freeze, ice cream-filled waffle cone, or a hand-dipped ice cream bar.
Neither store offers a birthday cake ice cream sundae as part of its permanent menu, but maybe one day, it will. We'll even settle for it being part of Sam's Club's secret food court menu.