Pizza Bianca Is The Italian Street Food With No Sauce, Cheese, Or Toppings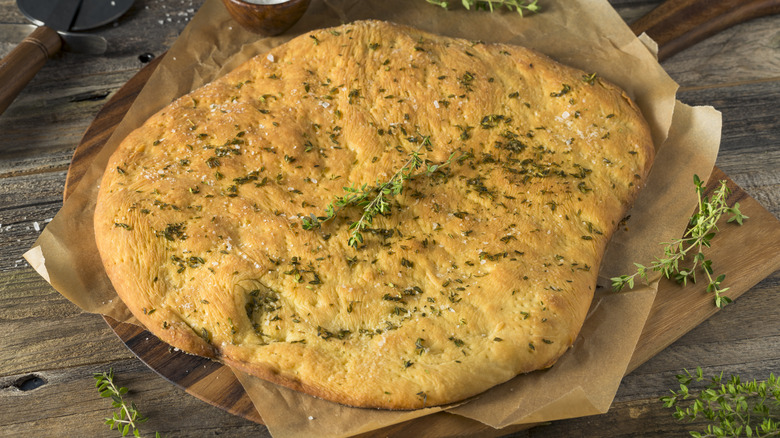 Brent Hofacker/Shutterstock
Bianca means "white" in Italian, but if "pizza bianca" or "white pizza" makes you think of a round of pizza dough topped with ricotta, mozzarella, garlic, and olive oil (or Netflix's famous Pizzeria Bianco), then you're not actually thinking of Roman pizza bianca. That's New York-style white pizza. In fact, Roman pizza bianca might not even look like pizza to most Americans. That's because it's traditionally served without any toppings, and is more similar to focaccia bread than the sauce- and cheese-topped pizza you're more likely to see stateside.
While focaccia has a thick, spongy texture, Roman pizza bianca is more like a chewy flatbread. It's made with simple ingredients like flour, yeast, salt, water, and olive oil, and is often brushed with olive oil and sprinkled with salt before serving. So what's the appeal? There's no sauce, no cheese, no toppings — just crust. While hot pizza bianca fresh from the oven is a delicious snack in its own right (after all, who doesn't like bread?), there are lots of ways to use this Italian flatbread in a variety of recipes — even dessert.
How to serve pizza bianca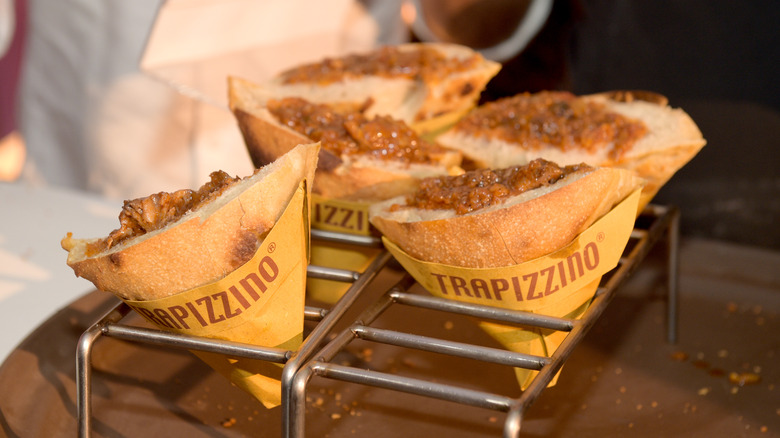 Jason Kempin/Getty Images
Pizza bianca served straight up with olive oil is bound to be a treat for anyone who loves freshly baked bread. At the famous Forno Campo de' Fiori restaurant and bakery in Rome, they let customers tell them how big of a slice to cut, then charge by weight. But thanks to its airy interior, there are lots of different ways to serve pizza bianca instead of just plain. Giada De Laurentiis' favorite Italian sandwich is made by splitting open slices of warm pizza bianca horizontally, then stuffing it full of mortadella. It's known as pizza e mortazza, and is "a Roman institution," according to Local Aromas.
Sandwiches made with pizza bianca have become even more popular in both Italy and America in recent years, thanks to pizzeria 00100 in Rome. The restaurant invented the trapizzino, a triangular pizza bianca sandwich that gets stuffed with traditional Roman ingredients. And for those with a sweet tooth, pizza bianca can even be made into dessert. Apparently, it's common to see it split open and stuffed with Nutella for a sweet and salty treat that's the perfect end to a meal made up of pizza bianca and pizza bianca sandwiches. At first glance, pizza bianca might sound plain and boring, but it's clear that this versatile Roman flatbread is anything but.