TikTok's Latest Breakfast Trend Combines Bagels With Dessert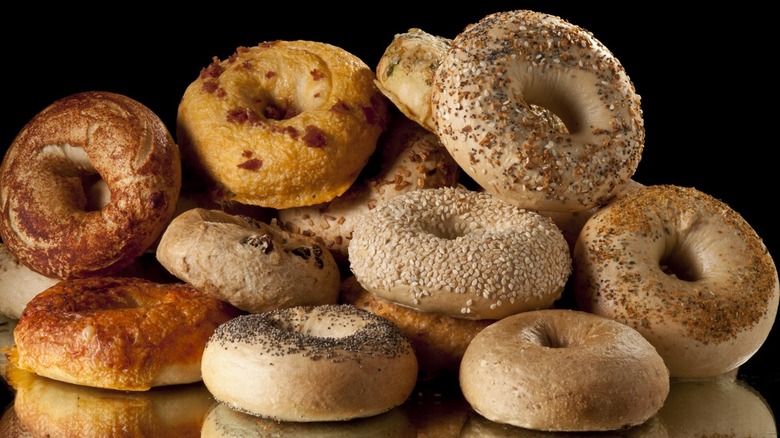 Chandlerphoto/Getty
There never seems to be a shortage of creative food hacks on TikTok. If one of your favorite desserts happens to be a luscious bowl of crème brûlée, this one is for you. Even though this famous French recipe is typically something you'd treat yourself to at the end of a meal, who says you can't have it for breakfast instead?  
Bowls won't be necessary for this trendy breakfast upgrade. You also don't need an oven, as there's no custard in this crème brûlée variant recipe. After all, this is breakfast, so you're likely on the go and can't spend 30 minutes waiting around. Instead, grab your favorite bagels and spread an even layer of cream cheese onto each half. You can't have that toasted, crackly crème brûlée layer without sugar, so be sure you have some granulated or cane sugar on hand to sprinkle onto the cream cheese. Then, the only thing left is to turn up the heat and caramelize your topping to form the signature crunchy, golden crust.
Those who have tried crème brûlée before have likely seen a chef prepare the topmost layer of this dessert with a blowtorch, but this gadget may seem impractical to keep around at home unless you decide you're a big fan of this elevated breakfast offering, dubbed the "Crème Brûléegle."
Other ways to make TikTok's crème brûlée bagel recipe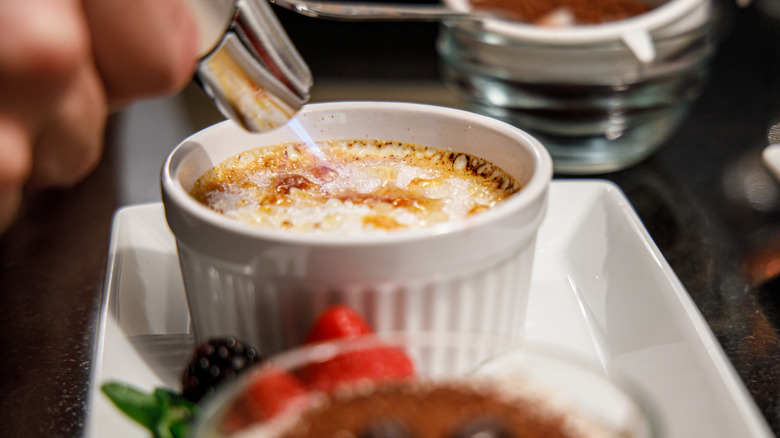 oliver_schulz/Shutterstock
The video's creator selected raw cane sugar and whipped Philadelphia Cream Cheese to make their crème brûlée bagel before using a handheld kitchen torch to douse the sugar granules in heat. The TikToker explained that not everyone may have this tool, but you can find inexpensive options to use at home. Small handheld blowtorches with refillable butane are available online for under $20, but you'll have to buy the butane separately. However, there are cheaper options as well.
If you want to try this recipe before buying an extra gadget, consider heating the backside of a metal spoon on your stove and carefully patting the sugar until it melts. Other people have used a candle lighter to finish the job — but it can take a while to get the right texture. However, if you're willing to make an extra purchase, a blowtorch is a quick, classic way to get an evenly-heated layer since the flame is easily adjustable. 
Experiment with different cream cheese flavors if you'd like, or sweeten plain cream cheese with vanilla extract to evoke a familiar crème brûlée taste. Some TikTok commenters also suggested toasting the bagel first, a step the creator skipped. After you take your first bite, the "Crème Brûléegle" might become one of those breakfast recipes you'll wish you knew about sooner.