Discontinued Arby's Menu Items Fans Desperately Want Back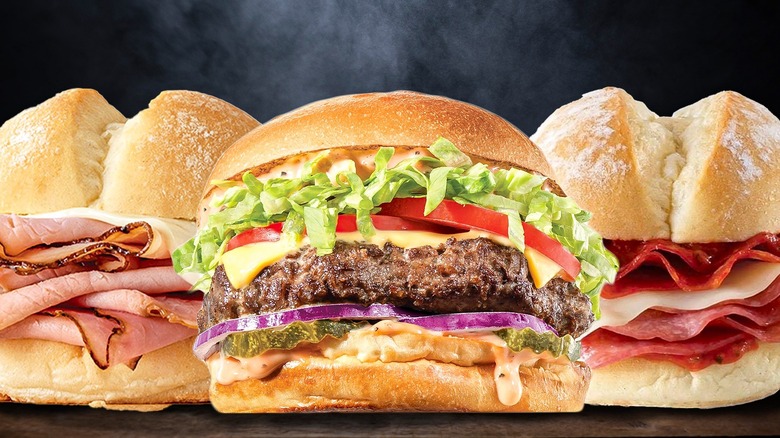 Static Media
Fast food is a permanent part of the culinary landscape, but that doesn't mean what's on the menu isn't constantly changing. National or even global quick-serve restaurant chains are nearly constantly adding and/or removing items from their bills of fare. The reasons are myriad: to attract new customers, to respond to changing tastes, to utilize seasonal or newly available ingredients, or to differentiate themselves from the competition, for example. Every new menu item is also an opportunity for a publicity rollout, to remind the world that this fast food company still exists and is changing with the times.
With that evolution, some offerings get left behind. Arby's, for example, is one of the more active restaurants when it comes to switching up the menu. Over the last couple of decades, the roast beef chain has expanded into numerous other food areas. Sometimes those introductions click with customers, and sometimes they don't. Regardless of their initial popularity, some discontinued menu items leave an impression for years after they disappear, prompting customers into action. Here are some lost and otherwise forgotten Arby's products that its most loyal and fervent customers would love to see return to the menu.
Potato Cakes
Arby's is a meat and potatoes kind of place in that its whole business plan is selling the portable, fast food version of a roast beef dinner. With the beef on a bun, the baked or mashed potatoes come in a variety of ways at Arby's, including seasoned Curly Fries and Crinkle Fries. Until 2021, Arby's sold Potato Cakes. Essentially a hash brown patty, Arby's Potato Cakes consisted of chopped potatoes, formed into a triangle, and then deep-fried until golden brown and crispy.
In March 2021, Arby's customers from around the U.S. reported on Reddit that their local outlets had suddenly stopped serving the side. A poster purporting to be an Arby's employee said that the chain had eliminated that potato item to make room for another, permanent potato offering, Crinkle Fries. An Arby's representative confirmed the news to The Takeout. "Although our Potato Cakes have been discontinued (for now), who's to say they're gone forever?" they wrote. Acolytes moved on the news, supporting an online petition at Change.org to "Bring Back Arby's Potato Cakes." As of May 2023, the petition has gathered over 4,400 signatures.
Pizza Slider
In the 2010s, Arby's enjoyed great success with a line of seven slider-type sandwiches. Smaller in size and simpler in ingredients than its other towering and more complicated sandwiches, Arby's sliders offered little more than a single meat (turkey, corned beef, roast beef) and a dollop of sauce or melted Swiss cheese. In 2017, Arby's introduced an eighth slider, something closer to what is sold at Subway or Domino's than anything from its traditional menu of roasted meat sandwiches. The Pizza Slider consisted of salami, pepperoni, roasted garlic marinara sauce, and melted provolone cheese jammed into a soft bun.
The Pizza Slider endured for four years on the Arby's menu, a brief but undistinguished run. In July 2021, Arby's eliminated several consistently low-selling items from its menu. Among the subtractions was the Pizza Slider. Arby's precluded the survival of the Pizza Slider by no longer stocking most of the unique ingredients needed to make the sandwich, including salami, ham, pepperoni, and marinara sauce. A Change.org petition, "Re-Continuation of the Arby's Pizza Slider" amassed just a little over 30 signatures, so Arby's isn't likely to reinstate the sandwich to its national menu anytime soon.
Arby-Q
About a decade after its debut, Arby's aggressively expanded its menu for the first time in the 1970s, adding the stalwart Beef 'n Cheddar, offering its Horsey Sauce, and introducing a sandwich called the Arby-Q. Really just the fast food company's regular, signature sandwich of thin-sliced roast beef on a bun, the Arby-Q took the meat inside and slathered it in a smokey barbecue sauce. That barbecue beef sandwich remained an Arby's standard for years, eventually fading from popularity, which led to its demise. After some time away, Arby's brought back the Arby-Q in 2012, albeit for a brief period at a low promotional price of two for $4.
As of the 2020s, Arby's doesn't sell the Arby-Q anymore, although its customers would surely like it if it did. Hungry and excited fans piled onto a Twitter thread in 2020 when the Arby's corporate account discussed the long-ago discontinued sandwich.
Wagyu Deluxe Steakhouse Burger
Arby's has built itself into a major fast food brand by positioning itself as an alternative to the usual and predominant fast food fare of hamburgers. Arby's was different, it contended, because it didn't serve burgers, but rather tall sandwiches assembled from thinly sliced roast beef. 
In May 2022, Arby's asserted its marketplace position as the most meat-centric fast food joint around by moving in on the competition's territory and unveiling its first ever hamburger. A relatively high-end item, Arby's spent two years nailing down the recipe and preparation for the Wagyu Deluxe Steakhouse Burger, according to Restaurant Business. Onto a large brioche bun went American cheese, shredded lettuce, pickle slices, red onions, tomatoes, and a newly concocted and proprietary hamburger sauce. All that bolstered the main ingredient, a 6.4-ounce (before frying) patty made up of just over 50% premium and intricately marbled American Wagyu beef.
Arby's made no promises about the Wagyu Steakhouse Burger, initially marketing the sandwich as available for a limited period of time. According to Restaurant Business, the burger was so popular that Arby's exhausted its supply six weeks ahead of schedule. Obviously, the market was there for revival, and in November 2022, the Wagyu Steakhouse Burger graced every Arby's in the country once more, only to disappear again.
Steakhouse Onion Rings
Somewhere in between the classic onion ring (a round slice of onion battered and deep-fried) and the Outback Bloomin' Onion (onion segments battered and deep-fried) sat Arby's Onion Petals. Sold and consumed primarily as a side dish or as an alternative to its Curly Fries, the Onion Petals quietly took up place on Arby's lengthy menu until around 2010, when they were replaced by a new item, Steakhouse Onion Rings.
Reportedly cooked to order, Steakhouse Onion Rings came in five very large pieces to an order and sold for under $2, making them one of the more affordable options on the Arby's "Sidekickers" menu. And then, just like the Onion Petals they supplanted, the Steakhouse Onion Rings were unceremoniously removed from the Arby's menu in 2020. Customers and fans lamented the news on Reddit, but as of 2023, no version of fried onions is available at Arby's.
Loaded Italian Sandwich
One of the biggest, meatiest sandwiches ever offered by a chain that once sold a protein-rich monolith called the Meat Mountain, the Loaded Italian Sandwich was all about abundance. Introduced in 2015, the item came standard with ham, salami, pepperoni, melted cheese, lettuce, tomato, red onion, garlic aioli, dressing, and banana peppers bursting from a toasted Italian roll.
The Loaded Italian Sandwich was ultimately another food fatality in Arby's extensive menu revamp during the summer of 2021. The company ended sales of six menu items that weren't ordered often enough to be economically feasible, so they were taken off the menu for good. The Loaded Italian Sandwich required several ingredients not used in very many, if at all, other menu items, so with its disappearance, Arby's stopped stocking its kitchens with the item's components, such as pepperoni, salami, ham, garlic aioli, red wine vinaigrette, and tomato sauce. Perhaps a Change.org petition from Arby's fans will revive the sandwich some day.
Ham Slider
As its long-time marketing slogan announces, Arby's "has the meats." While that's most famously its oven-roasted, thin-sliced beef and breaded chicken in various forms, the chain has occasionally attempted to break out with other proteins with wide appeal, such as ham. 
In the 2010s, Arby's sold a wide array of sliders— small, simple sandwiches with just one or two ingredients (meat, cheese or sauce) between two halves of a little bun. One of those menu offerings was a Ham Slider, and that pretty much describes it. It came with ham, and maybe some cheese, on bread.
The Ham Slider didn't survive a significant Arby's menu overhaul in the summer of 2021. At that point, Arby's took six items off its national menu, citing poor sales figures. Along with Potato Cakes and the Pizza Slider, the Ham Slider got dropped. Arby's also stopped distributing ham to its outlets (except to the few restaurants that serve breakfast), so it's no longer possible to assemble an off-menu Ham Slider. A Change.org petition to "Bring Back Ham and Cheese Sliders at Arby's" didn't prove effective enough to return the sandwich to menus nationwide.
White Cheddar Mac 'n Cheese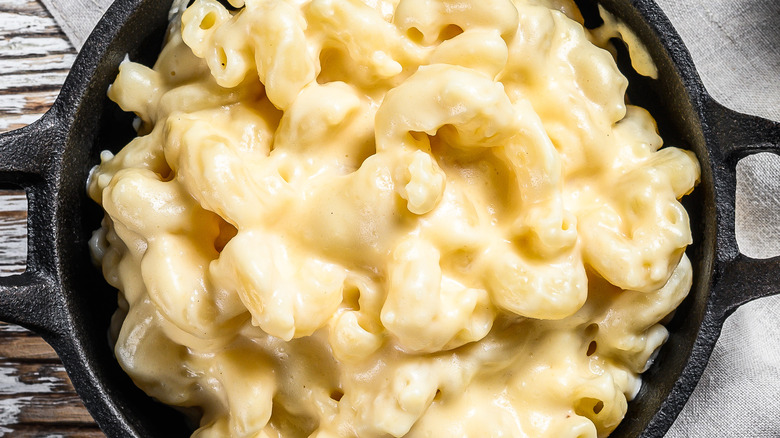 Mironov Vladimir/Shutterstock
Arby's menu is built around quick, easy, convenient, and modern versions of classic, home cooked comfort food. It makes sense that, in addition to roast beef and hot potatoes, Arby's would also serve thick and creamy homestyle macaroni and cheese. In early 2020, Arby's brought out White Cheddar Mac 'n Cheese. A moderately portioned side dish, it cost about $3 as part of a two-items-for-$6 promotional value menu, and consisted of large elbow macaroni noodles swimming in a sauce made from white cheddar cheese. 
In August 2022, Arby's eliminated the White Cheddar Mac 'n Cheese from distribution, a casualty of replacing its popular and economical 2 for $6 Everyday Value sub-menu with a 2 for $7 Everyday Value board consisting of entirely new offerings. The absence didn't last long, to the delight of macaroni-loving Arby's customers. By December 2022, White Cheddar Mac 'n Cheese was back at Arby's, although just for a finite period of time before it went away again.
Chocolate Turnover
In the fall of 2010, Arby's introduced a unique fast food dessert to the sweets section of its board. In addition to the standard fare of shakes and cookies came the Chocolate Turnover. Something like a stuffed croissant, the Chocolate Turnover was a triangle made up of many layers of flaky pastry and stuffed with a very sweet and smooth, melty filling built around Hershey's cocoa. For an extra and visible chocolate flourish, a drizzle of chocolate sauce went across the top of this decadent hand pie.
Intended and marketed as a limited-time-only offering, the response from Arby's customers was so great that the chain decided to make it a permanent menu item in late 2010. "The Chocolate Turnover has been saved!" Arby's wrote on Facebook. It turns out that "permanent" didn't mean "forever," though. In 2016, a customer queried the Arby's Twitter account, in search of an answer for the Chocolate Turnover's sudden and unannounced disappearance from the menu. The answer, and to the displeasure of Arby's adherents on Twitter: the Chocolate Turnover was excised to clear a spot for two new cookie offerings made with Ghirardelli chocolate chips.
Polar Swirl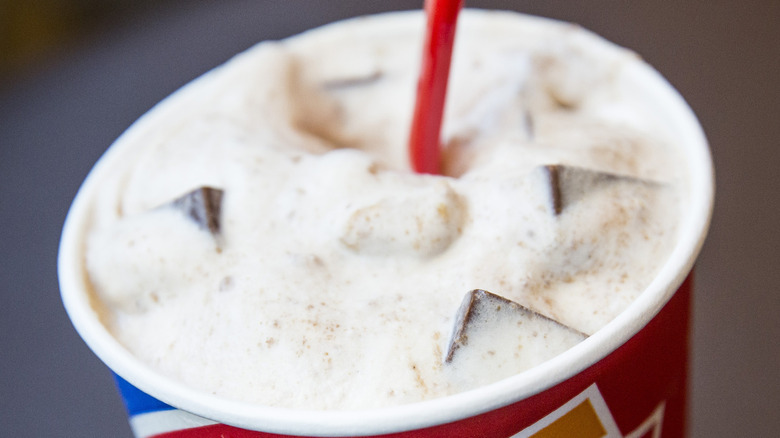 Andrew Burton/Getty Images
In addition to Dairy Queen's Blizzard frozen treat and McDonald's McFlurry, Arby's wanted a piece of the action on ultra-thick, ultra-sweet fast food desserts that combined vanilla ice cream with name-brand cookie and candy pieces mixed in. Introduced in the late 1980s in the wake of the success of the Blizzard, Arby's Polar Swirl consisted of vanilla ice cream and a mix-in of the customer's choice, with options including Oreos, M&Ms, Reece's Pieces, and Heath bars.
Certainly inspired by the Blizzard, the Polar Swirl reportedly went down more like Wendy's Frosty, smooth and soft like a runny milkshake. While many internet posters feel warm nostalgia for this cold dessert from the distant past, the Polar Swirl was a short-lived item and remains obscure. Arby's still sells other desserts (like cookies) and a line of milkshakes, indicating there's still a market for something like the Polar Swirl, but not quite.