Texas Pete Buffalo Wing Sauce Is Being Recalled Over Undeclared Soy
Garner Foods issued a recall for Texas Pete Buffalo Wing Sauce due to an undeclared allergen. The company believes that recalled bottles of sauce contain soy. 
According to an announcement on the FDA's website, an undisclosed number of a batch of more than 50,000 bottles shipped out to stores mistakenly contains Extra Mild sauce. This particular sauce contains soy, while the Buffalo Wing Sauce does not. Therefore, the Buffalo bottles are not labeled to declare the allergen. According to Garner Foods' recall notice, the mix-up likely occurred due to the wrong labels being applied to the bottles during manufacturing. 
While only one batch was affected, the company shipped buffalo sauces that are part of the recall to at least 13 states. Customers should check their Texas Pete Buffalo Wing Sauce if they live in Alabama, Connecticut, Florida, Georgia, Louisiana, Mississippi, North Carolina, New York, Pennsylvania, South Carolina, Tennessee, Texas, and Virginia.
Soy allergies can be life threatening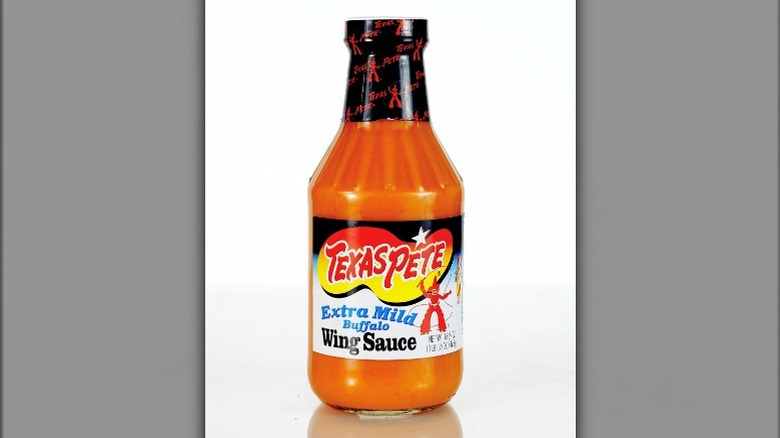 Perry Correll/Shutterstock
Affected bottles have a best-by date of December 6, 2023, and UPC 0 75500 10011 6. For those with soy allergies, coming in contact with the product could be potentially life-threatening. According to USCF Health, soy allergies can cause hives, swelling, abdominal pain, vomiting, and trouble breathing. Depending on the severity of the allergy life-saving treatment may be necessary. 
This isn't the first time that Texas Pete has experienced a recall. In 2019, for instance, Texas Pete recalled hot sauce packets after a batch was discovered to be discolored and oddly flavored. The packets were not expired, so it's unclear why the discoloration occurred. As an abundance of caution, the 2019 recall asked stores to dispose of all sauce packets affected.
Likewise, for the recent buffalo sauce recall, those who have a soy allergy should return the product to the store where they purchased it for a refund, or simply throw it away. As for customers who aren't allergic to soy, feel free to continue using the product, especially to add a kick to Chick-fil-A sauce.